New Academic Complex at SKYCTC Doubles Lab and Classroom Capacity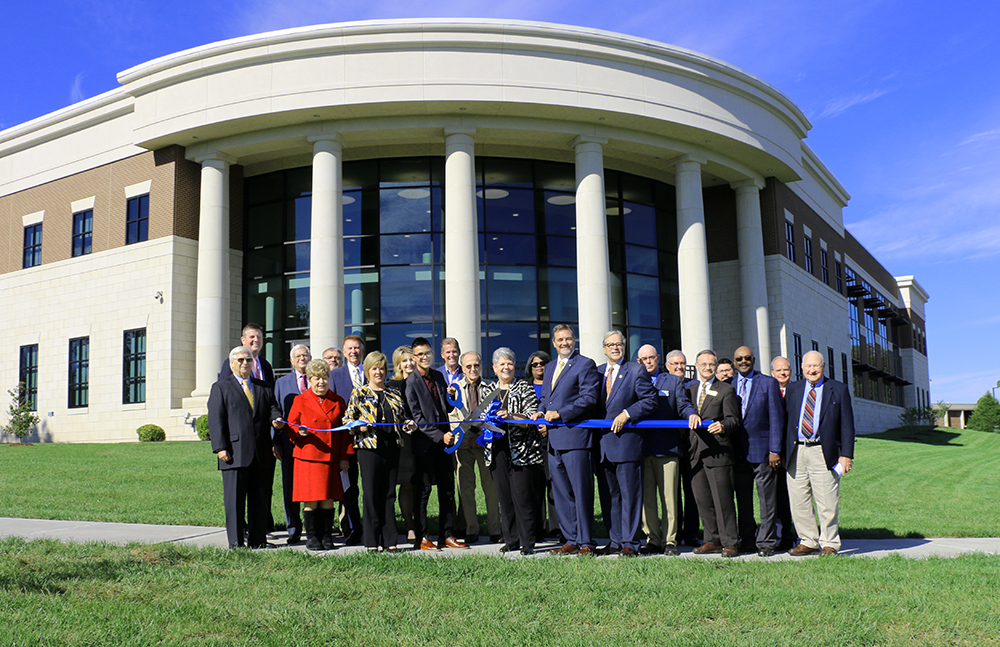 Bowling Green, Ky. (Friday, October 19) - Today, Southcentral Kentucky Community and Technical College (SKYCTC) held a ribbon cutting and open house to celebrate the opening of the new Academic Complex at the College's Main Campus and to thank the many donors who made the project possible.
The new Academic Complex houses programs related to science and medicine. The second floor of the building is dedicated mainly to high-tech science and medical labs. The building's first floor is the new home for all of SKYCTC's student services, allowing the campus community to access the Welcome Center, Career and Academic Planning Center, library, financial aid and business office in one convenient location. A Learning Commons and the social staircase add additional spaces for students to gather, socialize and study. Long requested by SKYCTC students was an on-campus cafe. Meeting this need, Steamer Southern Seafood Kitchen opened Steamer Cafe and Market Place inside the building and began serving breakfast and lunch to students in August.
Communities all over Kentucky have seen an increased demand for a well-trained workforce, particularly in the areas of engineering-related science and healthcare. Understanding this need, SKYCTC launched the BuildSmart campaign and broke ground on the new Academic Complex June 2016.
"In the past ten years we have doubled enrollment in our technical career programs," said Dr. Neal, President and CEO of Southcentral Kentucky Community and Technical College. "Last year alone, we served 15,000 people in our credit and non-credit programs. The opening of the Academic Complex has nearly doubled classroom and laboratory capacity, and increased our ability to serve even more students." With the opening of the new building, SKYCTC again shows its commitment to meeting the workforce needs of our state, particularly now as industries are in critical need of skilled employees.
The ceremonial ribbon cutting at the Academic Complex was hosted by the Bowling Green Area Chamber of Commerce. Student Government Association President Tony Ramirez welcomed those in attendance, and was followed by remarks from SKYCTC Board Vice Chair Mary-Garnett Richey, SKYCTC Foundation Board Chair Alex Downing, SKYCTC President and CEO Dr. Phillip Neal, and SKYCTC Foundation Executive Director Heather Rogers. The ribbon was cut on the building's Social Staircase, and the attendees were dismissed to tour the facility.