736 GRADUATES HONORED AT THE SKYCTC COMMENCEMENT CEREMONY
Southcentral Kentucky Community and Technical College (SKYCTC) honored 736 candidates receiving 2,278 credentials (certificates, diplomas, and degrees) at the College's Commencement Ceremonies on Friday, May 4, 2018. This represents the largest graduating class and the most credentials awarded in the history of the college. The ceremonies were held at the Southern Kentucky Performing Arts Center (SKyPAC).
"We honor each of our graduates for the hard work they have put forth to achieve their educational goals. We also pay tribute to the family and friends for the great support they give to the graduates," states Dr. Phillip Neal, President of SKYCTC.
2018 Graduates: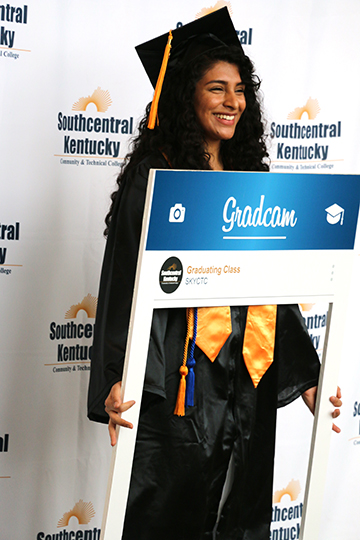 ADAIR COUNTY:
Tonya Franklin, Natashia Dawn Gaskin, Karen Upchurch
ALLEN COUNTY:
Andrew O. Alderson, Zachary Raymond Atwell, Brittany Jean Blankenship, James Allen Blankenship, Breana Boards, Jordan M. Brooks, Morgan Burton, Payton Mckay Calvert, Makayla Brooke Carter, Gregory Adam Clay, Kathy Colon**, Ashley Daugherty**, Tyler Freeman Gaw, Chase Thomas Gregory, Shelsea Lynn Harwood*, Kassey Harwood**, Bradley Gene Hayes, Ashley Helmes, William Alexander Helson, Alan Michael Hogue, Tommy J. Howell**, Sydney J. Hurt, Jennifer Lynn Jackson*, Brandon L. Little, Kyle Douglas Mansfield**, Robby Minix**, Sara Neff, Kaylee Elizabeth Ragland, Jon-Thomas Rich, Angelina Robertson, Allison Lee Severtson, Avery Cole Shorts, Lucas Smith, Byron Thomas Wallace, Johnathan Blade Wallace, Michelle R. Wolfe
,
BARREN COUNTY:
Nathaniel David Abney, Jessica Alene Durham, Taviane Alexander, James Arthur Asher**, Dustin Ray Ash, Bailey Martina Atwell, Courtney Shaye Ballard, Tina Barron, Kaley Rae Bartlett**, Sheonna Faye Bartley, Christopher Neill Basil, Benson Shane Bell**, Kameron Kelsay Bellamy, Brittany Birge, Alexzandrya Blair, Emily Elaine Blair, Tyler Bunton, Kourtney Rae Colon, Courtney Dawn Coots*, Jacob Crain**, Anita Davis, Eleri Salem Dye, Hener Noel Echeverria Nolasco**, Rebekah Edwards**, Austin Farmer, Daniel Wade Fletcher, Jodi Lynn Foerster. Ana Kate Froggett, Tyler Wade Garmon*, Nathan Edmunds Gassaway, Sarah Christine Gilpin, Traci Lynn Green, Veronica Lasha Hagan**, Kaitlyn Elizabeth Hampton**, Krista Meleah Hawkins, James Dylan Haynes, Shelby Lauren Hiser, Jackson Leah Hope, Rayli Howard, Whitney Marie Isenberg, Billy G. Jackson, Bryan Lee Jandt, John Jones**, Haley Kinslow, Rebekah Lancaster, Ann Marie Lee, Robert Paul Lobb**, Stephanie Dawn London, Kaila Cheyenne Madson, William Allen Marr**, Bradley Todd McCandless, Stephen McCawley**, Katlynn Mosby**, Dustin Lee Moss, Morgan Taylor Moyers, Breanna Leigh Murley, Taylor Page Murley, Summer Caroline Nash**, Braden Cole Pedigo, Mason Perkins, Taylor Anne Phelps, Melissa Kim Pipgrass, Dylan Poore, Katelyn Nicole Pullum, Andrew Lamont Rhodes, Alex Danie Richardson**, Bethany Roberts, Madison Correll Rose**, Jannon Rue, Lorenzo Sanlaeid, Susan D. Scott, Ty Evans Sherfey, Ashley Brooke Smith, Natalie Jean Staples**, Sharlane Thomas, Trace Andrew Tittle, Adam Curry Walker, Kaycee M. Weber, Eric William Weyrauch**, Maegan B. Whitlow, Mariah Danielle Wilkins, Breanna Wooten, Tommie Jo Wright, James Mark Wyatt**
BOONE COUNTY:
Samuel Lynn Hemmerich**
BUTLER COUNTY:
Ashley Lynn Britt, Nathan Scott Burton*, Haleigh Brooke Burton, Ian Kendall Cardwell, Heather N. Dockery, Kimberly Louise Dreise, Leah Evans**, Haley R. Ford** Hanna Michelle Gruber **, Jason Dale Henderson**, Allison Marie Howard, Payton L. Howard, Bailey Ryan Hunt*, Kelsey Renee Jenkins, Sarah Keown**, Taylor D. King**, Tosha Beth Lucas**, Michael Ryan Miller, Shannen Lynn Mosley, Emily Mullins**, Edwin Phelps**, Jacob Griffin Phelps, Taylor Phelps, Myrian Concepcion Quibilan, Henry K. Romans**, Stephanie Todd**, Kaitlyn Wilson**, Madison Wright**,
CHRISTIAN COUNTY:
Susie A. Croney, Kevin Albert Ray**
CLINTON COUNTY:
Alissa Cook**
CUMBERLAND COUNTY:
Courtney Nichole Wilson
DAVIESS COUNTY:
Larissa Buskill, Brittany Sheryl Estes, Allison Greer, Nolan King, Haley Rice**, Dalton Maurice Richardson, Kaylee Russelburg**, Paul Hays Sutton
EDMONSON COUNTY:
Keeley Ann Alexander**, Hershel Eugene Beck III, Tori A. Browning, Lauren Elizabeth Carey, Amber Hagan**, Katheryn Havens **, Christopher Marlon Haycraft, Ariel Hodge, Joni Marie Lee, Mikayla Mee, Jessica Rae Merfeld, Katelyn Miller, Samantha Joe Phillips, Hannah Brooke Sanders, Zoe Sholar, Tamra Lynn Shrader, Brenna Lauren Wilson**
FLOYD COUNTY:
Bret Aaron Hamilton
GRAVES COUNTY:
Brea Schofield
GRAYSON COUNTY:
Kayley Jourdan Decker, Katherine Paige Embry, Romana Jeanette Hicks**, Kevin Duane Jenkins**, Byron Darnell Lowe, Stephanie Mckinzey Smith
GREEN COUNTY:
Karter Ann Jones**, Mary E. Rafferty, McKena Whitney Wright
HARDIN COUNTY:
Emily Gaddie**, Alinda Newby, Joseph H., Webb
HART COUNTY:
Trisha Faye Bailey, Arica Cruz**, Michael Seth Elmore, Shelly Lynn Green, Silas Montae Jewell, Leah Kearney, Megan Kilburn, Jerica Marie Nuckols, William Austin Shewmaker, Tiffany Alyson Waddell
JEFFERSON COUNTY:
Matthew Collard, Jeffrey J. Riddle Jr.
LARUE COUNTY:
Katelyn Skees
LOGAN COUNTY:
Clint Baker**, Amber Nicole Baker, Tucker James Baldwin, Cookie Billie Jean Barrow, Brandon Brown**, Rebecca Michelle Bumpus, Matthew Burchett**, Brittney Clark, Monica Paige Davenport, Jacqueline M. Dossett, Eva Michelle Duff**, Nathan Freeman Duncan, Mark Ewing, Kenneth Faircloth**, David Foster **, Kylee Gilliam, Lizbeth L. Gonzalez**, Anna Ranay Haley, Jeremy Lee Hammers, Christopher R. Hightower**, Thomas Hines**, Ryan Hudson, Tabitha Angelique Hyde, Brianna Elizabeth Johnson, Tiffany Allison Johnson, Trenten David Latham, Victoria Anne Lawson, Micah Lee Brandt **, Kara Lyons**, Angela Dawn Marr, Bailee J. Mayes, Robert Wayne Morgan, Elizabeth Hope Motsinger**, Taylor Jordan Owens, Matthew Lee Richardson, Sebastian Rolett, Adam Taylor, Jasmine Marie Tharpe, Kyle Dean Vaughn, Billy Vick, Aaron Wagner, Leslie Ewing, Madison Delaney Westbrook, Kaleb Scott Whitaker**, Brianna Nicole Wilson, Lane Woodward**, Kathleen J. Young
MADISON COUNTY:
Joshua Adam Yoebstl
METCALFE COUNTY:
Darby Acree**, Joseph Daniel Curry, Sydney Blake Gardner, Chelsea Marie Eggleston, Trina Kaye Garmon, Kennedy J. Harbison**, Ashley Nichole Hines*, Elijah Jordan Jessie, Alexander Joel McMullen, Luke Love, Aaron Levi Petranek, Logan Sexton, Floyd L. Shirley, Chase Daniels Shive, Jared R. Smith, Christina Renne Walbert, Ryan Alexander Wimer
MONROE COUNTY:
Tylyn Brooke Blakely, Kristen Lea Carter, Kristina Collins, David Crowe, Kristi Davis, Shelby Markaya Emberton, Dalton Emmert**, Janna Lashae Ford*, Alaysha Ford, Codie Ford, Joseph Steven Ford, Rebecca Ford, Brilee Irvin, Brookie Lee Keith, Joshua Pare**, Byran R. Pickerell, Jarret Levi Pitcock**, Heather Nicole Roland, Amber June Russell**, Logan J. Thomas, Avery N. Turner, Cody Vance**, Dusty Lee Walker, Natasha Warren
MUHLENBERG COUNTY:
Mackenzie L. Brewer**, Brittany Michelle Bush, Joshua Johnson
OHIO COUNTY:
Shannon Daugherty England, Alexis Lee Luttrell**, April Lynn Mort
OLDHAM COUNTY:
Matthew Hodges Whitehouse**
RUSSELL COUNTY:
Steven Michael Best
SIMPSON COUNTY:
Shawna Ann Allen, Byron Scott Ball, Courtney Leigh Barnes, Bailey Baxter, Kenneth Austin Bishop **, Westley Caudill**, Jordan Daniel Clift, Christopher Cline, Malina S. Cunningham**, Jonathan Tyler Curtis, Rebecca Lynne Doyle, Rachael Driver, Lucas Farley, Whitney Cheyenne Fykes, Nathan Grace, Dena Austyn Gregory, Linda C. Hadley**, Chelsea Lee Hambright**, Jordan Louis Henderson, Kayla Herrington**, Katherine Michelle Hightower, Dillion Huffine, Ethan Daniel Hunt, Samantha Katlyn James, Madison Johnson, John Keith Jones Jr.**, Kolten Kepley, Megan Krantz, Jigar Jitendrakumar Lad, Natalie S. Lawrence, Michael David Leath, Kennedy Lynne Mathis, Justin Ryan Mayes, Ty Murray, Victoria Niblett, Crystal Gayle Oliver, Robert L. Palmer*, Robert Peglow, Kara Jo Perdue, Edith Rose Schmucker**, Thomas Schueler**, Hillary Sliger, Broderick Smith, Cheyanne Kay Smith, Jenna Sopko**, Austin Thomason**, Destiny Travis, Naomi Vangelderen**, Keileigh Alisabeth Watwood, Alissa Ashley Weaver, Caitlyn Marie Wood, Colin Andrew Wright, Kaitlin Yates
TODD COUNTY:
Alesha Anderson, Sequia Unique Daniel, Drew T Farlow**, Kayla Williams
TRIGG COUNTY:
Greffen Davis Taylor
TRIMBLE COUNTY:
Dana M. Rogers
WARREN COUNTY:
Anthony Abarca, Isaac Nicholas Absher, Sa Ah, Benjamin T. Akins, Loai Aldarawish**, Joshua Logan Alexander, Kaylee Alexandra Pinnegar**, Katherine Bonieta Alford*, Alicia Anita Allen, Gerardo Alvarado, Ashlynn Anderson, Hannah Arnett, Quentin Dalton Arnold**, Dayana Avalo**, Robin Babu, Alicia Brooke Bade**, Leslie K. Basham, Cole Bearden, Jordan Beckmann, Harley J. Belcher**, Summer Rose Berry**, Travis Robert Besaw*, Samantha Bickett, Lauren G. Biggs, Nathan Bisel, Alejandro Borrego-Hernandez, Caitlin Bowles**, Jessy Brennan**, Jennifer Lynn Brock, Cole Michael Brooks, Cameron T. Brown**, Andrea Brooke Paige Brown, Anthony H. Brown, Cecelia Brown, Kenneth Dale Brown, Garret Browning, Kenneth Earl Bryant, Latasha Shaye Bunton, Jake Bush, Landon Bybee, David Cain**, Samantha Jo Cannon, Carter Alexander Cardenas, Kaeley Cooksey Carter, Abby Cassady, Spencer Chase Cassady, Coreena Caudill, Benjamin Jacob Caulk**, Sulvana Cerimovic**, Shannon Chichester**, Mark W. Chute**, Selmedin Cikaric**, Sharon Diane Clark, Francetta Leonae Clayton, Chailey Clemons, Richelle Elizabeth Cline**, Amy Comer**, Nickolas Conder**, James Conover**, Shelby Elizabeth Constant, Ashley Danielle Cooper**, Lauren Copas, William Jeffrey Corder, Eugene Edward Courtney, Michael Wayne Crabtree, Kayla R. Creek**, Paris Cross**, Jonathan Scott Cross, Pedro Cuautle**, Sydney Daniels, Sydney N. Davenport, Kaylen Nicole Delph**, Ashley Denney, Emily Brooke Denton, Makenzie Nicole Denton, Brittney Marie DeVoe, Kendal Ivan Diaz**, Austin Dismon**, Andrea Lane Ditmore, Taquain D. Earthman, Lannae Easley, Brittany Edwards, Alba Esquivel, Charde Evans, Micheala L. Evans, Aaron M. Eversole**, Megan Ashley Ferguson**, Laura Kay Fevold**, Jennifer Kaye Fincham, Joseph Lynn Finley**, Chelsie Fay Fisher*, Ruben Alan Flynn, Justin Leigh Foubert**, Blake Carter Fowler, Brian Andrew Fox**, Justin France, Porshia Franklin, Lauren Frederick**, Fred Edward Games, Allyson Garretson, Sahar Ghaseminejad, Brooklynn Jade Gilbert**, Hailey Glass**, Houston Cole Glass, Danielle Rene Goad, Victoria Nicole Goley, Dakota Reed Goodman, Amanda Gossett, Hannah Renee Graham**, Adis Grahovic, Martha Eileen Graves, Ronald Ray Green**, Brittany G. Greer**, Allyson J. Gregory, Kendra Ann Gregory, Emily Griffith, Jesse Alvin Guzman, Ethan Gwyn, Jasmine Halcomb, Kelly Haley, Rachel Nicole Haley, Courtney J. Hargis, Stephen Michael Harmon*, Nicholas Harp, Remmington Alexander Harpe, Jeanette Harris**, Kathryn G. Hartley, Denis Hasanovic, Haylee Evett Hazel, Jena Rae Henson**, Ashley Brooke Hines, John Hinternish, Kelle Holland**, Sarah Beth Hopkins, Presley Houchens, Moewinn Win Htoo*, Sarah Elizabeth Hughes*, Madeline Humes*, Jalen J. Hunter, Havanna Jade Hurt**, Brian Michael Hymer**, Tracy Irvin**, Desarie Nicole Ivory, Carmen Lynn Jackson, Robert Thomas Jaggers**, Dakota Bruce James**, William Howard Janes, Matthew Johnson**, Jardin Johnson, Kain A. Jones**, Lanesha Lashay Jones, Chad Ryan Joyce*, Daouda Kamara, Almedina Dina Karabegovic, Madeline Keeling**, Jerry Keen, Emily Keenan, Sierra Keene, Kimmi Keiser**, Alexander Kell, Danny Kelly, Madison Kemble, Stephanie Gayle Kennedy, Curtavius De'Mon Kenner, Sonya Key, Tiffany Key, Gerald Wayne Kinser**, Tori Mischelle Kirk**, Benjamin A. Kirkham, Adnan Kurtovic, Mary Catherine La Chance, Abby Jo Lacefield, Ryan Sage Lambert, Jonathan Lane**, Nick Lane, Ian Preston Langford, Nicholas Lashley, Nicholas William Leber**, Chase Robertson Ledford, Aaron Tyler Lee, Samantha Ann Lester**, Jennifer Ann Level, Aidan A. Lindsay, Jacob Lippert, Carsan Paige Logsdon**, Matthew Lohden, Morgan Looney**, Adam J. Lynch, Logan Tyler Lynn. Cori D. Mack, Dylan C. Malvitz, Travis Hunter Mandeville, Evan Markham, Shanta Marlow, Austin Thomas Masse**, Cheyenne Matthews, Makayla Savannah-Sherrie Maxey, Kristen Mayes, Daulton Mitchell McCoy, Kiesha Danielle Mcdowell, Angelina Mari McGuire, Ashlyn Noelle McGuire, Mallory McIntire**, Cassie Danielle Mcintire, Juanita Jean McIntyre, Kennedi T. Mcmurtry**, Shania C. Melendez, Oscar Oliverio Mendez, Justin Gabriel Mercer, Jesse Dwight Meredith, Joshua Michaud, Christina Lynn Miller**, Harrison Miller**, Landon Davis Miller, Rachel Miller, Alexandra Minnicks,Brian Webster Minton, Kelsey Moats, Brennan Monroe, Clayton Paul Montgomery**, Robert Francis Montville**, Julianne Moore, Karen Mosquera**, Elizabeth Emily Mouser**, Adela Mrkulic**, Camilo Murphy, Brittany Nicole Murray, Mirela Music, Aimee Catherine Napper, Daniel Eduardo Nausa, Jessica Nicole Neudecker, Alinda Newby, Kerrie Marie Nicholson, Innocent Nkurunziza, Regina Nugent**, Timothy O'Malley, David Osnoe**, Virginia M. Page, Lora Pannell, Alizabeth Michelle Papp**, Jessica Adair Parker, Breeanna Rose Parks**, Brandon Robert Patterson**, Michaela Brooke Patterson, Will Bryan Pauquette, Selena Pena**, Cateryn Maribel Pena Valencia, Jahem J. Perez Vazquez**, Anjel Shears Petty, Richard Justin Phelps, Whitney Shae Phelps, Bryce McCarty Phillips**, Noah Pillow, Paula Jean Ping, Malaysia Pinkney, Benjamin Wilson Pinnegar*, Taylor Kalynn Poston, Victoria Powell**, Rickey Earl Powell, Zachary Ford Preston, Kaylyn Morgan Price**, Danny Reed, Milam Joshua Reed, Margaret Ann Ribby, Chesney Keeshea Rice, Morgan Elizabeth Riehn**, Shayla Mura Riggsbee, Brandon Paul Riney**, Austin Rodriguez**, Tonya Rodriguez**, Sofia Livier Rodriguez, Paige Mackenzie Sanders, Sharica Savage, Ethen Pierce Scott, Vickie Scroughams, Samra Selimovic, Cameron Hugh Sensel**, Mateo Sepulveda, Kristy Sewell, Endrit Shabani**, Ashley Danielle Sholl, Holly Simon**, Jacob Smiley, Shelby Smith, Stacy Justin Smith, Clinton Alan Snook, Joana Mejia Sosa**, Charles Spice, Heather Michelle Spivey, Brianna Stahl, ** Michael Starling, Heather Steff, Wesley Chance Stockdale, Paul Stratton**, Vonda Faye Strauss, Crystal Styles, David Joseph Susnock**, Jaclyn Anne Swaney, Ashley Dawn Swindle, Lyly Ya Tanaoo, Madelyne P. Taylor**, Calie Taylor, Melissa Jill Taylor, Suzanne Nicole Thomas, Tabor Grace Thornhill**, LeAnn Nicole Thrasher, Ashley Threlkel, Ashley Jordan Thurston, Sann Thwai**, Jacqueline Sophia Valladares, Adam Vandurmen, Leslie Grace VanEvery, Melanie Hope VanMeter, Jessica Brenn Vernon, Samantha Isabel Vest**, Sierra Ann Vilfer, Merima Vladavic, Rachel E. Waild, Scott D. Walden, William Anthony Walker, Brittany Faith Ward, Samuel Charles Ward, Trystan Watkins, Leah Karoline Watt, Robbin Ja'chole Weatherly, Caleb Wester, Terry Wesley Wheat**, Tamanda White, Martin D. Whitley**, Wendy Renee Wilkerson, Kelli Renee Williams, Michael W. Williams, Karigan Wilson, Stewart Windham, Sarah Elizabeth Woolbright, Lauryn Ashley Wooten, Seth Wooton, Carson Wright, Shakara Wynn, Ashley Michelle Wyrick, Vinny Zhang**
WEBSTER COUNTY:
Jamie Deniese Warren
OUT OF STATE
Bryttni Nicole Asberry - Lafayette, TN
Erica Brooke Baxley - Whispering Pines,NC
Alan Jagar Bearnson - Fort Drum, NY
Jessica Cook - Pleasant Shade, TN
Coty Scott Gregory - Portland, TN
Maggie Caitlin Jones - Portland, TN
Scott Kenney** - Nashville, TN
Amanda Jane Kirton - Mandeville, LA
Chelsea Nicole Kise - Midway Park, NC
Milan Parekh** - Lebanon, TN
Benjamin Davis Phillips** - Simpsonville, SC
Lee Ann Rich* - Red Boiling Springs, TN
Christian Sharp** - White House, TN
Ashley Danielle Smith - Camp Lejuene, NC
Adam Spalding** - Clarksville, TN
John Joseph Stegmeier - Portland, TN
Roger Turnbaugh** - Clarksville, TN
* with distinction
** with high distinction