New College Scholarship Program Aims to Strengthen KY's Workforce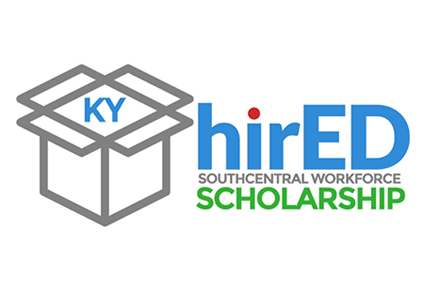 SOUTHCENTRAL KY, December 14, 2019--The South Central Workforce Development Board will soon be offering a new scholarship program, KY hirED, focused not only on raising regional educational attainment levels but also enhancing employability skillsets among college students, The program will begin in a limited capacity effective January 1, 2019 and is expected to be fully operational by mid-spring 2019.
Following the success of an initial project piloted by Western Ky. University (WKU Learn and Earn) the Board's program will be unique, namely by offering scholarships to multiple schools, beginning with both WKU and SKYCTC. Robert Boone, the Board's CEO said, "The South Central Workforce Development Board is excited to expand our workforce services portfolio. The hirED Scholarship will enable our organization to facilitate paid employment to college students, help college students build upon work-based skills and professional networks in our region and assist employers meet demand for some entry-level positions."
When the hirED program begins in January 2019, initial participation will be limited to Fall 2018 WKU Learn and Earn Scholarship recipients only, allowing those students a seamless transition to KY hirED. Applications for all other students are expected to open mid-spring 2019.
The Workforce Board is planning a formal presentation/reception for late January 2019. During the interim, students and businesses interested in KY hirED are encouraged to visit www.kyhired.com and to follow @KYhirED on social media for announcements and updates.