SKYCTC to open with new building, increased enrollment next month
By Aaron Mudd - BG Daily News
When students at Southcentral Kentucky Community and Technical College return to campus for the start of classes Aug. 13, they'll notice a newly finished 72,000-square-foot building that contains the school's science and medical programs with labs that offer the latest technology.
Among the new spaces is a simulation lab where nursing students can treat lifelike mannequins that can exhibit sweat, a pulse, seizures, swelling tongues and lips that turn blue. Instructors can control the mannequins from another room from behind a one-way mirror and there's an observation window wide enough for an entire class to use.
"Here we can make the patient go into cardiac arrest or crash," said Dr. Angie Harlan, a professor in the school's nursing program, while standing next to two patient mannequins lying in hospital beds.
The room, like many others in the building's allied health wing, mimics details you would find in a hospital setting, like doors wide enough to push a bed through. For Harlan, the simulation room is a safe setting to practice vital skills that can save lives.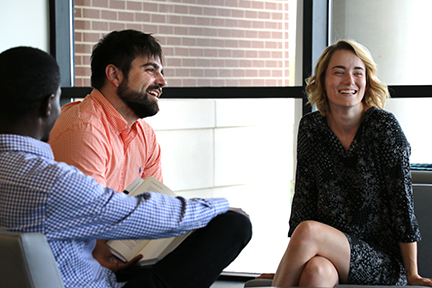 "They can practice where they wouldn't get to do that in a real-life setting," she said, adding the mannequins can mimic sounds medical professionals would hear when treating actual patients.
The new $22 million building is the result of a construction project that's been unfolding since officials broke ground in June 2016. Officials said the cost was covered through a fund matching program from the state, with most of the money coming from a fundraising campaign.
Along with an entire wing devoted to instructional space for allied health careers, the building brings new biology and chemistry labs.
The building is also meant to be a hub for student life and services. It features a dining space that brings food service to the campus for the first time, along with offices that help students plan their careers and navigate the college process.
It also provides office space for the school's student ambassador program, which exists to help new students get acquainted with advising and student life.
"Since we've had that program, our retention rates have been boosted," said Rachael Finn, a recruiter for SKYCTC.
Along with the new building, the campus will also see many more fresh faces this fall.