Historic first class of SKY FAME graduates with honors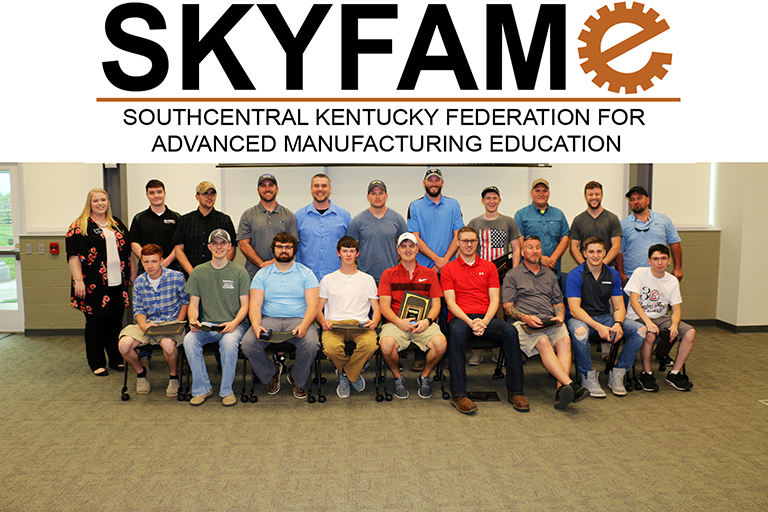 By Jim Turner
History was made, rewarded, and cherished in a 25-hour span the first weekend in May when the inaugural cohort of SKY Fame graduated from Southcentral Kentucky Community & Technical College with Associate degrees in Industrial Maintenance Technology.
The 20-man class was honored Thursday at a Graduate Reception at the SKYCTC Franklin-Simpson Center, where they had taken all of their classes.
Then on Friday evening, the graduates received their diplomas at the SKYCTC Commencement Ceremony, which was held at the Southern Kentucky Performing Arts Center (SKyPAC).
Ten of them—Clint Baker, Brandon Brown, Matthew Burchett, Westley Caudill, Kenneth Faircloth, Tommy Hines, Michael Hymer, Austin Rodriguez, Adam Spaulding and Roger Turnbaugh--were designated as graduates of High Distinction. Another duo, Jason Dale Henderson and Edwin Phelps, graduated With Distinction.
Joining them as college graduates and highly trained industrial maintenance technicians were Adam Clay, Dillon Huffine, Josh Johnson, Alex Kell, Kolten Kepley, Robert Peglow, Billy Vick, and Carson Wright.
All of them were presented a certificate and a keepsake by SKY FAME Chapter President Tye Burklow, Manager of General Affairs at Franklin Precision Industries, and SKY FAME Chapter Vice President Eric Procter, Maintenance Manager at Henkel.
SKY FAME is a partnership between SKYCTC and local businesses and industries. The program launched at SKYCTC's Franklin-Simpson Center in 2016 with the goal of creating a pipeline of skilled maintenance technicians for regional manufacturers.
Each of the graduates was sponsored by a local industry, which provided a hands-on work experience for the students three days per week. The other two days of the week they were in college at SKYCTC, taking classes in both industrial technology and in general education courses such as English, history, math, and psychology.
Brian Sparks, Tony Keen and Mark Leonhardt, SKYCTC industrial technology faculty, were their primary teachers.
Sparks presented the award for Individual Growth to Jason Dale Henderson, who was sponsored by Delta Faucet.
Keen presented the Leadership Award to Adam Spaulding, who was sponsored by Logan Aluminum.
Dennis Parker of Toyota, who was the guiding light behind originating the FAME program in Kentucky at Bluegrass Community & Technical College, spoke to those gathered and then presented the AMT Distinguished Graduate award to Michael Hymer, who was sponsored by Henkel.
Other sponsoring companies were Bowling Green Metalforming, Kapstone, Kobe Aluminum Automotive Products, Meritor, Sumitomo Electric Wiring Systems and Traughber Mechanical Services.
Closing the reception was Kelcie Richart, who directs the SKY FAME program and was praised extensively by Master of Ceremonies Dr. James B. McCaslin, Vice President of Outreach & Community Development and campus administrator of the SKYCTC Franklin-Simpson Center.
The significance of SKY FAME was highlighted by the presence of SKYCTC President Dr. Phillip Neal, Provost Dr. Maggie Shelton, Dean of Advanced Manufacturing Technologies Dr. Gene Basil, three other SKYCTC Deans, and other members of the President's Cabinet.
Also attending were Dr. Kim Myers, who heads Workforce Development for the college, and Robert Boone, President and CEO of the South Central Workforce Development Board.
"The success of SKY FAME and the AMT program stems from the leadership we have represented from the manufacturers, SKYCTC, and our AMT students," says SKY FAME Chairman Burklow. "The manufacturers have created the jobs, SKYCTC has created the platform, and the students are creating a lifetime career. To be a part of a program that is helping our region's industrial needs while also creating careers for many AMT students is a very satisfying feeling."
"SKY FAME is breaking down the stereotypes sometimes associated with manufacturing," says SKY FAME Success Coach Richart. "We show students that they can have a high-paying, interesting, and fulfilling job in this sector. Also, our students appreciate that they can work, get a college degree and get hands-on experience at the same time."
For more information on the SKY FAME program, please contact Kelcie Richart at 270-901-1035
or via e-mail at kelcie.richart@kctcs.edu.