SKYCTC's Addie Hernandez helps Latinos know they can succeed in college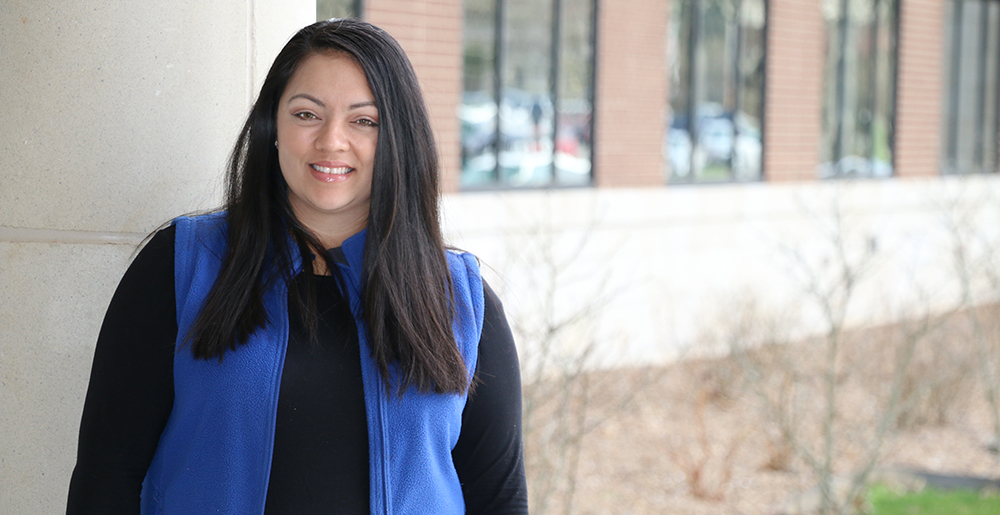 By Jim Turner – The Logan Journal
Starting college can be a bit frightening for anyone. For students with an international background or having been an employee on the floor of a manufacturing facility, it can often be more intimidating. Students considering attending Southcentral Kentucky Community & Technical College or who are already getting started there are fortunate.
Addi is a full-time Admissions recruiter and the Latino Outreach specialist who also works with non-traditional and international students at SKYCTC.
She has a background that uniquely qualifies her for that position. A native of Mexico as the tenth child of a family who migrated to Bowling Green, she went to work in a factory after graduating from Warren Central High School, directly across the street from what was to become her SKYCTC office on Main Campus. That's a big step for a Latina who came to what was then Bowling Green Technical College because she found WKU to be so big that it was intimidating.
While she was completing her Associates degrees in business at the community college, she worked full-time at a manufacturing company, Siegel-Robert Automotive. After her graduation, she became the full-time administrative assistant to the Dean of Business, a position she held for six years.
Because she had learned how to deal with college expectations at the smaller, far-less-expensive community college, she knew she was prepared to study at a university, completing her Bachelor's degree at WKU.
Along the way, Addi Hinojoza has become Mrs. Yerald Hernandez and the mother of two daughters, Ruby, age 3, and Annabelle, 1. Yerald is also a SKYCTC graduate and is nearing completion of his mechanical engineering degree at Western. She's very proud of him.
SKYCTC's administration saw Addi's potential and started adding to her duties working in Outreach with prospective Latino students. In 2016 she became a full-time recruiter and Latino Outreach Specialist.
Bowling Green has become an international city, so she is involved in events in Bowling Green and throughout the area. She goes to the International Center, churches and the Amigos Resource Network. She's also there for students individually to help them deal with problems they don't understand and to access resources that appear to be out of reach on their own.
""Many people with visas don't know they can qualify for financial aid. In some states, such as Tennessee, specific visa holders can't even qualify for in-state tuition. They can in Kentucky," she notes.
Addi knows her Latino appearance helps. "I look like them. That makes them more comfortable. I have to engage in a lot of reassurance and keep them from dwelling on negative ideas."
Her efforts and that of the college seem to be working. "Our Latino student numbers are growing, and I don't see them running into a lot of problems. They seem to be doing well."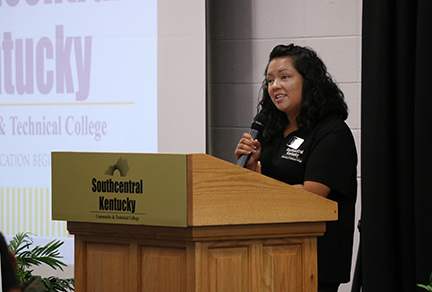 Addie Hernandez is adding more to her storehouse of knowledge that can serve as an asset for the students she serves. She has become part of the New Americans Leadership Program. According to its website, "The Academy for New Americans is a free leadership-training program sponsored by the City of Bowling Green that empowers New Americans to understand and participate in city government. The purpose of the program is to provide New Americans the tools necessary to successfully navigate city services, community information and resources in order to become key stakeholders in assisting their respective ethnic communities and neighborhoods."
Addi may not need all of this information for herself, but chances are that some of the students she advises at SKYCTC can benefit from her expertise in countless ways.
Perfect! Addi Hernandez thrives on helping them navigate college—and life—in every way she can.
SKYCTC international and non-traditional students have a supportive friend in their corner. She's a trustworthy advisor who shares their background and is willing and able to give them expert instructions on what steps to take and how to react to situations which come their way.
Her name is Addi Hernandez.