AKEBONO BRAKES CORPORATION PARTNERS WITH SKYCTC FOR FANUC ROBOTICS TRAINING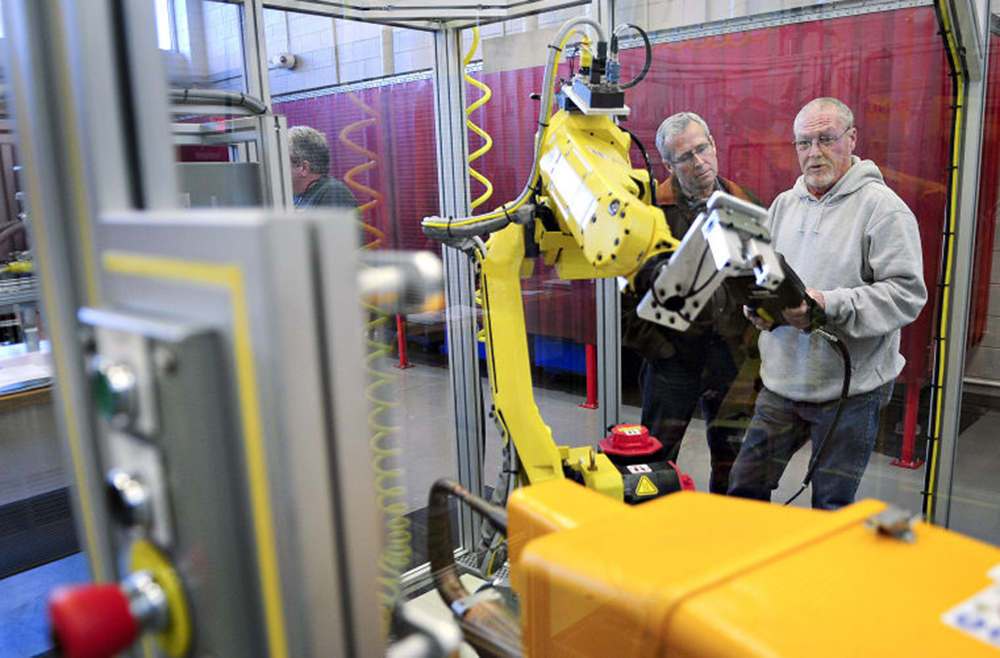 Glasgow, Kentucky - For the first time in the history of Akebono Glasgow, Plant Management and Leaders has decided to employ the use of Robotic Automation within their Brake Manufacturing and Production process. Citing the need to remain competitive with the growing global market and the opportunity to increase the skillset of our local technical workforce, ABG (Akebono Glasgow), reached out to the Office of Workforce Solutions at Southcentral Kentucky Community and Technical College (SKYCTC) for customized training opportunities. "Akebono views the relationship with SKYCTC as a great opportunity to create a partnership with one of our local technical facilities. In addition we have an opportunity to grow the skill set of the Glasgow community", says Justice Dingle, Plant Manager at Akebono Glasgow.
Through the Kentucky Community and Technical College System, ABG was able to receive a training grant in partnership with SKYCTC to provide FANUC Robot training for several of their Engineering Technicians and Maintenance Technicians. "As part of our commitment to meet employers' needs and prepare the workforce in our region, SKYCTC Workforce Solutions provides customized on-demand training. As part of that service, we are honored to provide Akebono employees training in programming and operations of their newly acquired FANUC robots," says Dr. Kim Myers, Director of Workforce Solutions at Southcentral Kentucky Community and Technical College.
Akebono plans to install their first FANUC robot cell in mid-January on their production floor. Additional training opportunities for local ABG Manufacturing Engineers to develop and enhance their skillset is being provided through FANUC America in Rochester Hills, MI. "We are very excited about the opportunity we have to develop our Engineering resources through our relationship with FANUC, N.A.", says Erick Bradshaw, Plant Engineering Manager.
Akebono Glasgow will continue to create opportunities to enhance the skillset of the local community while improving its ability to remain competitive in an ever changing global market.