Alyssa Bennett - December Phi Beta Lambda Student of the Month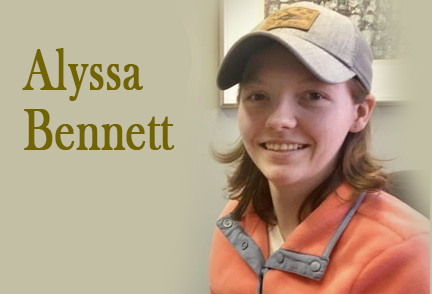 Elected by her peers as December's PBL Student of the Month, Alyssa originally hails from Owsley County in Eastern Kentucky. She moved to Bowling Green when she was 13 years old. "I was adopted into a very large, close-knit family when I was 16. Because of this, I have a wonderful mom and dad, two older brothers, sister-in-law, and nephew, in addition to many other family members," she said.
When asked why she joined Phi Beta Lambda, Alyssa explained, "I joined PBL to push myself to get outside of my comfort zone, meet new people, and have the chance to network."
What does Alyssa like most about Phi Beta Lambda? "I have really enjoyed getting to know my fellow PBL members and advisers," she said.
Why join Phi Beta Lambda? Alyssa provides several important reasons. "I would recommend joining PBL to other students because it provides great networking opportunities; helps you get to know your fellow students; and allows you to gain much more knowledge about the business world."
Alyssa chose SKYCTC because of its convenience. "Being a full-time employee, I liked the schedule flexibility that SKYCTC offered. I was able to stay on track with a full-time class load and still maintain full-time work hours."
Alyssa is currently studying accounting and will be graduating in May 2020 with her AAS in Business Administration. After graduation, her plans are to work for a company which will utilize her skills and knowledge. Alyssa wants to keep learning and developing herself to be the best employee she can be.
In her spare time, Alyssa enjoys spending time with her family, hunting, fishing, riding four wheelers, going to the movies, and most outdoor activities. She also likes coin collecting.
Congratulations, Alyssa!