SKYCTC EXPANDS COMMERCIAL DRIVERS' LICENSE PROGRAM INTO HART COUNTY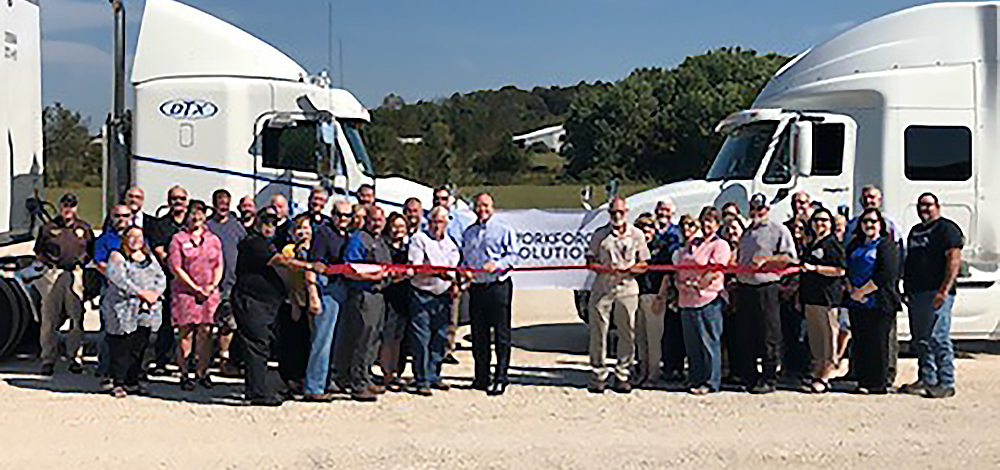 Munfordville, KY (November 4, 2019) - Southcentral Kentucky Community and Technical College (SKYCTC) officially expanded the College's Commercial Driver's License (CDL) program into Hart County. The expansion kicked off on Friday, September 27th with a ribbon cutting ceremony for the new Skills Practice Range located at the Hart County Fairgrounds. The facility was built by the county in cooperation with the Fairgrounds Board for use with this program. The first class began on Monday, September 30, 2019 with a full cohort of nine students attending.
The College's CDL Program was launched in June 2018 in response to local demand from business and industry for commercial truck drivers. The first Skills Practice Range was established in Franklin, KY on the College's Franklin-Simpson Center Campus. To date 98 individuals have obtained the Class A Commercial Driver's License through the program.
According to Bloomberg, there is a tremendous shortage of truck drivers in the U.S. with about 300,000 unfilled jobs. The nationwide shortage is mirrored in Kentucky, and with more than 13,000 trucking companies in the Commonwealth, CDL jobs are plentiful. Commercial truck driving is a high-wage as well as high-demand industry. The Kentucky Trucking Association reports that in 2016, total trucking industry wages paid in Kentucky exceeded $5 billion with an average annual trucking industry salary of $44,843.
"Eighty-nine point two percent of Kentucky communities solely rely on trucking to deliver their goods," Kentucky Trucking Association President/CEO Rick Taylor said. "So there's opportunity for drivers throughout the state."
"We're proud to be at the forefront of educating the next generation of truck drivers," said Dr. Kim Myers, SKYCTC Workforce Solutions Dean. "Our role is to prepare the talent needed to fill jobs in our region. This is just one of many ways we're helping alleviate the state's workforce shortage and grow the economy."