SKYCTC HONORS MORE THAN 800 CANDIDATES AT COMMENCEMENT CEREMONIES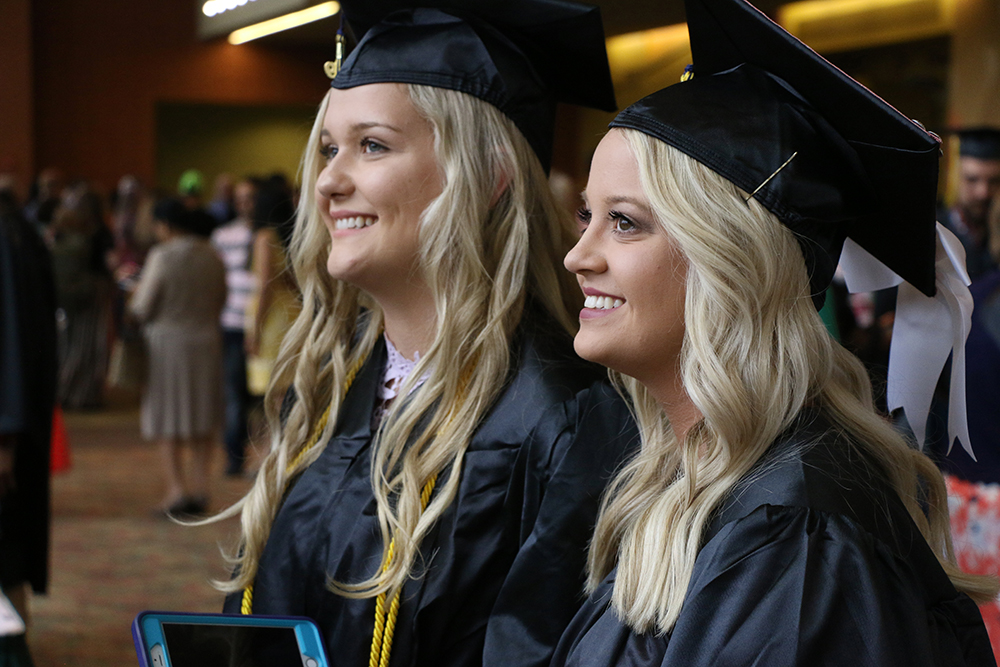 Bowling Green, KY (May 10, 2019) - Southcentral Kentucky Community and Technical College (SKYCTC) honored over 800 candidates receiving 1,354 credentials (certificates, diplomas, and degrees) at the College's Commencement Ceremonies on Friday, May 10, 2019. The ceremonies were held at the Southern Kentucky Performing Arts Center (SKyPAC).
"We honor each of our graduates for the hard work they put forth to achieve their career goals. We also pay tribute to the family and friends for their great support of the graduates, as well as to the SKYCTC faculty and staff for their commitment to student success," states SKYCTC President Dr. Phillip Neal.
2019 Graduates:
ALLEN COUNTY:
Alexandria Sean Arnold, Lisa Marie Blankenship, Morgan Paige Burton, Payton Calvert, Alexandria Hope Carter**, Nicki Carver, Jordan Dale Centers, Rayleigh Cesare**, Joseph Spencer Cole **, Ronnie Colon, Robert Doughty*, Holly Lynn Gaines**, Ryan Edward Gerald, Danielle Harvey, Amber Kay Hehn, Rece A. Johnson**, John Keith Jones**, Christopher Lewis, Coda Little, Amanda M. Lynn, Mallory Nicole Marr, Hunter Bryant Mitchell, Summer Leigh Murdock, Whitney Perry, Kaylee Elizabeth Ragland, Dillon Reid**, Morgan Rutledge, Aubrey Anne Scott, Caleb R. Simmons, RaeAnn LaShae Stafford**, Tammy Stiffler, Renee Stinson, Brilee Stovall, Chase Martin Waters, Savannah Wood, Austin York
BARREN COUNTY:
Christine Marie Amiot**, Bailey Martina Atwell, Joseph Anthony Austin*, Sheonna Faye Bartley, Benson Bell**, Brandy Botts, Grant Bowen, Kelsey Madison Bowles, Tyler Mckinnley Bragg, Mynika Bray, Jessica Breyman, Michaela Ann Brown, Dylan Chase Bybee, Abbie Kate Carver**, Martina Marie Chapman, Billy Courtway, Jacklynn Craft, Jacob Seth Crain**, Seth Adam Crump, Emily Denny**, Lindsey Joy Eaton, Victoria Eaton, Jaycie Dallas Edwards*, Desiree L. England, Courtney Estes**, Triston Lakota Ethridge, Murphy Ellen Faller*, Christopher Austin Farmer, Kimberly Gama-Hernandez, Adam T. Giebitz, Hannah Claire Goodson**, Nichole Maechille Gouty, Elizabeth Groce*, Elizabeth Hagan, Keisha M. Hardin, Eduardo Gama Hernandez, Andrew Highbaugh, Alexis Hutcheson**, Christina Jessee, Eli Jolly, Zackary Heath Knew**, Rebekah Lancaster**, Dylan Lane**, Heather M. Lickteig, Olivia Nichole Lopez, Joe D. Lyons, Kaila Cheyenne Madson, Rodney Lee Meadows**, Maria Kay Norman, Michaela Brooke Patterson, Bailey Ty Peden, Braden Cole Pedigo, Max Pena, Maggie Leigh Phelps, Marcus Piper, Caitlyn Renee Pitcock, Kevin Ray Pope, Deleashia Reynolds, Sara Richardson**, Taylor Roark, Rebecca Jo Rogan**, Jannon Leigh Rue, Brian Michael Sadler, Cauner Schroeder, Robert Wayne Settle Jr., Ashley Dianne Sherrill, Caleb Drew Shockley, Kristopher Simpson**, Linsey Kristin Simpson**, Brooks Smith, Beverly Smith, Cecily M. Smith, Jonathan Stanfill, Brittany Leigh Stewart, Johnathan Leslie Stratton*, Erica Strode, Timothy Samuel Strode, Morgan D. Thomas, Trace Andrew Tittle, Carlos A. Torres, Courtney Faith Turner**, David Wayne Turner, Kimberly Page Tuski, Jeremy D. Walter, Joice Wells**, Shane C. White**, Jessica Brooke Wilkinson, Dustin Wayne Williams, Nicole Lynette Wood, Meridith Grace Woodcock**, Heather Dawn Wyatt
BUTLER COUNTY:
Shelby L. Austin, Lydia Bratcher**, Ashley Lynn Britt, Ashlynne G. Brooks, Rachael Cameron*, Maurice Taylor Cardwell, Ian Kendall Cardwell, Elizabeth Cole, Joshua Tyler Davis, Leah Evans**, Zachary Alexander Hicks**, Hank Hocker, Haley Rochelle Hope*, Shawnna Hunt, Joseph Hunt**, Bailey Ryan Hunt, Mikayla Iler**, Luke Jarrod Jacobs**, Sahara Marie Johnson**, Taylor D. King*, Tamara Kitchens**, Aleisha Larue**, Kendra Michele McCloughan, Jessica Lynn Milam*, Zoie M. Pendley**, Alexander David Saunders, Tori M. Shain, Danielle Nichole Spurgeon, Jacob Van Meter, Jordan Anne West, Elizabeth Nicole White, Jeremy William Womack*
CALDWELL COUNTY
Bryar Mason East
CHRISTIAN COUNTY:
Brian Deshawn Dowlen, Shanise J. Oates, Jkeveron Keshawn Patterson, Lucas Pryor
CLINTON COUNTY:
Bethany D. Fryman
CUMBERLAND COUNTY:
Josie Potter
DAVIESS COUNTY:
Payton Ellis Foster, Sydney Logsdon, Erin LaMae Phillips*, Murphy Jo Riney, Natalie Sangalli**, Nicholas Andrew Wells**, Savannah Bailey Yawn, Allison M. Zoglmann
EDMONSON COUNTY:
Bailey Board*, Alyssa Breann Brooks, Stephen Bullock**, Bailey Hunter Burba**, Lauren Elizabeth Carey, Richie Austin Carter, Jennifer Marie Daugherty*, Madeline Brooke Davis, Kimberly Duvall**, Ariel Hodge, Kelsey Nicole Janes. Tiffany Morgan Key, Cassandra Larson, Michael David Leath, Hannah Lindsey, Avery Nadine Lindsey, Danielle Marie Lindsey, Madysen Shea Massey**, Ashley McFelia**, Rebecca Lynn Oller*. Jaimee Brookee Payton, Austin Shane Pierce, Haley N. Skaggs, Peyton Christopher Talley*, Benjamin Steven Thomas, Brenna Wilson, McKenna Marie Wood**, Lacey Elizabeth Young
GRAYSON COUNTY:
Tracie Lynn Godby**, Julie Ann Heinz**, Melissa Newton*, Haleigh Ilanah St. Martin, Stephanie Michelle Wood, Sarah E. Woolbright, Lindsey Jo Davis*
GREEN COUNTY:
Lindsey Jo Davis*
GUTHRIE COUNTY
Jacqueline Kay Doyle
HARDIN COUNTY:
Hunter Wayne Wilson, Lucas Christopher O'Daniel**
HART COUNTY:
Rachael Atwell**, Jodie MaShay Byrd, Jonah Gregory Carter, Micheal Andrew Crabtree**, Ashton Danae Defevers, Joshua Horton, Mason Cruse Michael*, Cole Trenton Peavler, Joseph Allen Rhinehart, Allyson Beth Sweet**, Zachary Tyler Thomas**, Shelby Turley, Andrew Mark Wade, Adam Curry Walker, Isabella Marie Wilson
LOGAN COUNTY:
Kaelyn Rae Adler, Alyssa Racquel Anderson*, Autumn Babb, Amber N. Baker, Quoneshia Mariann Barker, Taylor Danielle Beaty, Weston Charles Bernier, Mateah Black, Dustan Black**, Christian Blick, Malea Boggess*, Christopher Dean Bradley**, Juliana Bratcher, Candace M. Brumfield**, Robert G. Cardwell**, Brittney Elaine Clark, Leslie Seth Cole, Camille Collins**, Kayla Cowles*, Haleigh Duncan*, Sierra Dunn, Courtney Cherylee Eicher**, Caitlin Maya Elmasri, Anjali Deandria Evans, David Foster**, Ashley Garrie, Christopher Philip Michael Gipson, Whitney Elizabeth Gore**, Raven Hale, Miranda Laine Haley, Kela Heltsley, Laura Hendricks, Haley L. Hines**, Matthew Lee Hinton, Jacob Alexander Holman, Alyssa D. Hoots, Ryan Hudson, Kayla Hughes, Chelsea Johnson, Tiffany Allison Johnson, Sarah E. Jolicoeur**, Nora Janes Juarez, Amanda Keith*, Jordan Michael Kennedy, Cassie Lainez, Victoria Anne Lawson, Kadie N. Lee**, Chelsea Logan, Elizabeth Lowe, Angela Dawn Marr, Devin Morgan Ross Martin, James Harlon McDonald*, Amanda Christinne McDonald**, Blake McIntosh, Aryn N. Murphy*, Steven Murphy, Nicholas Pierce, Hannah Polacheck*, Sheridan Paige Rosser**, Cameron Osborne Scott, Mercedes Danyel Sharp, Ava Michelle Simmons, John Noah Stahl, Matthew Steenbergen**, Justin Wayne Stone, Cara Ann Stranger**, Abigail Lee Varble, Israel Vasquez**, Kyle Dean Vaughn, Jason Williams, Jeff Williamson**, Trenton Willis, Brianna Nicole Wilson, Jessica Rhea Winn*, Danielle N. Wood*, James G. Yates
MCCRACKEN COUNTY
Lauren Boyster
MEADE COUNTY:
Alex Blackburn
METCALFE COUNTY:
Anna Bryant, Todd Dix*, David Shon Edwards**, Tabatha Dawn Froedge, Riley Douglas Gardner, Amanda Gibson, Kayla Beth Glover, Sydney A. Lee, Ty Houston McMurtrey, Joshua Pitcock*, Dagan Kyle Rock, Savannah Shea Smith, Savannah Richardson Smith**, Melinda Thompson, Jarad Wade Vanzant**, Abbigail Grace Walker, Audrey J. Young**
MONROE COUNTY:
Lincoln Dexter Arnett, Austyn Belcher, Mariah Burnett, Kristen Lea Carter, Matthew P. Coffelt, Keri Lynn Dismon, Cierra Chabli Downey**, Elliott Hammer*, Katie Knudson**, Mackenzie Faith Manning**, Brittany Michelle McFarland, Luke H. Nixon*, Carolyn Sue Pickerell, Nicole Page Shaw, Taylor Beth Smith, Haley Danielle Spurlock, Tristan Turner, Dusty Walker
MUHLENBERG COUNTY:
Thomas Avery**, Trayton D. Duncan, Houston Cole Noffsinger*, John Zackery*
NELSON COUNTY
Matthew Luckett*
OHIO COUNTY:
Mary M. Maple
PULASKI COUNTY:
Emilee Barber
RUSSELL COUNTY:
Josh Blankenship, Cheyenne A. Simpson*, Wyatt Adam Slone
SCOTT COUNTY
Austin Turner
SIMPSON COUNTY:
Joshua Acker**, Latoya Atkins, Ella Belcher, Kenneth Austin Bishop*, Bryce Tyler Booher**, Hannah Leeann Bowling*, Halee Boyer**, Kate Chaffin, Joshua Ryan Cowles, Margaret Daisy Dillard**, Zavier Dinwiddie, Nicholas Wayne Ferguson**, Tyler Joseph Ferguson, Krista May Fields, Jordan Dawn Finn, Felicia Gamble**, Kayla Herrington**, Kayleigh Elizabeth Hickman, Raiven Hite, Randi Starlene Huddleston, Brandi Faith Huffine, Tonda Mashell Humfeld, Andrea Gail Jackson,Macey Johnson, Dru Knight, Natalie S. Lawrence, Brenda Renee Logan, Kayla Mann,Alivia Faith Maxwell, Sierra McKinney, Kristy Moore, Crystal G. Oliver, Timothy Justin Penn, Alexa Kay Perdue**, Walker Pitchford, Alexis Ranburger**, Melissa Ranburger**, Allison Rogers*, Kellie Cheyenne Rogers, Heather Santos*, Edith Rose Schmucker, Harlie Shadwell**, Cheyanne Smith*, Amber Stradtner*, Crystal Dawn Tyree, Austin Blake Weiler**, Kristin West, Danielle Kelli West*, Angela Gayle Witt,Daniele Elaine Wright
TAYLOR COUNTY
Lisa Marie Greenwell, Tina Nicole Hughes, Kristin M. Marcum
TODD COUNTY:
Ricky Brown**, Samuel R. Harper, Autumn Michelle Harris
WARREN COUNTY:
Kristina Marie Abel, Angelina Corrine Addams**, Diellza Ademi*, Jeton Ademi**, Heather Renee Adler, Kaelyn Nicole Agnew**, Halimah Aldarawish*, Alicia Anita Allen, Kimberly N Allen, Kelsey Reed Allen, George Edward Allender, Juan Alonso, Joshua Ruben Amador, Jasmine Ranae Amburgey, Shamarcus J. Anders**, Crystal Mara Andersen**, Dominic Anderson, Ervin Andric, Farah M. Anwer*, Ali Anwer, Israel De Jesus Arellano, Bradley Aubrey**, Jared Alan Avery, Jazmine Bailey, Aldin Barlov, Desmond Michael Barnett, Ladislao Barradas, Katina Basham,Elizabeth Bonnie Basham, Marita Faye Bedwell, Katheline Belcher**, Max D. Bell, Brittany Nicole Bessette, Jonathan Biggs, Thomas Steele Bolton, Richard Boots, Rebecca C. Borden, Joseph Earl Brabham, Hannah Brady, Brittany Breininger**, Morgan Elisa Bridges**, Hannah Brown, Payton Browning, Jonathan Brubaker**, Sarah Buchner, Alexander Buckman, Coralee McKenzie Bumpus, Condenessa Bunton, Christopher William Burris, Bryan Z. Bush, Brooke Elaine Bush**, Alicia Butler, David Burris Cain**, Ashley Cain, Timothy Dakota Campbell, Nathan Allen Carl, Logan B. Carter, Zachery Reed Carter, Kaeley Cooksey Carter, Jordan A. Carter-Morris, Abby Breann Cassady, Haley Caudill, Hana Cavka**, Christina Ann Childers, Mark W. Chute**, Robert Luke Clark, Rebecca Clodfelter**, Anna Marie Colakovic, Erin Beth Cole**, Tiasha Tashay Coleman, Nickolas Conder**, Kelsey Leigh Cooksey, Ashley Danielle Cooper**, Kyrstin Danielle Corder, William Jeffrey Corder, Isabella Corona**, Dillon Warren Cosby, Jaden Leigh Cowles, Michael Wayne Crabtree, Terina Beck Creek, Emily Croslin, Lakira Crowder*, Neal T. Cummins**, Ryan Curtis, Sydney Daniels, Dustin Cruz Danini*, Bailey Elizabeth Dargo, Summer Agnes Rose Davenport, Robert William Davis Jr., Cierra Cheyenne Dean-Watkins*, Whitney Danielle Defevers**, Kristi Danielle Delvalle, Emily Dennison**, Makenzie Nicole Denton, Mary Dequilla**, Adisa Dervisevic*, Kendal Ivan Diaz*, Austin Dismon, Christopher Dodson, Ashley Renee Donnell, Chelsie Douglas, Cheyanne N. Doyle**, Madison Duncan **, Rachel Dunn, Bethany Echols, Casey Edwards*, Cody Edwards, Brittany Edwards, Mackenzie Evans*, Michael John Farley**, Tanner Wayne Feese*, Allen E. Fellers, Joel Chase Fender, Adam Ray Ferguson, Laura Kay Fevold*, Jennifer Kaye Fincham, John Fondren**, Brittany Lynn Foster, Blake Fowler, Ashley Fraire, Mackenzie French**, Hannah Gabhart, Naida Gagulic, Seth Gaskey**, Robert Spencer Ghee, Zachary J. Gibbs**, Diana Nicole Gibbs**,Cateryn Maribel Gibbs, Taylor Goodall, Taylor Goodwin*, Sarah C. Graham**, Preston Graves, Johnathan Derek Graves, Emma Louise Graviss, Jonathan Greer*, Tasia M. Grinstead, Myreisha Groves, Daniella Guardado, Gloria Brianna Guillen*, Jovian Gurley, Jasmine Halcomb, Robert Hall*, Edna A. Hamilton-Peachers, Bailey Jo Hamm, Victoria Hampton, Courtney Hargis, Kent Harlan, Mollie Francis Harlan*, Remmington Alexander Harpe, Ifrah Ibrahim Hashi**, Dylan Hawkins*, Jaleesa Hawkins, Savannah Jade Hawks*, Zachary Haynes**, Alana Nicole Henry, Lisette Hernandez, Andrea Shicel Hibbitt, Theresa Lynn Hicks, Jacob Hildebrant*, Alan Wayne Hines, Brooklyn Nichole Hite, Jazmynn Hodges, Justin David Holloway, Jeffery T. Honaker**, Angela Horten*, Presley R. Houchens, Paige Houchens, Kaitlyn Dawn House**, Jonathan Howard, Oo Mai Hsar*, Megan Hudnall**, Na'Tori Hughes, Sara Elizabeth Hughes, Jalen J. Hunter, Farah Hussein Ali*, Maria Ianuzzi, Makayla Jackson**, Collin Jackson*, Whitney Jernigan, Renea Jett, Janson L. Johnson, Brittany Johnson*, Daniel Michael Joint, Mason L. Jones, Chase Jones, David Ray Jones, Matt Wade Jones, Ethan James Jordan, Rayna Jozwiak**, Almedina Karabegovic, Harjinder Kaur**, Emily Katheryn Keenan, Mikayla Deshay Kelley, Danny Lee Kelly**, Drew Kelly, Anthony L. Kemble, John C. Kemp, Jennifer Key, Niang Khawm**, Haley King, Taylor Kinnarney, Kaitlyn Faith Kinslow*, Joshua Clayton Kirby, Tori Mischelle Kirk, Leah Ruth Knighton, Farheen Komal**, Stacy Lynn Kreuzer, Nick Micheal Lane, Miriam A. Larios, Tabetha A. Latham, Shanna Ann Lewis, Hugh Cameron Lewis, Taylor Lillybridge, Makayla Lindsey, Jeffery Bryant Lindsey, Nancy Elizabeth Linhardt, Matthew Alan Litsey**, Nicole Logan**, Carsan Paige Logsdon*, Heather Loid**, Jeremiah Blake Love, Amanda Erin Love**, Demauria Loyd, Jacob Lyons, Jessica Magner, Curtis Lee Mansfield, Izela Maradiaga**, Charlene Markel, Audrey Lain Marlin, Zachary Martin**, Marliena Maria Martinez, Kassie Lynn Mathews, Erica L. McCandless, Evan Kent McCloud, Kendra Michele McCloughan, Jessie Ann McCoy, Destiny McKenzie, Shania C. Melendez, Keisjia Mellios-Craft *, Preston R. Miller**, Carl Ray Miller, Charles Miller*, Brandon Miller*, Majlinda Mirena**, Amanda Marie Mohr, David Moore**, Samantha Leighann Moore**, Zimrri Morfin, Denishia Morris*, Jonathan London Morris, Tshilombo Daniel Muamba, Sabrina Mujic, Daniel Mullins Jr.**, Elmira Muradova**, Joshua Lyndon Murphy**, Devin Scott Murphy**, Mirela Music, Jasmyne Lenae Napier, Paige Neeper, William Edric Nibbelin, Desy Sen Nu, Khawl San Nuam, Michael Kaelin Odil, Mersiha Omic. Breanna Tracy O'Nan**, Heidy Oquendo, Sara Christina Ortiz**, Jacob Michael Osborne*, Nickolas Peter Palmer, Haley Parker, Nilay Patel**, Kevin W. Perea, Jahem J. Perez Vazquez**, Anjel Petty, Melaney Nicole Phelps, Danielo Rema Pickett, Sierra D. Powell, Laura Michelle Priddy, Andrew Priquette*, Leigh Ashley Pruitt, Cassady Moore Puckett, Jordan Railey, Michelle L. Reece**, Margaret Ann Ribby, Nicole Marie Richards*, Tayler R. Richardson, Brittany Lekae Richardson, Morgan Elizabeth Riehn**, Collin Hunter Ritchie, Brendy Patricia Rivera-Escobar**, Apryl Mercedes Robinson, Cierra Elizabeth Robison, Janet Rodriguez, Jeremy Wayne Rose**, Mercedes Autumn Roution, Raven Nicole Russell, Gentijana Sadriu, Alexander Joseph Salata, Mohammed Raad Saleh, Cesar Jovany Sanchez, Sharica Dyneshia Savage, Joshua Cody Scott*, Dylan R. Scully, Nicholas Andrew Semrick, Breona C. Shanklin, Kadiatu Sheriff, Michelle Leeann Simmons, Rheagan Skinner**, Ragan Paige Slone**, Tyria Smart, Ashley Danielle Smith, Lorrie Sue Smith**, Essence Michelle Smith, Reginald Leon Speight Jr., Ryan Joseph Sperriko**, Charles Spice, Kelsey J. Srygler**, Hanna Beth Staples**, Heather Nicole Steff, Lexie Kay Stephens, Megan Sterchi, Seth C. Stevenson, Katy Stewart*, Haley Stillwell**, Trevor Lee Stockton, Hunter Stone, Alexis Marie Stoneburner, Ma'leigha Chere Stovall, Braxton Heath Stracener, Jessica Marie Stuart, Deborah Ann Sturdivant, Whitney M. Sullivan, William Sutkowski, Paula S. Tangerstrom**, Samuel Tarter, Cynthia S. Taylor, Beau Harrison Taylor, Hayden Jones Thomas, Reagan Thomaston*, Mackenna Thompson*, Cory Thompson, Ngun Hlei Tial, Levi Towe, Samuel Shane Towe, Verena Kay Tracy, Shakota H. Tritz**, Chase Matthew Turley*, Karina Tyler**, Michael Updegraff*, Yuly Valencia-Hernandez**, Caileigh Noelle Vonberg**, Stephen Terell Wafford, Danielle Waild, Mary Catherine Walther**, Jackson Mckenna Washer, Paul Allan Wasney, Hilary Watkins*, Malinda Watts, Michael Anthony Wells**, Annie Wells**, John Westfall, David Tyler Whalen, Heather Rose Whitaker, Madison White, Macy Ann White**, Christopher Michael Whitehurst, Akilah Whitfield, Alexis Rachelle Whitfill, Arone Whittaker, Joshua Edward Wilkerson*, Victoria William, Barry Allen Williams, Justin Alexander Williams, Brooklynn Kaye Willis, Hallie Morgan Willis*, Logan Ann Willis, Heather Jolee Wilson, Diana Emperatriz Wilson-Mosquera, Coby Wimpee*, Stewart Franklin Windham. Autumn Winn*, Kailee Jade Wiseley, Caitlyn Marie Wood, Skyler Woodall, Joseph D. Woods, Roger Dale Wyatt*, San Yee, Kirstin Dale Yonts, Lindsey York, Alexander Kennon Young, Spencer Zoeller
WEBSTER COUNTY:
Logan Tyler Lynn
OUT OF STATE
Madeline Lubbehusen – Huningburg, IN
Rebekah Rene' Cothron – Lafayette, TN
Chelsey Lane Whitley - Lafayette, TN
Mallory Adkins – Osceola, FL
April Gann - Gallatin, TN
Coty Scott Gregory - Portland, TN
Rachael Lynn Suiter - Westmorland, TN
Patricia Geraldine Wylie - Whitehouse, TN
* with distinction
** with high distinction
SKYCTC graduates are well-prepared for the next step in their journey. Many graduates will enter the workforce at area healthcare facilities, businesses, industries, and organizations throughout South Central Kentucky. Others will continue their education and transfer to a four-year university.