DOLLAR GENERAL AND SKYCTC HARRY POTTER ALLIANCE CLUB PARTNER TO DONATE BOOKS TO BG COMMUNITY CENTER AFTER SCHOOL PROGRAM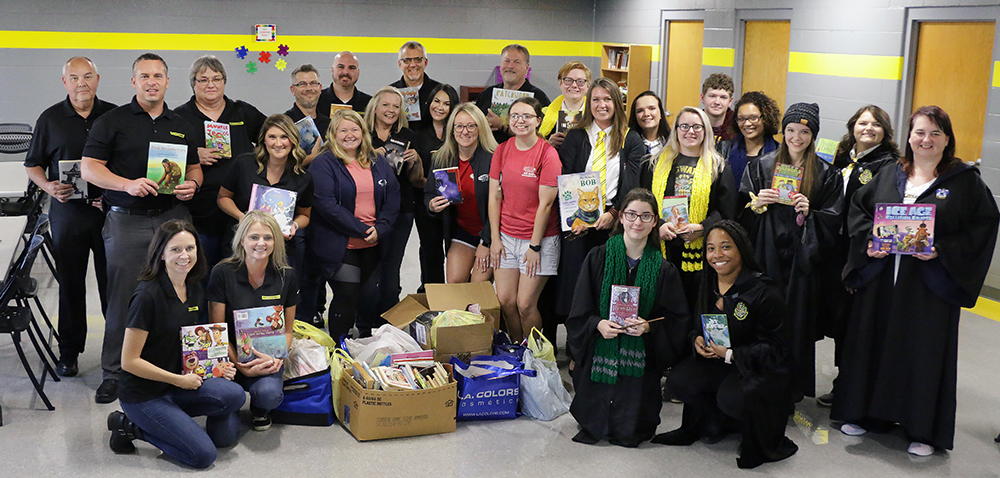 The Harry Potter Alliance Chapter at Southcentral Kentucky Community and Technical College (SKYCTC) and Regional Managers from the Dollar General Corporation (DG) teamed upped to supply the Bowling Green Community Center After School Program with hundreds of donated books for student enjoyment. The donation event took place on October 1, 2019 at the Bowling Green Community Center at 225 E 3rd Avenue in Bowling Green, KY.
"At Dollar General, corporate responsibility is built into our mission of Serving Others.," said Dollar General District Manager Laura Phipps. "By providing safe products, supporting our communities and enforcing environmentally friendly practices, we proudly display the values that make our company great."
The Harry Potter Alliance Chapter at SKYCTC is connected to the College's Sociology classes. "Each year we are involved with many community projects," says Associate Professor Bertena Varney. "One of the most important projects involves our chapter's participation in the Accio Book Drives." Accio Books started in 2009, four years after the founding of the Harry Potter Alliance, and is a global effort to save libraries and give the power of reading to children around the world. The HPA has contributed to hundreds of literary organizations and advocated for millions of dollars of library funding in their ten years, training wizard activists to change the world – one spell, one book, one campaign at a time! For several years the SKYCTC Harry Potter Alliance Chapter has led the nation in books donated in the Accio book drives.