SKYCTC student named culinary arts student of the year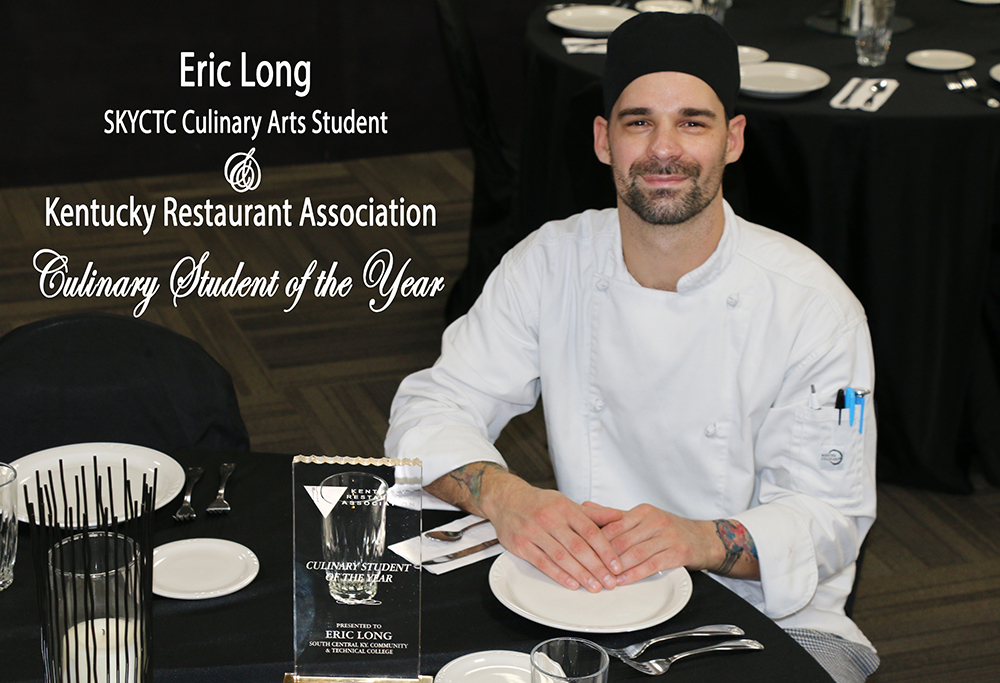 By AARON MUDD amudd@bgdailynews.com
For culinary arts student Eric Long, there's no other dream he's held longer than becoming a chef.
"I've wanted to be a chef since I was 8 years old," said Long, a first-year student at Southcentral Kentucky Community and Technical College.
Long took a step closer to that dream when he was named the Kentucky Restaurant Association's 2018 Culinary Student of Year. He was recently recognized at an awards gala at the Brown Hotel in Louisville.
For the fifth consecutive year, a student from SKYCTC's culinary arts program was honored with the award. Previous winners include Tina Barron, Riley Watson, Sandra Combs and Kelsea Leigh Wilson, according to the association.
"The students are taught well. They perform well, and they just keep winning," said chef Tammy Inscoe, the program's coordinator.
From broiling, baking, braising and more, Inscoe said students spend their first year in the program learning kitchen skills. In their second year, the focus shifts to business management.
"You know how to do your inventory. You know how to purchase. Everything that goes along with running a business, you should be able to do when you walk out these doors," Inscoe said.
She described Long as creative and hardworking.
Long said he appreciates the attention to detail cooking demands.
"It's one of those times that you are only focused on what you're doing and not anything else," he said.
When Long is not at school, he works as a resident property manager for Hope House Ministries, which runs a faith-based drug recovery program.
As a graduate of the program himself, Long said he got permission to take culinary classes at SKYCTC to follow a dream "that I feel like God has tried to lead me to my whole life." Now, as a mentor for program residents, he enjoys cooking their favorite dishes, he said.
After culinary school, Long said he wants to do staging, which means to briefly work under a chef for free. New cooks can quickly pick up experience by traveling around, Long said.
"You gain a lot of experience and a lot of observation and knowledge from other places," he said.
It could help him develop the skills he needs to achieve his long-term goal.
"I would really like to one day be a sommelier," he said.
In the meantime, Long will keep honing his skills and creating in the kitchen, which is what he appreciates most about cooking.
"It's really easy to do new things and to be creative and to try to do something different every time," Long said. "There's not a whole lot of recipes in my life that I think I've made the exact same way."
– Follow education reporter Aaron Mudd on Twitter @BGDN_edbeat or visit bgdailynews.com.