FUNDRAISING ETHICS: SKYCTC COMMITMENT TO COMMUNITY, AND A COMMITMENT TO TRUST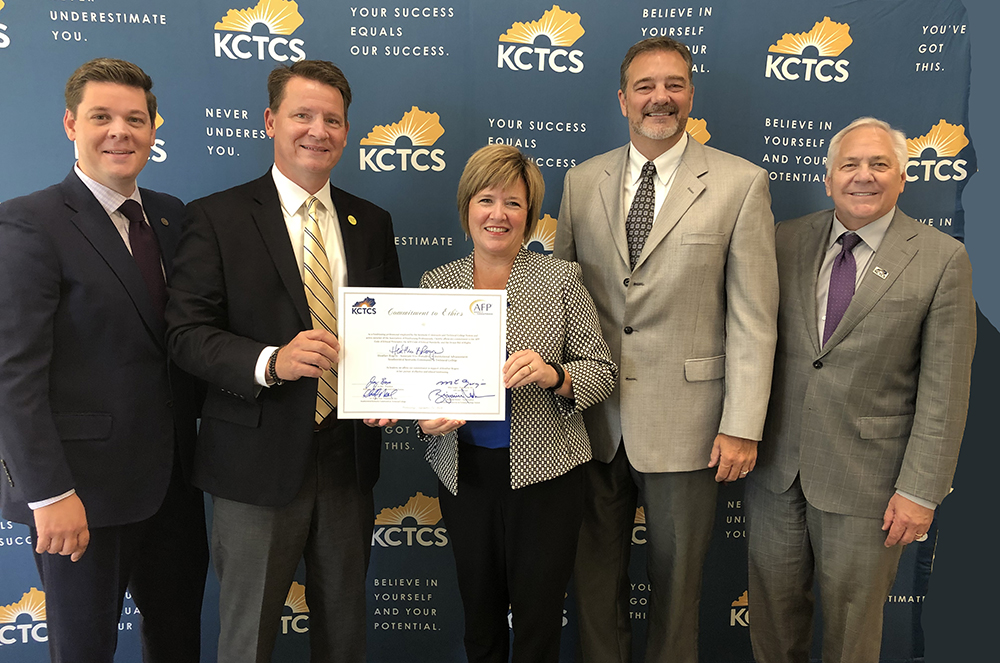 Southcentral Kentucky Community and Technical College (SKYCTC) President Dr. Phillip Neal and Vice President of Resource Development Heather Rogers, were joined by fundraisers and presidents from all 16 colleges of the Kentucky Community and Technical College System (KCTCS) and recently signed the Association of Fundraising Professionals (AFP) Code of Ethics pledge. They were joined by KCTCS President Jay K. Box and AFP President/CEO Mike Geiger along with KCTCS Vice President Benjamin Mohler and the development staff in Versailles. ​
"This occasion marks the first time that an entire college system has comprehensively addressed the issue of ethics and ethical fundraising by taking on the mantle and standards of the AFP Code of Ethics," said AFP President/CEO Mike Geiger. "The Kentucky Community and Technical College System has taken the leadership role not just among community colleges, not just in the state, but in the country—by abiding by the highest ethical standards in the fundraising profession. No other university or college or system has come close to what KCTCS is doing today."
According to Mohler, the signing is not to introduce these standards into the KCTCS culture, but rather to publicly and formally reflect the organizational and individual commitment to ethics.
"SKYCTC continues its commitment to our citizens, and gratefully recognizes the sacrificial gifts of all sizes that have contributed to the success of the college," stated Rogers. "As we continue to raise support for a variety of initiatives that benefit our students, we acknowledge the value that our association with AFP brings to our efforts,"
Throughout October, AFP and its partners will highlight the importance of ethical fundraising and provide new resources and tools for charities and fundraisers to demonstrate their commitment to the highest ethical standards.