SKYCTC honors graduates at inaugural signing day event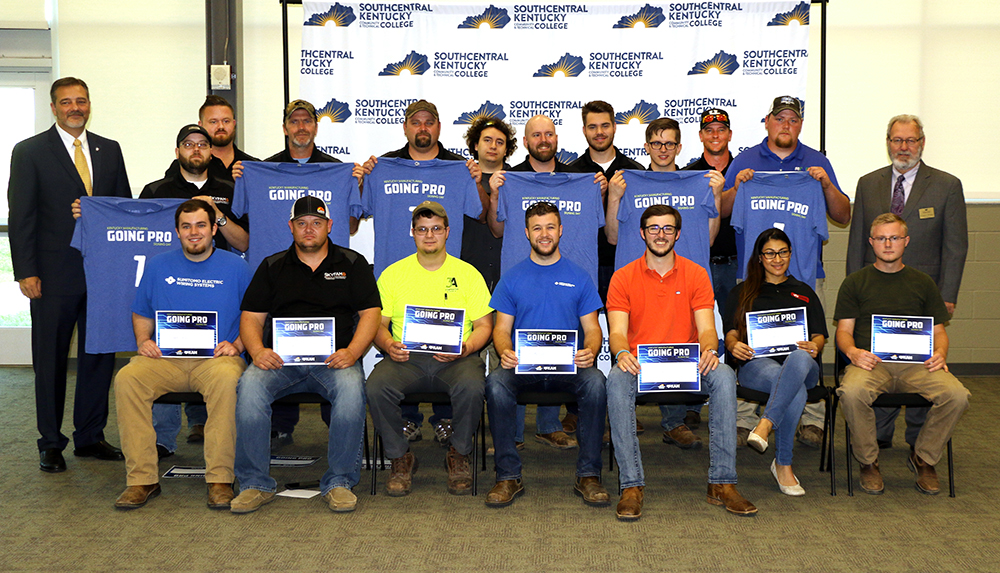 By DRAKE KIZER dkizer@bgdailynews.com
Like the thousands of athletes who sign with collegiate or professional institutions each year, 20 rookies in advanced manufacturing signed contracts with 11 local industry representatives Friday morning.
At the first Kentucky Manufacturing Going Pro Signing Day event, Southcentral Kentucky Community and Technical College celebrated the budding careers of numerous new hires – all recent SKYCTC graduates from one of seven fields that support advanced manufacturing.
Rachel Smith, communications administrator at M&L Electrical, said the event was "just as exciting" as signing day events held for student-athletes.
"When kids declare to go play basketball for (the University of Kentucky) or whatever it might be, it's a huge, exciting process because their life is changing and from here on out, things are going to be different," Smith said. "This is the same deal – they've gone to this trade school and they've learned these skills and now their life is going to change because they're working for a company that's going to let them use those skills and help them become a better person."
Five at a time, participants came to the front of Room 112 at the SKYCTC Franklin-Simpson Center and sat at a table. When prompted, the graduates unsheathed the provided pens and signed their certificates.
Logan Aluminum led the way with six signees. But according to ESM team leader Steven Cross, the men were incumbent workers Logan Aluminum had placed in the SKY Fame program, which provided classroom education at SKYCTC in addition to the hands-on experience they got at work.
"I think, really, the catchphrase is manufacturing is not dark, dirty and dangerous," Cross said. "Manufacturing is actually a really high-tech job with lots of opportunity for growth, not just in maintenance or in operations, but there's growth in leadership and different aspects of manufacturing."
By penning their names, the graduates joined the professional ranks and officially filled several available positions in the manufacturing industry.
Afterward, the freshly minted employees took photos with their employers – holding up shirts and hats with corporate logos to signal their allegiances.
Among the signees present at the ceremony, there were 18 males and one female. They were a diverse mix in regard to age, ranging from typical freshly graduated college students to older workers ready to start a new career path.
Mathew Litsey, 32, signed with M&L Electrical. Litsey noted that "it's never too late" to get started, especially in an industry seeking to expand and diversify.
"We've got a major shortage in pretty much all the trades – electrical, manufacturing, plumbing, maintenance – and we need people. We don't care if they're the traditional people or not," he said.
Manufacturing is critical to the commonwealth – there are 250,000 jobs in 4,500 facilities. But local manufacturers often have difficulty filling them because of a lack of trained workers. A 2017 survey of 1,084 companies statewide found that most employers can't fill the open spots they have available because the companies can't find enough skilled workers to hire.
Phillip W. Neal, president and CEO of SKYTC, said the institution is working on educating the community about the types of opportunities available in the manufacturing sector. To Neal, a "very diverse group of students" is a must.
"It's about challenging perceptions that these kind of jobs are just for one type of person," Neal said. "Careers in manufacturing really span the spectrum for all people. There are wonderful careers right here in their own backyard in a variety of different types of settings, work environments and earning potentials. But ultimately it's about people gaining a passion for a career that can support them and their family and have a wonderful life."
The event, coordinated in conjunction with Kentucky Community and Technical College System and members of the Kentucky Association of Manufacturers, was one of many similar ceremonies held at each of the 16 KCTCS colleges. All of the events aimed to highlight the importance of up-and-comers to various manufacturers statewide, according to a release.
Manufacturing is also one of the top three industries impacted by KCTCS, and KCTCS colleges and their students support 1 out of every 68 Kentucky jobs and contribute $2.3 billion to the economy, according to the event's website. Now, 20 more positions will be filled by formers KCTCS students.
– Daily News reporter Drake Kizer may be reached at dkizer@bgdailynews.com or by calling 270-783-3257
.