SKYCTC Board Member and author Paula Ratliff Pedigo shares expertise on "Crime Prevention for Houses of Worship"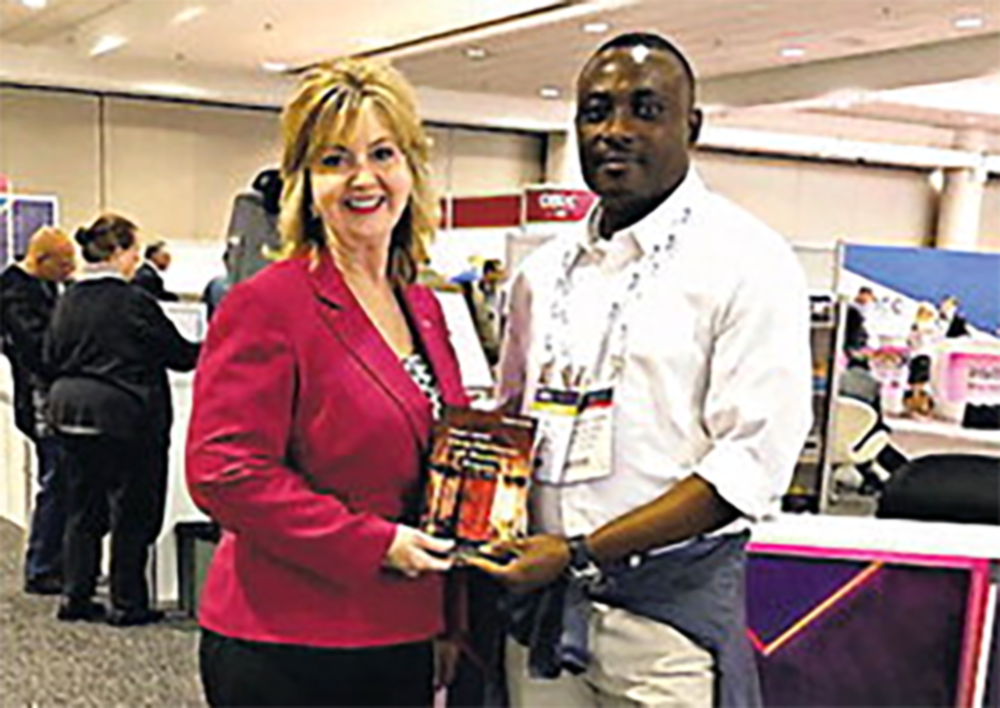 Barren County resident and author Paula Ratliff Pedigo is pictured with Matthew Ada Leonard, who lives in Tel Aviv, Israel. Pedigo said he bought her book "Crime Prevention for Houses of Worship" while they were attending ASIS International's Global Security Exchange Conference this week in Chicago. Leonard was interested in tips about keeping his home church of more than 5,000 attendees safe. The conference had over 20,000 registrants. Paula Pedigo currently serves as a member of the Southcentral Kentucky Community and Technical College Board of Directors.
Paula Pedigo, Southcentral Kentucky Community and Technical College (SKYCTC) Board of Directors member and author of the book "Crime Prevention for Houses of Worship", has shared her common sense approach to being pro-active in alleviating potential violence in the church at seminars throughout the globe.
An article written by Daniel Suddeath of the Glasgow Daily Times in 2017 gives a synopsis of her thoughts and approach.
Watch and Pray: Church safety a growing issue
BY DANIEL SUDDEATH Glasgow Daily Times - Nov 9, 2017
GLASGOW — They are houses of worship where people come to sing hymns, listen to sermons and share fellowship with church members.
But many have lost their lives or have been seriously wounded for doing nothing more than attending church — victims of violent attacks by estranged husbands, drifters and racial supremacists.
While some believe such heinous crimes are unlikely to occur in Barren County, one local expert is urging congregations to be proactive in developing plans to deal with potential violence regardless of where their church is located.
"It really is the responsibility of the management of church to provide a safe environment," said Paula Ratliff Pedigo.
Pedigo is a Smiths Grove resident and the co-author of the book Crime Prevention for Houses of Worship. She wrote her Master's thesis on the "Victimization of Religious Facilities" while attending the University of Louisville in 1995.
Often times churches are opposed to even locking their doors, falling back on the philosophical approach that "God will protect us", Pedigo said.
"I don't think that's a good answer. The good answer is we need to take precautions and do everything we possibly can to protect our people, our programs and our places."
Last Sunday, a gunman killed 26 people and wounded 20 others in a church in Sutherland Springs, Texas. It was the latest in what has been an especially violent last few years in terms of attacks in churches.
In 2015, a white man shot and killed nine black people who were worshipping in a church in Charleston, South Carolina, telling authorities he hoped to start a race war.
In September, a man shot and killed a woman in the parking lot of a Church of Christ in Antioch, Tennessee before entering the church building and wounding seven others. The incident is still under investigation.
In light of the violent events in recent years, many churches are taking extra precautions.
Glasgow Wesleyan Church, where Pedigo attends, launched a safety committee a few years ago. Pastor Tim Linick said that Glasgow is a welcoming and friendly community, so it's hard to imagine a church shooting occurring here, but added that having safety measures in place is a wise move.
"You have to be more vigilant because the fact is all that it takes is one person," he said. "You have to be prepared and trained."
Church attacks in Kentucky
There have also been church shootings and deadly attacks in Kentucky that happened for varying reasons.
In August, a 70-year-old woman who was cleaning a Baptist church in Somerset was violently assaulted and killed by a man who pleaded guilty to murder and robbery in a Pulaski County court this week.
He stole the woman's car and was arrested in Tennessee.
In 2016, a man stabbed his father inside Hillvue Heights Baptist Church in Bowling Green.
In 2001, a man killed two people including his estranged wife at a Baptist church in Hopkinsville after opening fire inside the building.
In an incident that occurred inside a church, a man shot and killed two members of a homeowners association in 2012 in Louisville who were using a community church to hold a meeting. The incident allegedly occurred over a property dispute, though the man accused of the shootings hanged himself in jail before trial.
Churches aren't revered as much as they once were, therefore congregations in any place must be vigilant, Pedigo said.
"We don't hold places of worship as sacred places anymore," she said.
Oliver Hoffman, pastor of First Presbyterian Church in Glasgow, said the governing board of the church has reviewed what they would do in case of an emergency situation.
Awareness is key, and Hoffman said technology also helps in that people have cellphones and can quickly call for help.
"We pretty much have people we know who will call 911 if we have a problem," he said.
Hoffman added that some of the church members include law enforcement professionals, and that their expertise would be beneficial to the congregation in case a violent attack occurred during worship.
Though there have been shootings in churches and other acts of violence, Hoffman said he's not overly concerned about such an incident occurring in Glasgow.
"You can only do so much if someone comes in and really wants to do harm," he said.
A variety of reasons
Pedigo's research has led her to conclude that church shootings most regularly happen when fewer people are inside the church building, and they are often connected to family and domestic disputes, personal conflicts and burglary and robbery attempts.
Attacks may also come from disgruntled employees, mentally-ill people or from those who are under the influence of drugs or alcohol.
Beyond shootings, churches can be the targets or sites of sex crimes, embezzlement and burglary.
Church leaders have to be cognizant of all the threats their congregation may face, and not just for regular church service but also during youth programs, daycare and other activities, Pedigo said.
Being prepared
Whether it's a large church with hundreds of members or a small congregation, being prepared is key to saving lives and thwarting crimes before they occur, Pedigo said.
"What I encourage churches to do is develop a security plan," she said. "It can be as specific as you need it to be."
Those in charge of developing security plans should be keenly aware of the physical features of their church building, Pedigo said.
For example, closing off entrance points to a church after worship has started and ensuring there are ushers at the doors that remain open can at least give some warning if a person attempts to enter with a weapon.
Churches also need to be aware of signs of domestic violence and be wary that such situations can spill over into worship services and activities, Pedigo continued.
Communication is another key facet in security.
Linick likened one approach to that of a sales associate at a store who is attempting to prevent shoplifting.
A person assigned to security assistance may notice a church visitor who seems suspicious. Like the sales associate inquiring about the intentions of a would-be shoplifter, the church member can ask several questions in a friendly manner to help them determine if the visitor is there to worship or for other reasons, he said.
It's a technique Pedigo also recommends.
The South Carolina church shooting is an example of an incident where more suspicion may have saved lives, Pedigo said, as a white man entered a traditionally black church he'd never attended on a Wednesday night for Bible class.
Without seeming rude, a church regular can simply ask a visitor questions like "How did you hear about us? What chapters of the Bible have you read? Have you been to church before?" to help them gauge a person's true intent, she said.
"It's OK to welcome people, but it's also OK to be suspicious," she said.