FORTY-ONE SKYCTC NURSING STUDENTS HONORED AT PINNING CEREMONY MAY 8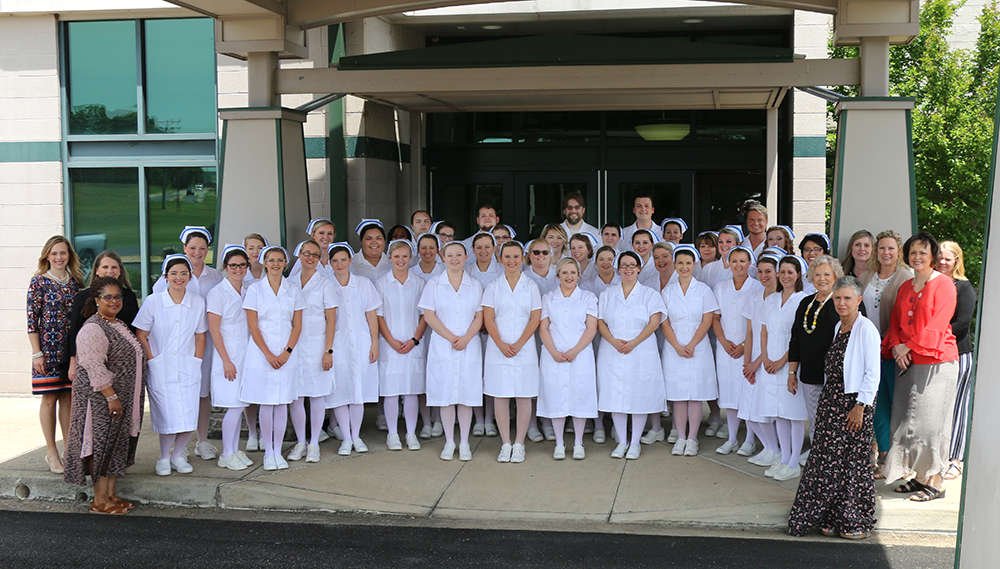 Cave City, Ky. – Southcentral Kentucky Community and Technical College (SKYCTC) held its nursing pinning ceremony for Practical Nursing students Wednesday, May 8, 2019. The ceremony took place at the Cave City Convention Center.
The College honored forty-one PN students from the Glasgow Campus. Awards and recognition were presented by various health care facilities in the area.
At the conclusion of the ceremony, the candidates recited the Florence Nightingale Pledge, a time honored tradition of the nursing profession.
Practical Nursing students honored in this year's ceremony were:
Allen County
Morgan Burton, Kimberly Nicole Carver*, Patsy Renee Stinson
Barren County
Sheonna Bartley***, Kelsey Bowles, Michaela Brown, Jacklynn Craft, Lindsey Eaton, Victoria Eaton*, Christopher Austin Farmer, Hannah Goodson*, Bailey Peden*, Kevin Pope, Deleashia Reynolds*, Jannon Rue, Lexie Stephens**, Courtney Turner
Butler County
Elizabeth Cole*
Cumberland County
Josie Potter*
Edmonson County
Lauren Carey**, Tiffany Key
Hart County
Cole Peavler*, Isabella Wilson*
Logan County
Brittney Clark*, Nora Janes Juarez
Metcalfe County
Savannah Smith*, Abbigail Walker
Monroe County
Keri Disman, Mackenzie Manning, Brittany McFarland, Carolyn Pickerell, Nicole Shaw**
Simpson County
Danielle West*
Warren County
Max Bell*, Alicia Butler, Sydney Daniels, Melaney Glidewell*, Jonathan Morris*, Sherica Savage, Heather Wilson, Caitlyn Wood**
*Designates Associate in Applied Science (AAS) ** Designates Associate in Science (AS)
*** Designates Associate in Arts (AA)
Awards Presented:
Courtney Turner received the Golden Bandage Scissors Award presented by Shea Wilson, RN, CNO of T.J. Samson Hospital.
Jacklyn Craft received the Ann K. Rogers Nursing Award presented by Ruth Hunley, RN of Glasgow B&PW Club.
Danielle West received the Village Manor Excellence in Geriatrics Award presented by Heather O'Banion, ED of Village Manor.
Josie Potter received the Mollie Carmon Obstetrical Award presented by Ms. April Shive, RN, Associate Professor at SKYCTC.
Austin Farmer received the Pharmacology Award presented by Ms. Peggy Fishburn, RN of the KY State LPN Organization.
Max Bell received the Clinical Nursing Award presented by Michelle Miller, RN, DON of Barren County Nursing and Rehab.
Mackenzie Manning received the Dr. Phillip Bale Mental Health Award presented by Kathy Brooks, RN, DON of, Glasgow State Nursing Facility.
Heather Wilson received the Better Way Award presented by Denise Billingsley, Administrator of NHC Health Care.
Nicole Shaw received the Rebecca Forrest Scholarship from the Kentucky Council on Practical Nursing, presented by Mrs. Forrest daughter, Pam Bulle
Nora Janes received the Joy Rudenga Memorial Award presented by Ms. Brittany Bourque, RN SKYCTC Associate Professor, sponsored by the Family of Joy Rudenga.
Jacklyn Craft, Hannah Goodson, and Abbigail Walker received the Perfect Attendance Awards presented by Ms. Traci Gentry, RN, Associate Professor at SKYCTC.
These graduates represent the sixty-eighth class of practical nursing students completing their studies at the SKYCTC Glasgow Campus. Southcentral Kentucky Community and Technical College has been producing highly trained nurses for the region since 1957.