SKYCTC ADULT EDUCATION HONORS GED GRADUATES FROM BARREN, METCALFE, SIMPSON AND WARREN COUNTIES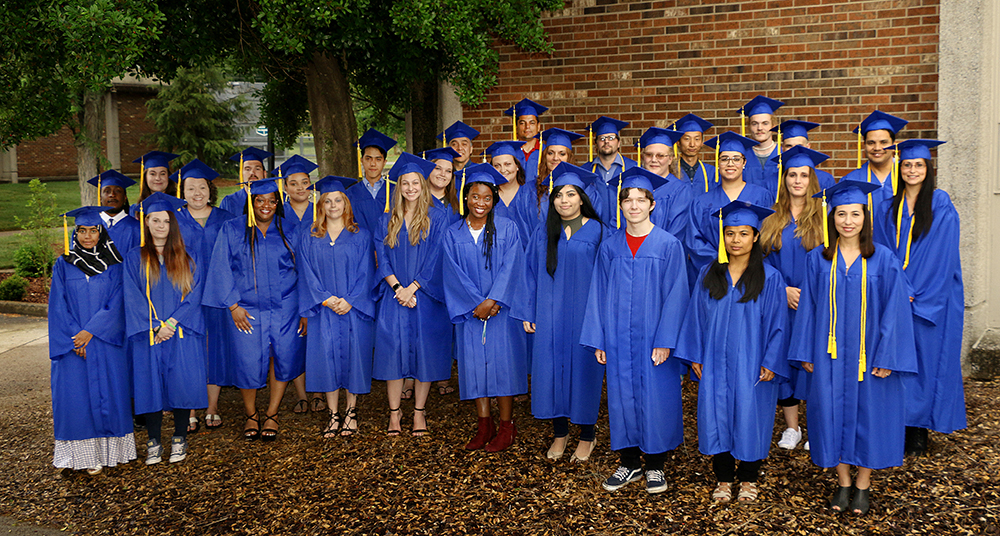 The commencement ceremony for Southcentral Kentucky Community and Technical College's (SKYCTC) KY Skills U (formerly Adult Education) centers was held on May 31, 2019 at the College's Main Campus. Friends and family attended the ceremony that recognized the academic achievement of GED graduates from Barren, Metcalfe, Simpson, and Warren Counties.
"We are incredibly proud of the hard work and effort our students demonstrated by obtaining their GED this past year," says SKYCTC Skills U Director Brian Becker. "We know this achievement will provide many more opportunities for our graduates and their families and give them confidence to set other college, career, and life goals."
Over eighty SKILLS U students received their credentials they earned during the past year. Each candidate could offer a story of overcoming adversity and obstacles to achieve their goals. One of those stories belongs to Ginger Sparks. Ginger is a thirty-four-year-old mother of four (ages 2-12 years old). She escaped from an abusive marriage where she ultimately sought the services of BRASS for six months. She would like to inspire other women to have courage to overcome their circumstances. Ginger has worked hard in life and especially towards her GED, and she has aspirations of starting college at SKYCTC in the fall. She has also been working with the Work and Learn program at SKYCTC to help other single mothers achieve their goals.
Speaking to this year's graduates was life-long educator and retired Bowling Green City Schools Superintendent Joe Tinius who spoke to graduates about overcoming obstacles and never giving up on their dreams.
The Southcentral Kentucky Community and Technical College Adult Education Centers in Warren, Simpson, Barren, and Metcalfe Counties provide many services to the community. Services provided by Adult Education include GED preparation, remediation in reading, language, and math, college preparation, English as a second language, citizenship exam preparation, as well as the Kentucky Essential Skills Certificate and the National Career Readiness Certificate. A new GED+ initiative is a KCTCS and KY Skills U partnership that allows students to enroll in tuition-free short-term certificate classes while pursuing their GED.
Those receiving their GED credential this year were:
Barren County Skills U graduates
Leslie Brown, Belinda Cash, William Doyle, Amanda Edwards*, Robert Glover, Alexzander Loos, Shane Price, Derrick Turner*
Metcalfe County Skills U graduates
John Hoffman, Isaac Kidd*, Rebecca Posey, Jeremy Tillberry, Courtney Wills
Simpson County Skills U graduates
Mariah Cayten, Amber Collins, Gabriel Eisenhauer , Dalton Emmitt, Brandi Key, Emily O'Koon, Kimberly Smith
Warren County Skills U graduates
Jessica Abney, Sadia Abukar, Curtis Alvey Jr. , Kevin Anderson*, Samantha Archer*, Victoria Arnold*, Hein Aung, Tasha Beckham, Sage Bell*, Ashlyn Bellus, Andrea Billings, Hannah Bivins, Sarah Bivins, Latifah Carson, Brandon Chaney*, Dara Chin, Kimberly Cline, Eduardo Davalos*, Daniela Dowell, Samuel Favela*, Elizabeth Florez, Jonathon Gingerich, Estefania Gonzalez, Ashley Green*, Bradley Green, Terry Green, Jessica Hardin, Darrell Huffman, Sonny Inabnit, Christina James, Nathan Jarvis, LeDerek Jones, Cristina Leon*, Robin Likens, Joseph Lindsey*, Michael Manning, Christian Melton*, Carlos Mendoza, Carlos Meza, Robert Nicley, Marvin Osorio-Granados, Kiosha Owens, Day Paw, John Payton, Nickolas Rogers, Weiqiang Song*, Ginger Sparks, Nusret Suvalic, Edward Swayzer, Jose Umanzor, Carlos Uribe*, Ronald Waswa, Dominique Webster, Sherl Whittaker, Mecho Woodson, Anthony Young
* Designates Honor Graduate
Southcentral Kentucky Community and Technical College and Skills U congratulates the 2018-19 GED graduates of SKILLS U.