STUDENTS COMPETE IN SKILLSUSA EVENTS AT SKYCTC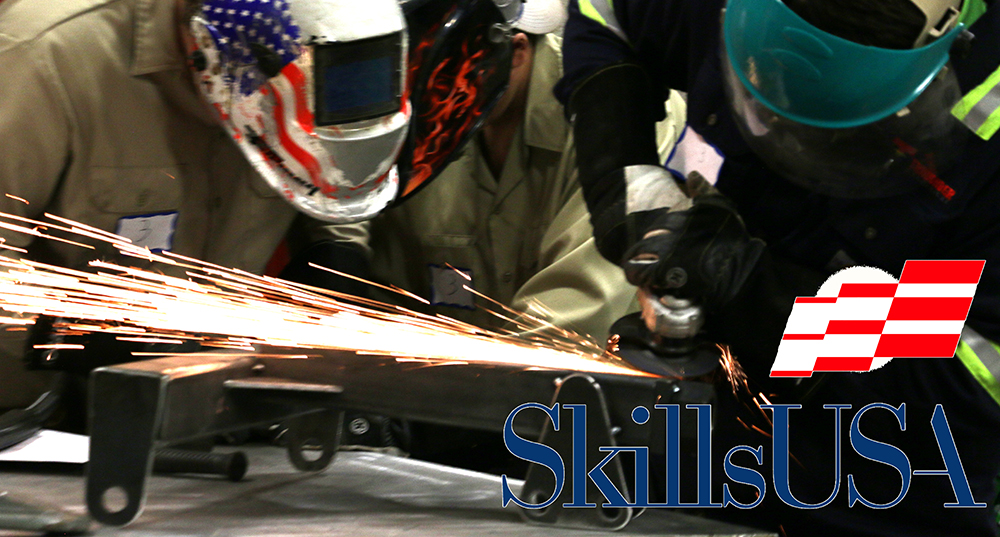 Bowling Green, Ky. (February 22, 2019) Over 125 area high school students competed in the 5th Region SkillsUSA competition hosted by Southcentral Kentucky Community and Technical College, along with the Warren County Area Technology Center, on February 22, 2019.
SkillsUSA is a United States career and technical student organization serving more than 320,000 high school and college students enrolled in training programs including technical, skilled, service, and health occupations.
SkillsUSA offers competitive activities in which students strive to achieve in a variety of occupational skill and leadership areas. Competition in skill and personal achievement is encouraged at all levels. Leadership contests include public speaking, parliamentary procedure, safety, opening and closing ceremonies, and job interviewing. Occupational skill contests include the building trades, health occupations, automotive technology, electrical/electronics, and personal services. Other competitions are: outstanding SkillsUSA chapter, community service, entrepreneurship and customer service.
Winners at the local events will move on to state and national levels. First, second and third place winners in the contest will receive a gold, silver, or bonze SkillsUSA medallion.
Winner from this year's 5th Region competition were:
Architectural Board Drafting
First Place – Sno Browning – Allen Co
Second Place – Jayleigh Minix – Allen Co
Architectural Drafting – CAD
First Place – Grace Lowe – Barren Co
Second Place – Jessie Radcliff – Allen Co
Third Place – Zach Ansky – Allen Co
Automated Manufacturing Technology
First Place – Austin Greever – Barren Co
Second Place - Gary Warner – Barren Co
Automotive Service Tech
First Place – Albian Sadriji – Warren Co
Second Place – Will Kelly – Butler Co
Third Place – Alex Lowe – Barren Co
Carpentry
First Place – Ethan Lee – Butler Co
Second Place - Dakota Woodard – Monroe Co
Third Place - Hunter Phelps – Butler Co
Carpentry 1
First Place – Kain Neighbors– Butler Co
Second Place - Stephon Ford – Warren Co
Computer Programming
Second Place – Noah Sturgill – Logan Co
Customer Service
First Place - Joshua Prue – Allen Co
Electrical Construction Wiring
First Place – Cameron Herald – Barren Co
Second Place – Dakota Cardwell – Logan Co
Third Place – James Peden – Barren Co
Electronics Technology
First Place - Camden Bond – Logan Co
Second Place - Hunter Buchanon – Logan Co
Extemporaneous Writing
First Place - Kyle King – Allen Co
Second Place - Jayleigh Minix – Allen Co
HVAC
First Place – Briley Buchanon – Barren Co
Second Place – Keven Hines – Barren Co
Third Place – Tyler Houchens – Barren Co
Industrial Motor Control (MOTR)
First Place – Joshua Herald – Allen Co
Second Place – Braxston Trivett – Monroe Co
Third Place – Dustin Bullington – Allen Co
Information Service Technology (CMT)
First Place – Christian Nettleton – Warren Co
Second Place – Tommy Richey – Barren Co
Job Interview
First Place – Josh Durham – Logan Co
Second Place – Zachary Ansley – Allen Co
Jobs Skills Demonstrations - A
First Place – Oscar Lane – Monroe Co
Jobs Skills Demonstrations - Open
First Place – Dylan Monroe – Logan Co
Mechatronics (Team)
First Place – Zachary Turner, Reymond Ouellette-Magana – Allen Co
(MLR) Automobile Maintenance and Light Repair
First Place - Caleb Bengtson – Warren Co
Second Place - Nick Updegraff – Warren Co
Third Place - Waymon Dye – Allen Co
Pledge
First Place - Sno Browning – Allen Co
Poster
First Place – Wesley Abney – Logan Co
Precision Machining Technology
First Place – Jaron Head – Logan Co
Second Place – Richard Schoonover III – Logan Co
Third Place – Ramie Wilkinson – Barren Co
Related Technical Math
First Place – Parker Wilson – Butler Co
Second Place – Racheal Price – Logan Co
Third Place – Bailey Hunt – Butler Co
SkillsUSA Spelling
First Place – Gabrielle Tangen – Allen Co
Second Place – Jessie Radcliff – Allen Co
Third Place – Thomas Howard – Logan Co
Technical Board Drafting
First Place – Hunter Shores – Allen Co
Technical Computer Applications
First Place - Dylan Monroe – Logan Co
Technical Drafting - CAD
First Place – Kyle King – Allen Co
Second Place – Kaven Eder – Barren Co
Third Place – Gabrielle Tangen– Allen Co
Transportation Tool ID (TTI)
First Place – Terry Kinser – Warren Co
Second Place – Cobrin Klien – Barren Co
Third Place – Seth Snodgrass – Butler Co
T-Shirt Design
First Place - Christian Skipworth – Logan Co
Second Place - Hayden Blick – Logan Co
Welding
First Place – Dillon Trivett – Barren Co
Second Place – Zachary Disman – Allen Co
Third Place – Wyatt Dean – Butler Co
Welding 1
First Place – Zack Hogan – Warren Co
Second Place - Jackson Harris – Warren Co
Third Place – Isaiah Wood – Barren Co
Welding Fabrication
First Place – Team of Slate Dalton, Logan Moore and Seth Parkhurst – Allen Co
Second Place – Team of Johnathan Long, Brock Collins and Andrew Carpenter – Warren County
Third Place – Team of Keaton Diaz, Landon Cardwell, and Leevi King – Butler Co
Welding Sculpture
First Place – Ethan Smith – Franklin-Simpson
Second Place – Chris Eitel– Franklin-Simpson