Trailblazers Program honors six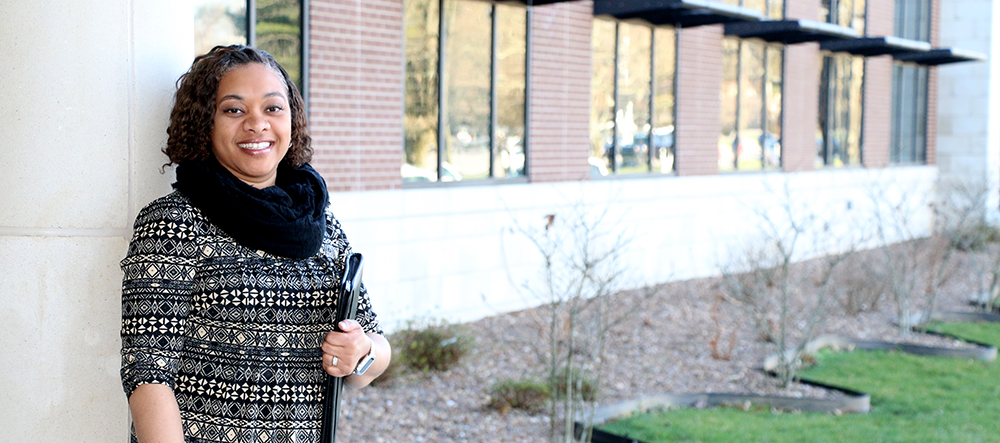 Brooke Justice, Vice President of student and organizational success at Southcentral Kentucky Community and Technical College, honored as a trailblazer for leadership in higher education
By JUSTIN STORY jstory@bgdailynews.com
A bank officer, Western Kentucky University's top law enforcement official and the head of maintenance and engineering at The Medical Center were among those honored Sunday by the Bowling Green Trailblazers Organizing Committee for their professional excellence and pioneering work.
The 22nd annual Trailblazers Program at State Street Baptist Church honored six African-American men and women in Bowling Green for achievements in their fields.
The event has traditionally celebrated people who, through their work, have helped create opportunities for other people of color in the community.
Howard Bailey, a Trailblazers committee member, said each year's class of award winners exhibits no small amount of bravery as African-Americans entering professions and embracing leadership roles that had previously been closed off to them.
"It takes a lot of fortitude, prayer and straight-out guts to step into those roles when you're not expected to be there," Bailey said.
The committee honored Dr. V. Lynne Holland, Brooke Justice, Helen Potter, William Unseld, Mitch Walker and Monica Wardlow as this year's Trailblazers. The Bowling Green branch of the NAACP was also recognized for reaching its centennial anniversary.
Holland serves as chief diversity officer and assistant vice president of student life at WKU, and is a member of WKU President Timothy Caboni's senior administrative staff.
Like Holland, Justice was honored as a Trailblazer for leadership in higher education.
Justice is vice president of student and organizational success at Southcentral Kentucky Community and Technical College, and previously served as registrar when the school was known as Bowling Green Technical College.
Wardlow is a small business/retail lender at Citizens First Bank and is on the board of directors for the Bowling Green Area Chamber of Commerce, where she was recently named Volunteer of the Year.
Walker is chief of the WKU Police Department and previously spent 16 years with the Bowling Green Police Department.
Unseld coaches Warren Central High School's boys' basketball team and has guided the Dragons to two state tournament appearances. He also works as a public relations specialist with Bowling Green Municipal Utilities, visiting schools to talk to students about energy conservation.
Potter is supervisor of the engineering and environmental services department at The Medical Center, helping to maintain a clean environment at the hospital where she has worked for nearly 39 years.
During the program, a narrative was read that highlighted each honoree's role in the community.
The Trailblazers were also treated to humorous skits illustrating important moments in their lives.
The performers of the skit recognizing Potter presented her with a bouquet of flowers.
"It means a lot to me, it's just overwhelming," Potter said after the ceremony. "I love being around the people at The Medical Center and the patients, it's a very great place to work."
– Follow courts reporter Justin Story on Twitter @jstorydailynews or visit bgdailynews.com.