Shortage of truck drivers could mean delivery delays, empty shelves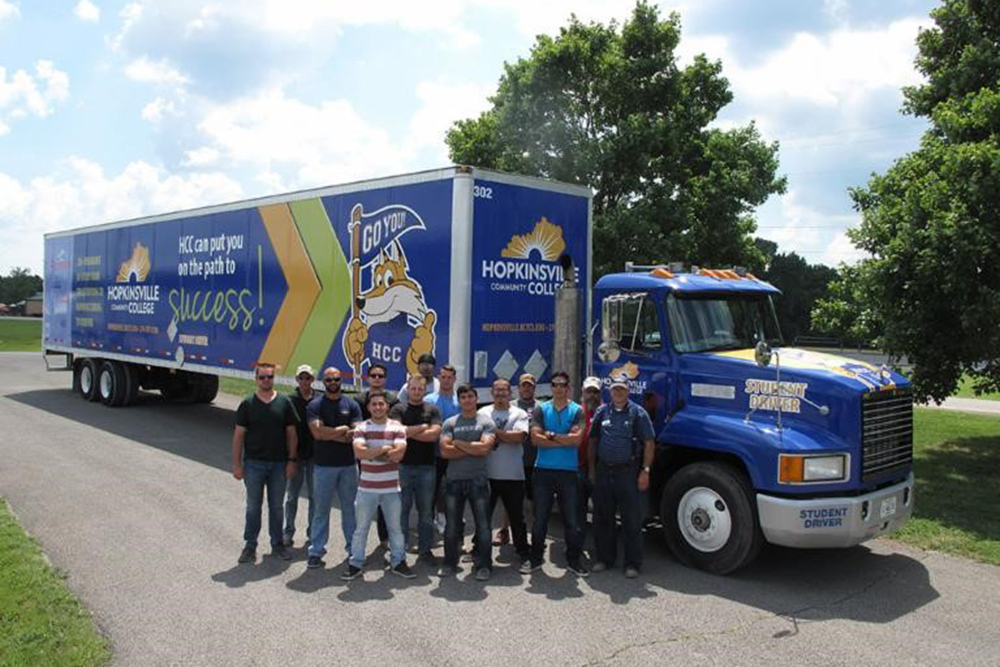 SKYCTC is preparing drivers to fill openings
Taken from the Lane Report
A January 2018 report from the American Trucking Association showed more than 70 percent of goods consumed in the U.S. are moved by truck. That's a problem because there is a tremendous shortage of truck drivers in the U.S. - about 300,000, according to Bloomberg.
Kentucky is feeling the pinch as well, and with more than 13,000 trucking companies in the Commonwealth, that means jobs are plentiful. Best of all, driving a commercial vehicle pays well. The Kentucky Trucking Association reports in 2016, total trucking industry wages paid in Kentucky exceeded $5 billion with an average annual trucking industry salary of $44,843.
"Eighty-nine point two percent of Kentucky communities solely rely on trucking to deliver their goods," Kentucky Trucking Association President/CEO Rick Taylor said. "So there's opportunity for drivers throughout the state."
Taylor said because of the demand for drivers, veterans and women should consider the field. Currently, only five percent of truck drivers are women, and veterans who have experience in truck driving can earn a CDL quickly.
The Kentucky Community and Technical College (KCTCS) is playing a big role in trying to alleviate the shortage of big rig drivers. Several KCTCS colleges offer commercial drivers license (CDL) programs, which can be completed in about four weeks. Four - Big Sandy Community and Technical College, Gateway Community and Technical College, Hazard Community and Technical College and Hopkinsville Community College recently acquired CDL simulators, which give students a virtual reality experience. Other colleges will be adding simulators in 2019.
Numerous studies have shown the importance of simulators related to operator confidence. The simulators allow students to learn from their errors in a low-stakes environment. Using a simulator provides students access to a full range of standard and auto shift, ten-speed transmission. They see real-life scenarios and receive hands-on experience with beginning shifting, double clutching and backing.
Using a simulator to teach commercial truck driving means colleges have less wear and tear on their actual tractor-trailer rigs and allows students to be proficient at double clutching and shifting before getting in a truck. It also simulates road hazards and other poor conditions to help students learn how to handle those situations before they are faced with them.
The Bureau of Labor Statistics expects the shortage of truckers to continue. The average age of a commercial truck driver in the U.S. is 55, so a large number of drivers will retire within the next 10 years.
"We're proud to be at the forefront of educating the next generation of truck drivers," KCTCS President Jay K. Box said. "Our role is to prepare the top talent needed to fill jobs all across the state. This program is just one of many ways KCTCS is helping alleviate the state's workforce shortage and grow the economy."
Because of the short length of the class, new classes start frequently, sometimes as often as monthly. For information, contact kctcs.edu/cdl.
for more information about CDL training at Southcentral Kentucky Community and Technical College go to: https://southcentral.kctcs.edu/workforce-solutions/cdl-program/index.aspx