SKYCTC Alum Ashley Kirk – One of our Healthcare Heroes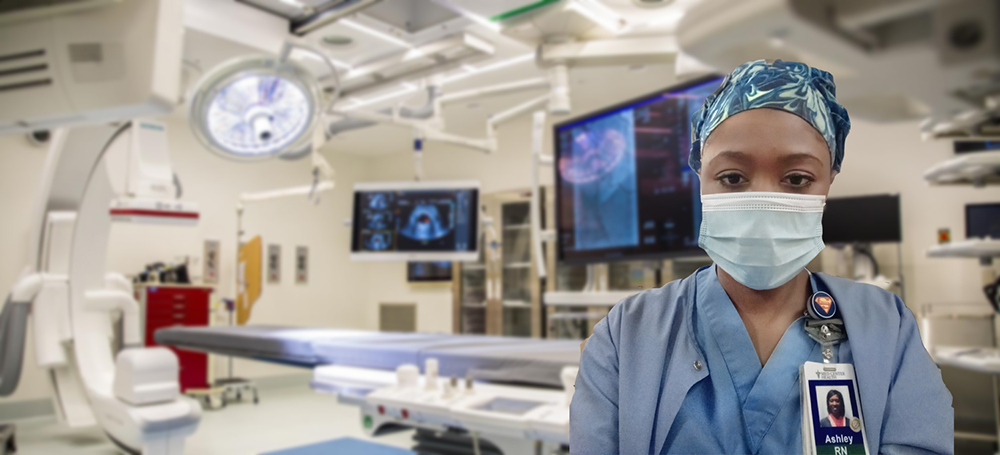 Bowling Green, Ky. – Working as a healthcare professional during the COVID-19 pandemic is challenging. Screening happens daily at the entry of the hospital for nurses and patients. Social distancing is to be in effect by staying 6 feet apart in all parts of the hospital. Everyone gets a temperature check, and a series of questions are asked. A mask, as well as other personal protective equipment, are to be worn at all times while in the hospital.
For Ashley Kirk, a Southcentral Kentucky Community and Technical College (SKYCTC) alum, the biggest battle is the fear of the unknown.
Ashley is a nurse in the Cardiac Cath Lab at the Medical Center of Bowling Green. Even though she is not currently working directly with COVID-19 patients, she has deep respect and concern for the nurses and staff that put their lives in harm's way to serve those patients affected by this pandemic.
"Our nurses have done an outstanding job just stepping up," Kirk said. "They didn't really get much of a choice, but they did it, and they did it without complaint. They happily stepped up to take care of these patients knowing that it was going to be a stressful time for everyone."
For nurses like Ashley who work with patients not affected by the virus, the challenge has been two-fold. "I work in the Cardiac Cath Lab, and our procedures have been down due to the stay-at-home regulations and the restrictions regarding non-emergency elective procedures," says Kirk. "Not only is there worry about a virus, but also about being able to work enough hours to support our families. As of next week, the department where I work is supposed to be able to have elective cases with some serious restrictions. I'm hopeful for more hours in the upcoming weeks," she says.
"We have an opportunity to serve our community in a really meaningful way during this time, so it's easy to find gratitude in those moments where we know that we're doing everything we can to keep the community safe," says Kirk.
Southcentral Kentucky Community and Technical College salutes all the heroes in the medical profession, like Ashley Kirk, who are working on the front lines to battle this unseen enemy.