Catherine Rounce – SKYCTC Student of the Month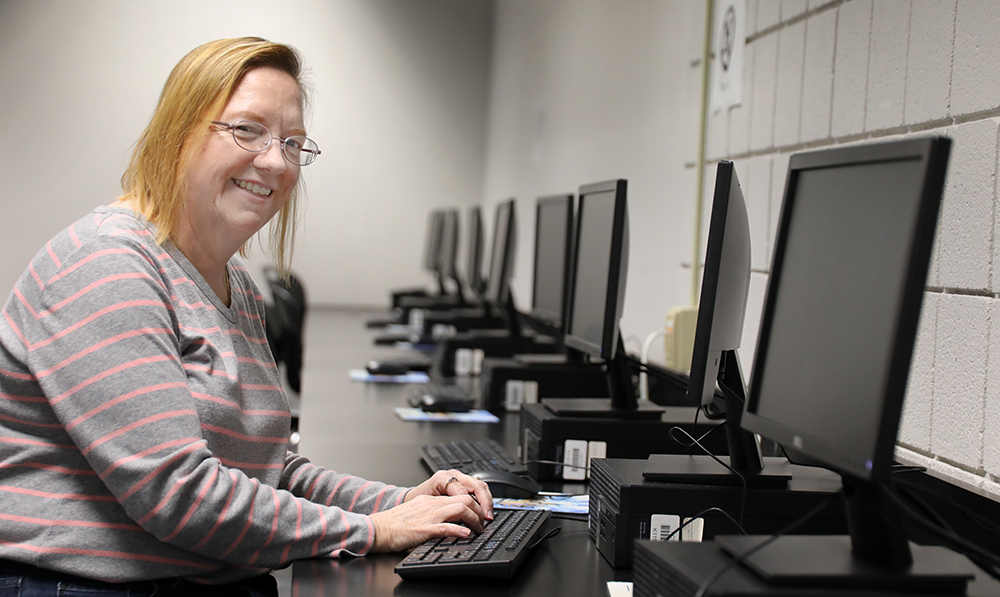 Sometimes goals and aspirations have to be put on hold because life happens.
Catherine Rounce has had a dream of being a healthcare professional ever since she was in high school. Those dreams had to be put on hold after she graduated, got married and began having children,
"I became a stay-at-home mom and loved it, but I never let go of my dream," explains Catherine. "After 30 years and three of my four children now on their own, I decided to restart my journey and go after my dream of becoming a healthcare professional."
Catherine did not want to, nor could she afford spending four years at a university for her training. She heard about Southcentral Kentucky Community and Technical College (SKYCTC) and decided that would be the perfect place for her education. She enrolled in Medical Information Technology because a medical office career would allow her to work the hours she needed, be at home with her family at nights, and, at the same time, achieve her dream of working as a healthcare professional. A job in a medical office will also allow her to have the face-to-face interaction with clients, something that Catherine wants in her career.
At about the same time that Catherine was exploring her options about her career, her daughter Brittany was graduating from high school and trying to decide where to go to college. Brittany also choose SKYCTC.
Brittany said, "I decided to go to SKYCTC because I took a gap year and was looking for somewhere that was cost efficient. My mom was looking to get a two-year degree, and SKY had many options as opposed to WKU. It is also more cost-efficient. I decided first, and it was really funny. A couple days later, she said she was going to go. The next thing I knew, we were at SKYCTC filling out her FASFSA."
Brittany is getting her Associate in Arts at SKYCTC and then plans to go to WKU to get her degree in special education and elementary education.
"I feel so excited for my mom to get to finally put her dreams first and not have to put them on the back burner," says Brittany. "She sacrificed a lot staying home for me and my sisters, and it makes me so happy seeing her get to interact with people and achieve her dreams. I've noticed a big change in her personality, and I can tell she feels happier and more herself now. That's a great feeling because she's done so much for me. I just want her to be happy. We get to share this opportunity together, and that's something that a lot of children and moms do not get a chance to do. It makes the experience that much more special. Some people would hate it, but my mom is my best friend, so I think it works out pretty well."
The SKYCTC faculty member who nominated Catherine for Student of the Month summed it up well. "When I first met Catherine, she was a scared lady, unsure about college and whether she could do it. She is now in her last semester and has a 4.0 GPA in the MIT program. I suspect she will end with the same. She is presently completing an internship and the supervisor of the location is already trying to find her a place within their organization because she is doing such a great job. Additionally, Catherine also serves on the MIT Advisory Board. She always seeks to do her best, challenge herself, and is an exceptional model for other students in numerous ways."
Catherine and her daughter Brittany will both graduate in May and will both start their journey to the next chapter in their lives. We are sure that wherever they go and whatever they do they will share it together.
Congratulations to Catherine Rounce, SKYCTC Student of the Month,