SKYCTC donates food to the Salvation Army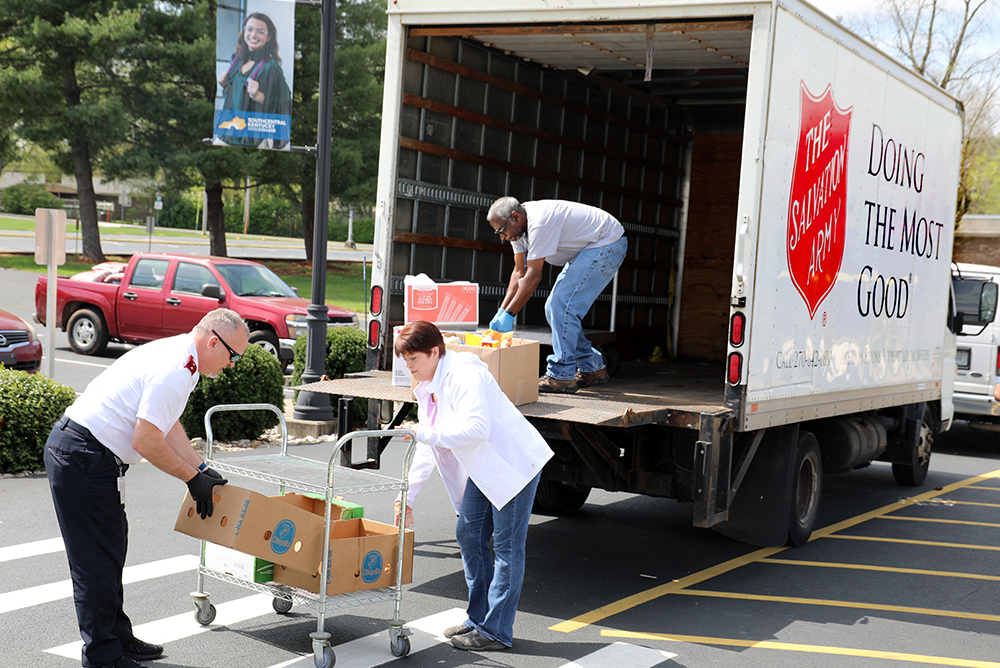 Bowling Green, Ky. – The COVID-19 pandemic has led to the generous donations from organizations, groups and individuals to health care facilities across the nation. Gloves, masks, medical equipment and other PPE devices have been openhandedly shared to those in need. While the importance of such donations cannot be understated, the need for basic items such as food and clothing is also very important at this time. That is why the Culinary Arts program at Southcentral Kentucky Community and Technical College (SKYCTC) decided to donate all their unused food supplies to the Salvation Army in Bowling Green, Kentucky.
"We had all this food on our shelves and in our freezer that would have been used for instructional purposes in our lab. Since we are now offering our classes remotely, we thought that donating it to the Salvation Army would be the perfect thing to do," said SKYCTC Culinary Instructor Tammy Inscoe. "Since we are not going to be able to use the product, I think it is awesome to be able to give to those in need," says Inscoe.

"In the last couple of weeks since the pandemic hit, we have seen the demand for food and services in our area quadruple," said Captain Michel Cox, Corps Officer at the Salvation Army. "More seniors are coming in as well as folks who are out of work due to the virus. Our goal is to bring hope. When folks like those here at SKYCTC give this generous donation, it brings hope."
"I am proud of our College for doing this," says Inscoe. "We are a family here at SKYCTC, and I am so grateful that our family has a chance to help those families out there who are in need."
In addition to canned food and dry foods, the Salvation Army needs masks, gloves and sanitation products such as wipes to keep the kitchen and staff clean and safe. Donations to the local Salvation Army can be made at https://salvationarmybowlinggreen.org or call 270-843-3485.