SKYCTC professor Jim Turner started teaching in 1968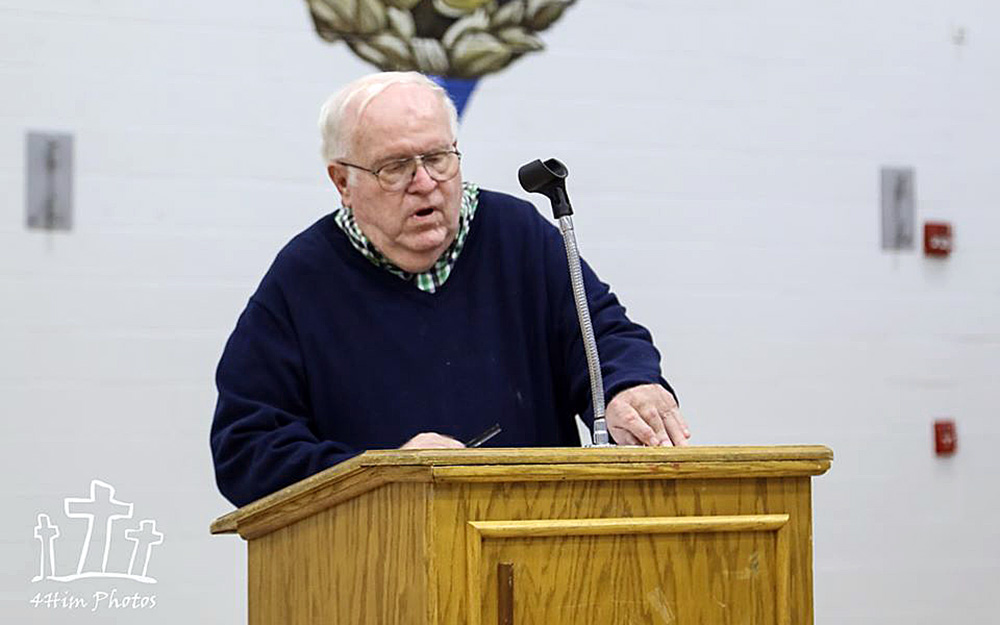 By JODI CAMP JCAMP@FRANKLINFAVORITE.COM
Southcentral Kentucky Community and Technical College Assistant Professor of Communications Jim Turner, 73, has spent the past 51 years of his career teaching courses and working for newspapers.
"I'm either a writer who teaches or a teacher who writes," Turner said. "I have taught 32 of the 51 years since I started teaching, 14 high school and 18 college, but I also have 49 years in journalism."
Turner was nominated for the Outstanding Student Mentor Award for the 2018-2019 academic year and according to him has been nominated for the award in past years. He said the students nominate the teachers that made a difference in their lives.
"I don't feel like we are competing for the grade in fact if everybody did bad in my class I would feel like I hadn't done my job," he said. "I think I have a responsibility to get them to the point I want them to be."
He went to Lipscomb University for his undergraduate in English and attended Western Kentucky University for his masters in speech and rank 1.
"I majored in accounting and then I didn't like it, I'd sneak in English and speech classes on the side," Turner said. "I switched over my senior year to English."
In 1968 Turner started teaching at Russellville High School and in 1971 he left the high school to write sports for the News Democrat in Russellville.
He said when he started teaching he didn't have a teaching certificate so he taught the first two years on a professional commitment, meaning he was committed to getting his certificate. He traveled to Lipscomb University for three summers to work on getting his certificate.
Turner said a former student who was traveling on the team bus after a game in Allen County introduced him to writing for the newspaper. The student approached Turner to ask for some stats on the game, and he was then asked to write sports for the newspaper.
"I said, 'yeah sure' so that is how I got started and I just learned it on the way," Turner said.
Turner began working full-time for the newspaper under owner Al Smith, of Al Smith Communications, and he said Smith taught him everything he currently knows about the newspaper industry.
"Al Smith, he was the token non big city newspaper guy in Kentucky," he said.
Turner worked for the News Democrat for seven years where he went from sports writer to managing editor. He left to teach at Logan County High School for five years and then transitioned into teaching at Western Kentucky University for his next five years.
"I was doing news and sports on the radio at the same time," he said.
After working at WKU, he went back to the newspaper business and became editor of the News Democrat for 12 years. In 2007, he left again, and started teaching full-time at WKU as a speech teacher.
In 2008 Turner said he transitioned from WKU to SKYCTC, referred to then as Bowling Green Tech, when the head of the department asked him to teach part-time in the speech department.
"I was pretty old before I decided that teaching was me, but I still do journalism too," Turner said. "College teaching is first for me and I do the journalism on the side now."
As he taught at the colleges, he still stayed in the newspaper business and founded The Logan Journal 11 years ago, an online newspaper that covers anything affecting Logan County.
"I never could decide which I liked best," Turner said.
Most people retire when they get to Turner's age, but he said he hopes to continue teaching for as long as he can.
"Anybody that has taught college doesn't want to go back to high school," Turner said. "This is the best job I have ever had and I really believe in what SKYCTC really does."
He does teach some online classes, but he said he doesn't feel like his students get the full impact of his classes online.
"I think my in person speech students get more from me than my online students because I work on eye contact, I work on not being afraid, I think it is more important for me to work on them not being afraid in front of people as much as it is about putting the speech together," Turner said.
The class that does work online is his interpersonal class because there is less public speaking for that one.
After years of teaching high school and college and his work in newspaper he has met so many different people and been a part of their lives in many different ways.
"I think that is what I've enjoyed most is seeing people and getting students I had 30-40 years ago who still seem to like me, that makes a difference," Turner said. "I wasn't sure they liked me then, but they seem to now."
He said he has taught the grandchildren of some of the students he had when teaching at Russellville and Logan County High Schools.
"I directed plays, one of my best actresses, I had her grandson in class, and she was a good interpreter too and she messaged me and said, 'You have legitimized me in front of my grandson. He now believes I had some talent at the time,'" Turner said getting that message was neat.
Turner still lives in Russellville, on the same farm he grew up on, with his wife Elaine.
"I am really happy where I am I just want to stay where they want me," he said.