SKYCTC CAPS FUTURE NURSES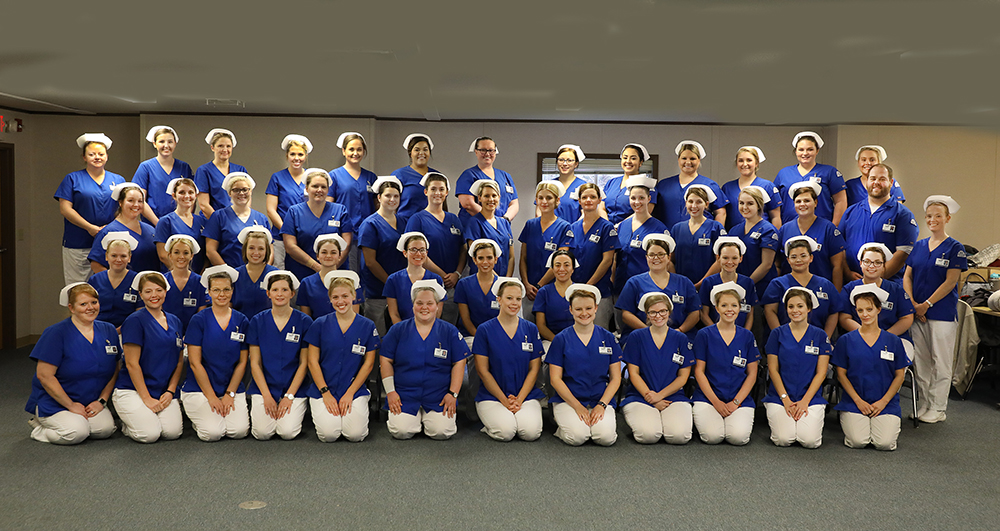 Glasgow, KY–Southcentral Kentucky Community and Technical College held a Capping ceremony at the Glasgow Health Campus to mark the achievement of 51 future Practical Nurses. The ceremony took place on Thursday, January 24, 2020.
"The Nursing Cap was introduced in the nineteenth century and continues as a traditional symbol of nursing and nurse training. SKYCTC Glasgow Health Campus holds a capping ceremony for Practical Nursing students when they successfully complete one-half of the training. During the ceremony, they are presented with a plain white cap and upon graduation they will be rewarded with a blue band. The male students are awarded a certificate", said Dr. Angela Harlan, Dean of Allied Health and Nursing/SKYCTC Glasgow Health Campus Director.
The following students were capped during the ceremony:
Adair County: Jessica Conover
Allen County: Katlin Davis
Barren County: Alyssa Conrad, Sally Coomer, Chasity Dicken, Bethany King, Kayla Miller, Madison Murley, Lindsey Reece, Morgan Thomas, Bethany Trainham, Courtney Vance, Taylor Williams
Butler County: Kassie Phelps, Kelsey Smith
Edmonson County: Emery Hunt. Elizabeth Karr, Sommer Lawrence, Joni Lee
Hart County: Allyson Beaver, Payton Bryant, Melissa Chambers
LaRue County: Miranda McDowell
Metcalfe County: Amber Baxter, Anna Bryant, Tristen Ferguson, Destiny Harper, Samantha Lunz, Reagan Perdue, Natasha Simpson, Skylar Smith, Kelsey White
Monroe County: Cassie Headrick, Gracie Martin,
Simpson County: Kyrsten Deberry, Kristie Estes, Alyssa Graves, Telisha Hawkins
Warren County: Lisa Akin, Jessica Allison, Katelyn Causey, Rachel Dunn, Jena Henson, Andrea Jones, Zhannat Khayaliyeva, Audrey Marlin, Elaine Montgomery, Emira Mujkic, Cassidy Patriarca, Jacqueline Valladares