Local college lends ventilators to the Medical Center at Bowling Green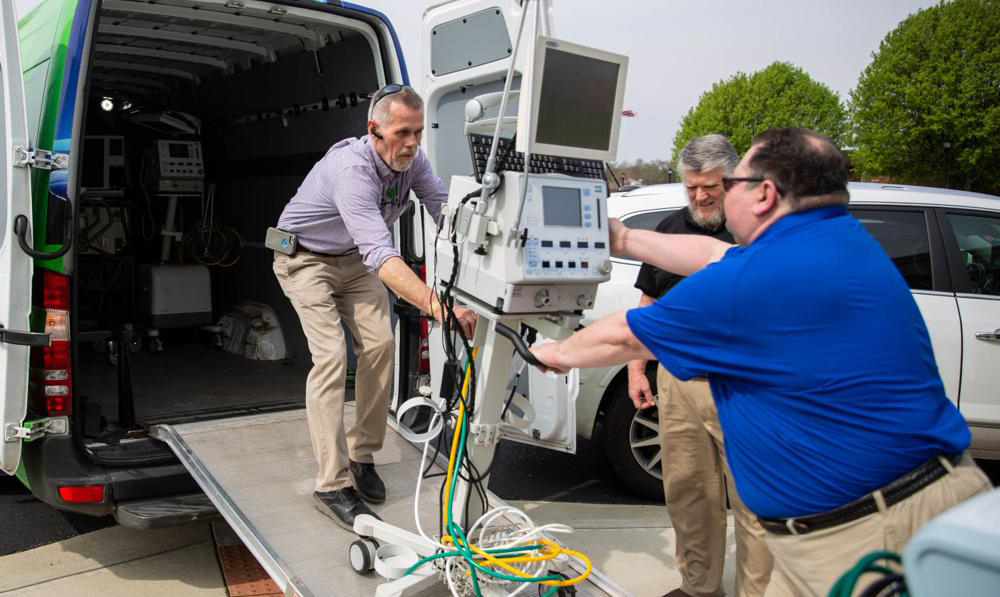 SKYCTC Respiratory Care Director of Clinical Education Ken McKenney (right) helps Randy East of the Medical Center Health Center of Bowling Green load the 13 ventilators the SKYCTC Respiratory Care Program loaned to the Medical Centers van on Friday, March 27, 2020. Photo by Grace Ramey/photographer BG Daily News
March 27, 2020 - Josh Shortt WNKY TV
BOWLING GREEN Ky.-The effect Covid-19 has on the respiratory system can be devastating, and around the country, healthcare professionals on the front line are struggling to find enough equipment.
In Warren County, the Medical Center at Bowling Green can now breathe a sigh of relief.
Southcentral Kentucky Community and Technical College came to the rescue, lending the hospital 13 ventilators.
"It's very difficult now for hospitals to get the equipment that they need. We're just thrilled that we can help them out," said SKYCTC respiratory care and allied health program director Dwight Austin.
Med Center Health is partners with the allied health department at SKYCTC. The ventilators are normally used to train the medical students. Ventilators like these tend to cost around $14,000. The donation is just to make sure the Medical Center is prepared.
"You never know. It could really get critical here as it has in other places. Hopefully it won't," Austin said.
A statement from the hospital reads: "Med center health is grateful to our friends at SKYCTC and many other organizations that have generously reached out to offer their assistance and support. It is critical that we all come together to support our community at this time. This is a great example of just that".
"If there's anything good coming out of this Covid-19 situation, it's that from where I see it, a lot of people are pulling together to help each other out," Austin said.
With new gear in hand, healthcare workers at the Med Center can carry on their important and lifesaving work, knowing there's a community willing to breathe life into a recovery plan.
"The fact that I can be a part of it in a small capacity, or maybe a big capacity, we really contributed to the care of that person," Austin said.