Rogelio Flores – SKYCTC Student of the Month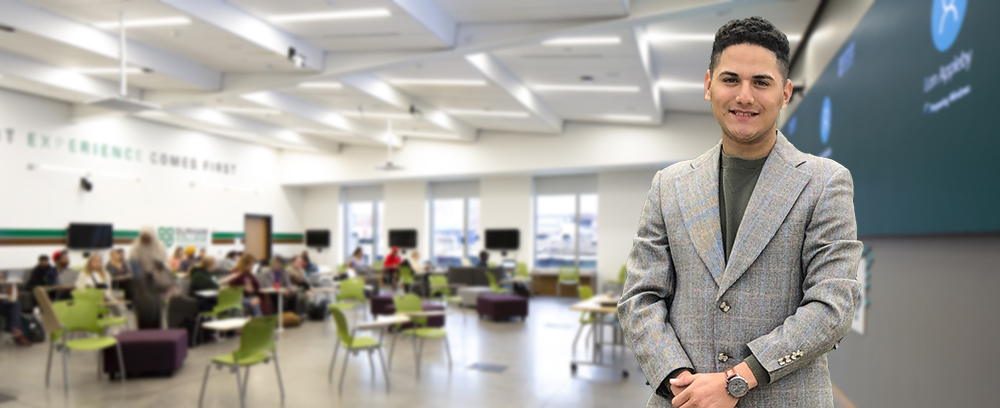 Everyone knows it takes a lot of determination to reach your goals in life and for Southcentral Kentucky Community and Technical College's (SKYCTC) Student of the Month, Rogelio Flores of Russellville, Kentucky this is especially true.
Like many community college students, Flores has had to work a full time jobs in construction and in a factory while attending college. He also had to deal with the loss of his best friend John in 2018 which was a devastating blow. He says there is not a day that he does not think of him.
Even with all the obstacles Rogelio had to overcome, he has managed to obtain honor student status at SKYCTC and is on the way to achieving his dream of becoming a Certified Public Accountant (CPA).
"I chose SKYCTC because financially it was a smart choice," says Rogelio. I will still be able to complete my BA at Western Kentucky University in two years after completing my associate degree at SKYCTC and I will have saved a lot of money."
Rogelio is currently enrolled in the Associate in Arts degree path and plans to pursue his master's degree in accounting at WKU. He chose this field because while in high school he discovered he was really big on keeping numbers balanced and solving equations.
His plans are to work under a Certified Public Accountant (CPA) for a year then continue his degree and receive his masters in accounting. His plans are to eventually open his own accounting firm as a CPA.
"My career path as an accountant will allow me to do multiple things from auditing inventory, keeping money accounted for as well as sales and payroll," says Flores. "SKYCTC is helping me reach my dreams by keeping me motivated and showing me the tools I can use to achieve those dreams. My experience at college has been amazing, I have made a lot of friends and have been helping them through the semester so we could all succeed."
"I wanted to just thank my family, especially my mom for pushing me so hard to be the person I am today, says Flores. I also want to thank the faculty and staff of SKYCTC, especially Ms. Nichols and Ms. Coni who are by far the best teachers I have ever had."
One of his instructors says, "Flores works hard to diligently complete his work, he asks questions and seeks challenges, and goes out of his way to help his classmates. Rogelio is the oldest of seven siblings and he takes a leadership role of a concerned brother in the classroom. He is mindful not only of his success but the success and wellbeing of his classmates. He wants everyone to succeed and goes out of his way to include everyone in the class. Especially right now, the world needs more students and citizens like Rogelio. His instructors say he is joy to teach and the sky is the limit for his potential."