SKYCTC lifts up African American voices with literary read-in event
By Aaron Mudd – Bowling Green Daily News
Photo by Austin Anthony – Bowling Green Daily News
When Tiffany Blanchard's professor told her to find a poem that inspired her, a piece by a 19th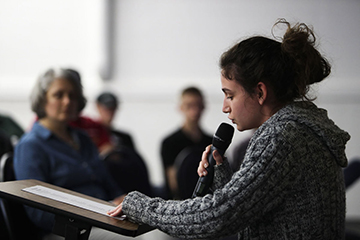 century African-American abolitionist stood out.
Blanchard, who had been through an abusive relationship, could see herself in Frances Harper's "Bury Me in a Free Land," a lament of slavery's horrors.
"That poem kind of hit home with me," she said.
Blanchard was among students participating Tuesday in an African American Read-In at Southcentral Kentucky Community and Technical College.
Through voluntary readings, students and staff shared the works of writers including Langston Hughes, Maya Angelou and Lucille Clifton, novelist Zora Neale Hurston and rapper Tupac Shakur, among other writers.
Leah Wendt, an assistant professor of English, said the event was meant to both emphasize reading and literacy and the distinctiveness of African-American writers.
"I hope students recognize the diversity among African-American authors," Wendt said, adding that SKYCTC's student body is more diverse than it's ever been.
African American Read-Ins date to 1989, when the Black Caucus of the National Council of Teachers of English conceived the event as a permanent addition to Black History Month celebrations, according to a news release.
Wendt began the event by reading from "Their Eyes Were Watching God" by Zora Neale Hurston.
Wendt said the novel, which chronicles a black woman's quest for identity, struck a chord when she read it as a young college student.
When Wendt gave the microphone to students and staff, Blanchard stepped up to a podium and read Harper's poem.
"Make me a grave wherever you will, in a lowly plain or a lofty hill," the poem reads in part. "Make it among earth's humblest graves, but not in a land where men are slaves."
The poem describes the brutality of slavery by invoking images of families being torn apart, bloodhounds hunting down people fleeing slavery and young girls torn "from their mother's arms bartered and sold for their youthful charms."
Following the event, Blanchard said she appreciated it as an opportunity for students to walk in someone else's shoes. She wished more students would participate.
"Most people are blinded, and they don't want to educate themselves," she said.
Ebonne Gabhart shared a poem called "Dinosaurs in the Hood" from Danez Smith's book "Black Movie."
After the event, Gabhart said she wanted to read a poem that was serious and quirky.
She also saw the event as eye-opening.
"It gives people who aren't African-American the opportunity to try to understand their plight," she said.
Jahi Palmer, an African-American physics instructor, said during the event that he grew up with racism and that he was often called the N-word in public. Although his parents always believed he could be successful, he didn't hear that outside of his home, he said.
"We can write. We can read. We can create works," he said.
– Follow education reporter Aaron Mudd on Twitter @BGDN_edbeat or visit bgdailynews.com