KCTCS apprenticeships helping students and businesses across the state
The Lane Report
Scott Kress had pretty much given up on earning a college degree, but because of an apprenticeship program through his employer, LG&E, and Jefferson Community and Technical College, he now has an associate degree.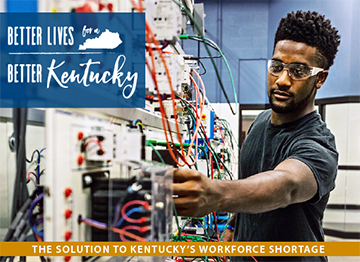 That apprenticeship program is one of many offered across the state through business partnerships with the 16 colleges of the Kentucky Community and Technical College System (KCTCS). KCTCS is the largest provider of workforce education in the Commonweth preparing 82 percent of the state's skilled trades workers.
It's no secret that those who earn a postsecondary credential are in demand, earn more and experience less unemployment. KCTCS offers hundreds of career education programs, some of which can be completed in four months or less and lead to careers that pay up to $60,000.
"There are many people who are unemployed or stuck in low-wage jobs that think they don't have the time or money to get a college credential," said KCTCS President Jay K. Box. "But they can work toward having a better life in a very short time, and there are many ways to pay for college."
KCTCS also works with the Kentucky Federation for Advanced Manufacturing Education (KY FAME) to offer apprenticeship-style programs. These learn and earn programs allow students to earn a paycheck while getting hands-on experience and college credit. With KY FAME chapters all over the state, most KCTCS colleges offer partnerships with one or more local businesses.
For one student, KY FAME has been life changing. Austin Rodriguez, a student at Southcentral Kentucky Community and Technical College said the FAME program showed him he can have the kind of life he always dreamed of.
"To have a teacher say 'I want to give this child a career,' that meant a lot to me because I didn't have anybody that really cared about me," he said.
With his first paycheck, Austin made sure his sister had a memorable sixteenth birthday because he wanted her to know someone cared about her, too.
For Scott Kress, taking advantage of the LG&E apprenticeship program also was a step toward a better life for his family.
"I just graduated with an associate degree and the instructor pushed me to go on and get a bachelor's degree," he said. "My wife has two degrees, and I didn't want my kids to look at me and say: You didn't get a degree, so why should I?"
For more information on career education programs, visit any KCTCS college website