SCK LAUNCH Experience 'opens eyes' for area's eighth-graders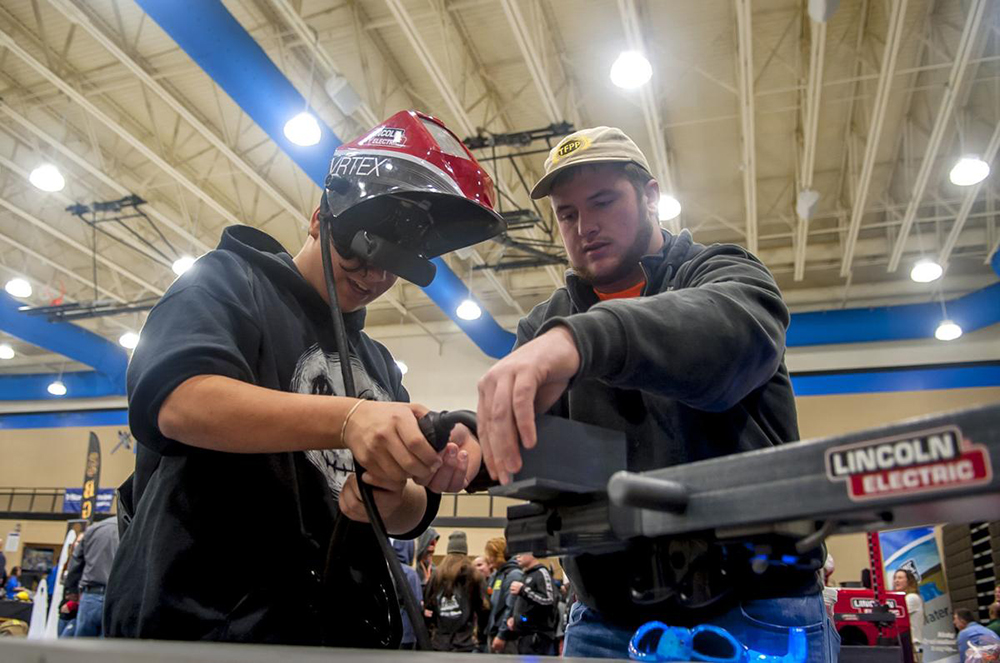 Photo caption: Franklin-Simpson Middle School eighth grader Anthony Buesching (left), 18, works on a virtual welding machine Thursday, November 15, 2018, with Southcentral Kentucky Coimmunity and Technical College welding technology student Carson Seymour during the annual Southcentral Kentucky LAUNCH Experience at South Warren High School. ( Bac Totrong/photographer BG Daily News)
By DON SERGENT dsergent@bgdailynews.com
Painting cars in virtual reality, experimenting with robotic technology, learning to use something called an Ambu bag to resuscitate a baby mannequin, trying on the gear worn by firefighters.
It was information and sensory overload Thursday in the South Warren Middle and High School gymnasiums as the Bowling Green Area Chamber of Commerce held its third SCK LAUNCH Experience career exploration event for about 3,000 eighth-graders from Bowling Green and the surrounding region.
Despite wintry weather that caused four of the 13 registered school districts to cancel, students such as Henry F. Moss Middle School's Laura Hickman were able to belly up to a feast of career options on this week before Thanksgiving.
"The construction and engineering machinery are really cool," she said, "but I'm possibly looking at going into news broadcasting because I love to talk. All this has opened my eyes. This could be my future."
That eye-opening, forward-looking experience is the reason SCK LAUNCH (for Learning About Unique and New Careers Here) was started in 2016.
An outgrowth of the chamber-sponsored "Leader in Me" initiative that teaches a curriculum based on the Stephen Covey book "The 7 Habits of Highly Effective People" in elementary schools, SCK LAUNCH includes a series of classroom career-related lessons that culminate with Thursday's hands-on event.
Chamber President and CEO Ron Bunch pointed out that the SCK LAUNCH curriculum and the career expo are designed to meet the specific needs of southcentral Kentucky.
Statistics provided by the labor market data company JobsEQ show the 10-county region has more than 6,000 current job openings. The chamber breaks those down into particular segments and strives to address them in the classroom curriculum and in the culminating career expo event while also looking at possible future career options.
"We run a market demand analysis and look at what careers might be open in the next five to 10 years," Bunch said. "We gear the curriculum for eighth-graders who are starting to assess their aptitudes. They do a lot of career exploration and a lot of work to understand business before coming here."
On Thursday, the middle-schoolers were exposed to about 50 local businesses covering the seven career sectors identified by the chamber: health care, professional services, public services, construction, manufacturing, hospitality and transportation/logistics.
Most of those businesses set up displays of high-tech gadgets and hands-on activities that made the day much more than an ordinary field trip.
Scotty's Contracting, for example, displayed a six-propellor, laser-equipped drone that proved to be a magnet for curious adolescents.
"We use it for mapping," Scotty's engineer Chris Higgins told a mini-mob of students clustered around his display. "We can fly it over an area and know where every part of a road is down to about 2 inches. It allows us to map projects before we even bid them."
Such attention-grabbing vendors were more rule than exception as students browsed through cutting-edge displays inside the gymnasiums and in the parking lot.
"Our business community has been wonderful," Bunch said. "They came out and set up beforehand, and they have made their displays very engaging."
You won't get any argument from Bowling Green Junior High School student Chaney Genter, whose fascination with medical gadgets was only reinforced.
"I'm extremely excited to see what our community has to offer," she said. "I'm interested in the medical field. My dad works at The Medical Center, and I would kinda like to follow in his footsteps."
Students were also able to learn about alternatives to the traditional four-year college degree.
Abby Fox, a South Warren graduate, was at the Southcentral Kentucky Community and Technical College booth to tell students about her experience with SKYCTC's FAME (Federation for Advanced Manufacturing Education) program.
Fox attends the FAME program on SKYCTC's Franklin campus two days a week and works at Russellville's Emerson Electric plant three days a week.
The apprenticeship-style program is a good fit for her, Fox said.
"I go to class in Franklin, and then I can take what I've learned and apply it the next day at Emerson," she said. "When I'm finished, I'll have a degree in advanced manufacturing technology. It's great because digital technology is where manufacturing is going."
Being exposed to such training options is perfect for students as they begin to think about career options, BGJHS math teacher Angela Langford said.
"They're just four years away from being out of high school," she said.
The SCK LAUNCH curriculum and career expo have been excellent learning tools for her students, Langford said.
"They learn about jobs that are in high demand, and they research the education it takes and the salary they would make in those jobs," she said. "And we talk about entrepreneurs and not giving up."
In an economy where job requirements are constantly in flux as technology changes, Langford would like to see SCK LAUNCH continue to innovate.
"We need to keep it relevant," she said. "I hope they update the lessons as things change."