SKYCTC Alumni Spotlight - Bryce and Summer Booher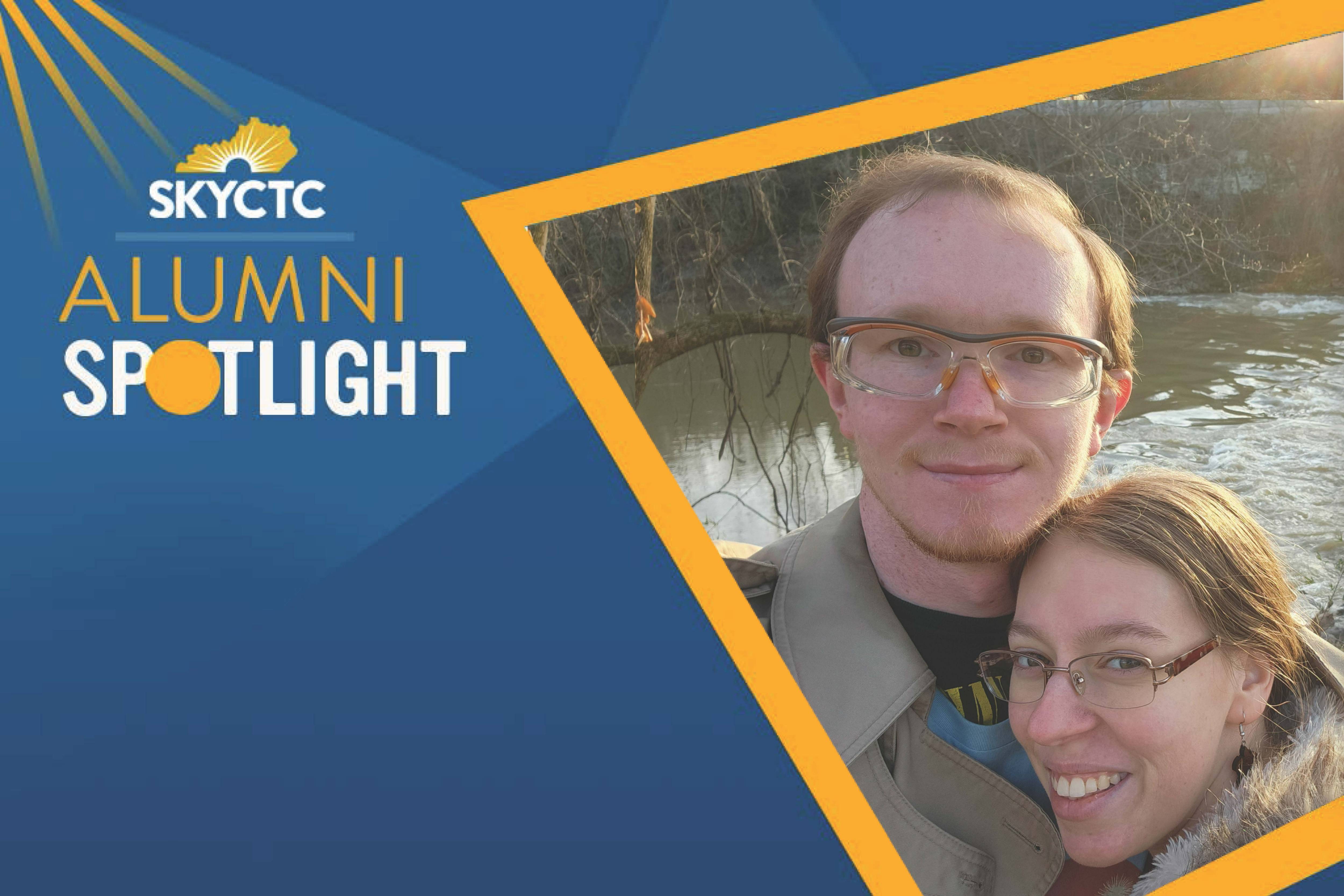 Bryce Booher is a 2019 Collision Repair Technology graduate, and Summer is a 2019 Associate in Arts graduate, with a concentration in Elementary Education. The couple met while attending SKYCTC's SKY Writer's Club and married soon after graduation.
Bryce is currently employed as a Body Shop Technician with Leachman Auto, and Summer is a stay-at-home mom with a baby boy due this summer. They reside in Bowling Green.
Why did you choose to attend SKYCTC:

Bryce - Wanted to learn a trade as part of my education.
Summer - It fit more into my major and was more affordable than any other college I had applied to.
Who influenced you most during your time at SKYCTC (Faculty/Staff)?
Bryce - Mr. Hunt, hands down. Great instructor, very supportive, knows his stuff, and builds relationships with his students. I had been a part of PTK (Phi Theta Kappa), which was nice, but what made me love coming to school was having another day in the shop.
Summer - Carmen Purpus - she was my FYE (First-Year Experience) instructor.
What advice do you have for current students wanting to make the most of their experience at SKYCTC?
Bryce - Know what you can do and what you want to do, find something that fits. Check out the options, walk around campus, talk to faculty about their programs.
Summer - Do not worry about overloading yourself with classes to ?meet the standards? of graduating on time. Take interest in things you never had time for or never thought about taking.
Describe your career path and explain how your education at SKYCTC helped prepare you for what you are doing today.
Bryce - Wanted a trade, continued into a Technology Management bachelor's at Utah Valley University because I like working with systems, and both have saved me time and money in my day-to-day living and helped in my professional work.
Summer - My career path was to be an Elementary School teacher. The education I received has helped me to help students as being an After-School teacher. Even though I have chosen to not be an ?official? Elementary School teacher for public schools, I will be taking what I learned and applying it to Home School our children.
What advice would you give current students interested in pursuing a career in your professional field?
Bryce - It is hand's on and can get dirty, but the rewards of hard work done right, comes through all the work that ends within a gleaming paint job, and a sense of satisfaction and gratitude from the people you do the work for.
Summer - Know that you should explore all grades. Once you know which one you want, explore that there are many other teaching jobs. Remember, you?re making a difference to the future generations, and they will remember YOU being that teacher.