SKYCTC Alumni Spotlight - Emily Wells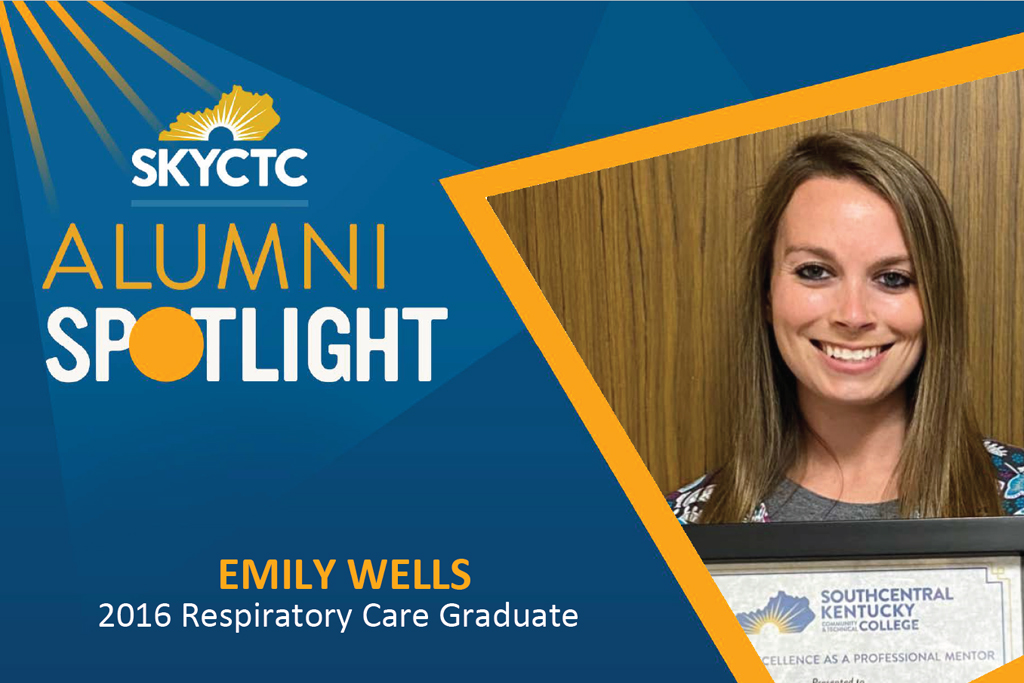 Emily Wells is a 2016 graduate from the SKYCTC Respiratory Care program, and then she went on to complete her bachelor's degree in April of this year. Emily currently works as a Registered Respiratory Therapist at both TriStar Greenview Regional Hospital and Med Center Health, as well as a Clinical Instructor for SKYCTC.
Why did you choose to attend SKYCTC?
"I felt like it suited who I was more, rather than a larger university. It also had a wide variety of healthcare majors that I was interested in."
Who influenced you most during your time at SKYCTC?
"Jim Bronson was a huge influence. He was not only my professor but my advisor as well. He made sure I stayed on track and succeeded in all classes from the day I started my journey at SKYCTC. Marcia Fuller taught my first year and Ken McKenney taught my second year in the respiratory therapy program, and they also both influenced me and shaped me into the respiratory therapist that I am today."
What advice do you have for current students wanting to make the most of their experience at SKYCTC?
"Enjoy your time and focus on what matters the most to you and your future!"
Describe your career path and explain how your education at SKYCTC helped prepare you for what you are doing today.
"I changed my major three times at the beginning of my journey through SKYCTC, and I guess you could say the third time is a charm. When I started respiratory, I was still unsure if that was really the path for me. I stuck with it and ended up enjoying doing what I was doing. I couldn't have done it without the people who influenced me to succeed."
What advice do you have for those looking to pursue a career in respiratory care?
"Give it your all and study, study, study. You can do anything you set your mind to!"