SKYCTC Alumni Spotlight - Lacey Russell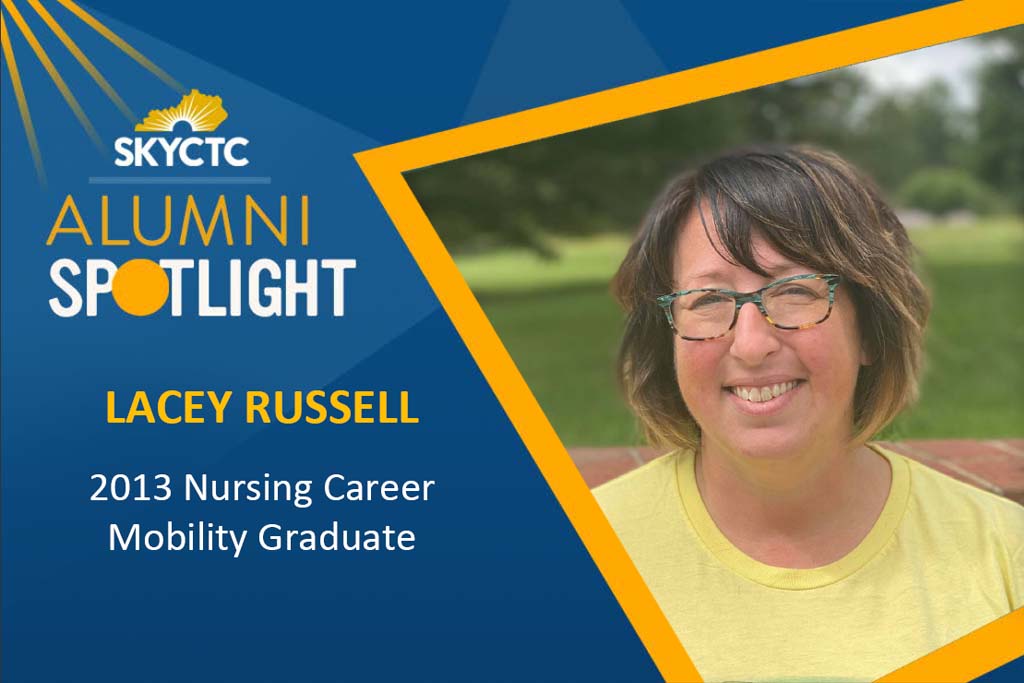 Lacey Russell is a 2013 graduate from the SKYCTC Nursing Career Mobility program. She then transferred to Chamberlain University and completed her Bachelor of Science in Nursing. Lacey is currently employed as a Registered Nurse, BSN in the Emergency Room at Baptist Health Hardin in Elizabethtown.
Why did you choose to attend SKYCTC?
"It was a cost-efficient program and offered the two-year ADN option."
Who influenced you most during your time at SKYCTC?
"April Shive, Lauren Graves, Tracy Gentry, Dr. Amy Brumlow, Kristina Tackett."
What advice do you have for current students wanting to make the most of their experience at SKYCTC?
"Don't be afraid to ask for help or ask questions."
Describe your career path and explain how your education at SKYCTC helped prepare you for what you are doing today.
"I was a stay-at-home mom for nine years when I decided to go back to school. I found SKYCTC (then BGTC) and started a couple of pre-req classes in the evenings. I got accepted into the program in the fall of 2010. I received my letter on a Wednesday and then was in a head-on collision on that Friday. I tried to give my spot to someone else as I had a lot of injuries. This was October and the program began in January. I met with Ms. Shive, and she said, "We aren't taking you out of the program. I believe you can still do this."
"I started the program that January and was cleared for clinicals by my doctor. I worked hard. I graduated in 2013. I began my career at Med Center in Franklin (2.5 years) in med/surg, transferred to the long-term ICU unit, CRSH, and then ultimately took a job at TJ Sampson in pediatrics. After nearly five years at TJ and PRN at Med Center, I needed a change. I began working for Hardin in the emergency department almost two years ago. It's challenging, and I'm always learning. I just accepted a charge nurse position with them. I'm starting my Master's in education this fall. My ultimate goal is to teach! It's been a journey. It is a good one."
What advice do you have for those looking to pursue a career in nursing?
"I went back to school as a non-traditional student. I have four beautiful girls and a loving husband. I was 33 years old. You can do anything you set your mind to, including deciding what you want to be "when you grow up" at age 33. (And I'm still learning and going). Nursing has so many options!"