SKYCTC Alumni Spotlight - Niki Bermeister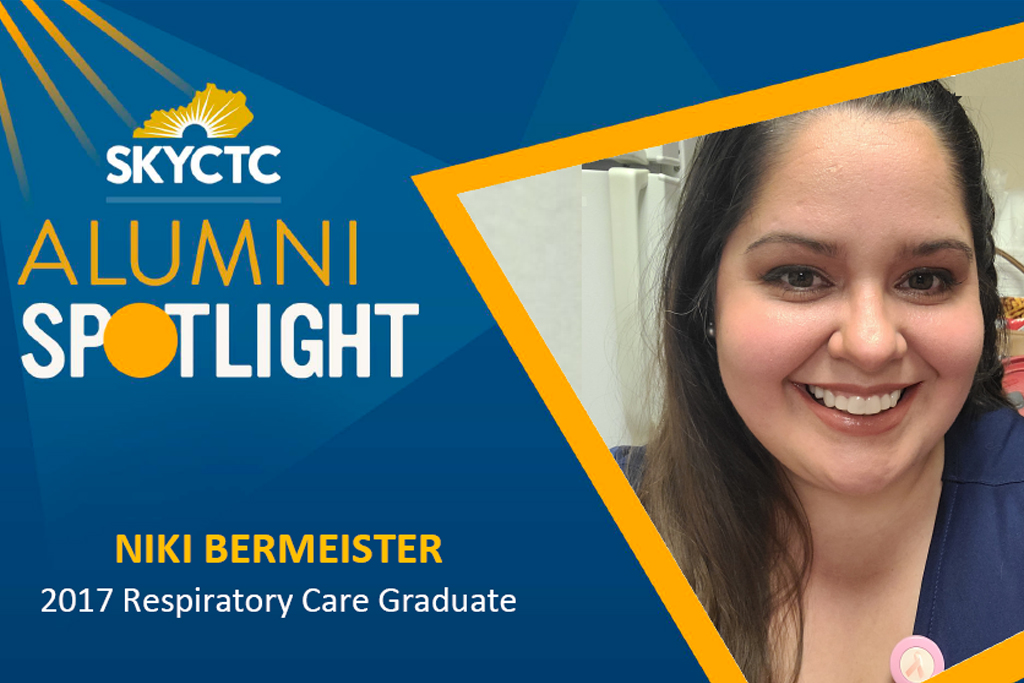 Niki Bermeister is a 2017 graduate from the SKYCTC Respiratory Care program. She will complete her bachelor's degree in Respiratory Care from Northern Kentucky University next year. Niki currently works as a Registered Respiratory Therapist at The Medical Center in Bowling Green.
Why did you choose to attend SKYCTC?
"Because I wanted to be able to get a good education without the overwhelming larger classrooms that are present in universities."
Who influenced you most during your time at SKYCTC?
"My teachers - Jim Bronson and Ken McKenney. Without them, I wouldn't be able to live my dream job every day."
What advice do you have for current students wanting to make the most of their experience at SKYCTC?
"Make sure that even though you're eager to graduate, you remember that the time you spend in school learning will be something that sticks with you for the rest of your life. Make the most of this opportunity to learn and grow!"
Describe your career path and explain how your education at SKYCTC helped prepare you for what you are doing today.
"I knew that I always wanted to have a bachelor's degree but needed a good foundation to build from. Without SKYCTC and the Respiratory Care program, I wouldn't be where I am today. I wouldn't be pursuing my BSRC at Northern Kentucky University and following my dream of eventually achieving my master's degree as well!"
What advice do you have for those looking to pursue a career in respiratory care?
"Be aware of everything that a Respiratory Therapist does. Don't choose this path because you couldn't do nursing. In order to be a successful RT, you need to have passion for the profession. You have to WANT to help people breathe, you need to feel the pain of losing a patient, and you need to be able to try your absolute hardest to save everyone. Being an RT isn't a "step down" or an "alternative to nursing." Being a Respiratory Therapist is an honor and privilege. Respect yourself and the profession by truly understanding that."