SKYCTC Alumni Spotlight - Treva Shirley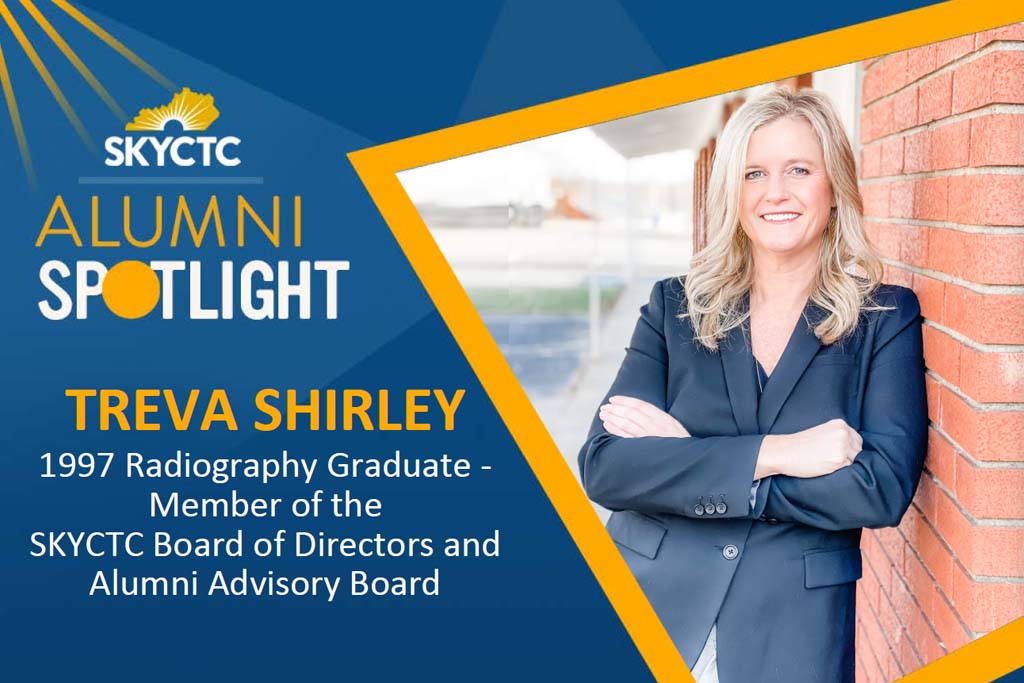 Treva Shirley is a 1997 graduate of the Radiography program, and she's a member of the SKYCTC Board of Directors and Alumni Advisory Board. Treva is currently employed with TJ Regional Health's Fit for Life Occupational Health and Employee Wellness as an Industry Navigator.
Graduation Year: 2016
Why did you choose to attend SKYCTC (formerly BGTC - Bowling Green Technical College)?

"I found myself at a crossroads while attending WKU. I was in my sophomore year at the "Hill" and needed to declare a major. A career in healthcare interested me, but I had no idea where I wanted to focus my studies. A friend of mine was in the Radiography program at BGTC and encouraged me to apply. From the beginning, I felt like I was where I needed to be, and I'm so grateful to everyone who helped through my journey at BGTC."
Who influenced you most during your time at SKYCTC?
"All three of my instructors were amazing. Diane Button, Lori Slaughter, and Becky Stevens were always there for their students. Not only as teachers, but as friends. Their style of instruction was the first (and only) time that I experienced having teachers who led with a family dynamic in mind. They were tough, but fair, and prepared us all well for life after BGTC. The smaller class size was a plus for me, too."
What advice do you have for current students wanting to make the most of their experience at SKYCTC?
"Do your best to develop strong relationships with classmates and staff. The relationships you build will last a lifetime! I have been fortunate to stay connected with former classmates and instructors since I graduated."
Describe your career path and explain how your education at SKYCTC helped prepare you for what you are doing today.
"I started my career with TJ Samson Community Hospital 25 years ago as a student X-ray tech during my second year of the Radiographer program. Post-graduation, I worked in X-ray for two more years before transitioning to the MRI department as a registered MRI Technologist. After 15 years in MRI, I was hired to lead our Occupational Medicine Department, which was a new program for TJ. In the last two years, our Occupational Medicine and employee wellness program, Fit for Life, have combined to better serve our local businesses and TJ Regional Health employees."
What advice would you give current students interested in pursuing a career in your professional field?
"You can never go wrong with a career in the healthcare field. Radiology is a great career and gave me valuable clinical experience that has helped me tremendously in my current role."