SKYCTC unveils food pantry, clothing closet for students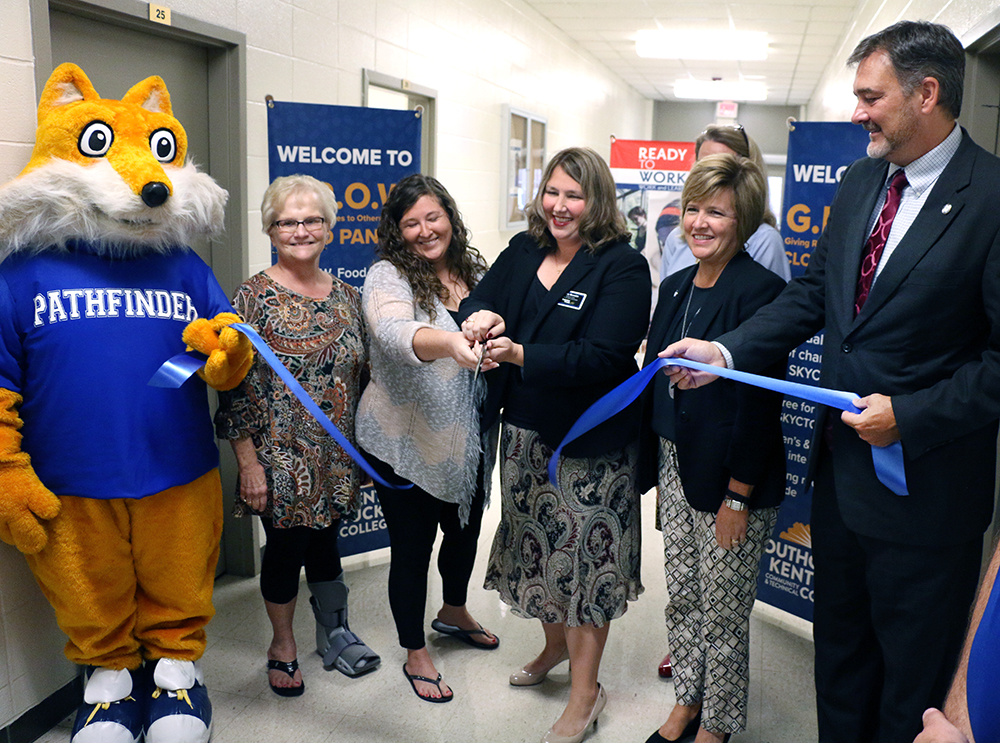 By Aaron Mudd – BG Daily News
Southcentral Kentucky Community and Technical College unveiled a food pantry and clothing closet Monday that officials hope will remove barriers to learning and professional success.
Despite a strong economy, SKYCTC President Phil Neal said "We still have folks that struggle to have the basic needs met when they wake up in the morning."
"It's wonderful that we're able to provide a service to our students," he said, speaking at a ribbon-cutting ceremony.
The G.R.O.W. Clothing Closet and Food Pantry is in building A at the college's Bowling Green campus. It stands for Giving Resources to Others Without.
Open during campus hours, it offers students breakfast and lunch items they can prepare on campus, along with snacks to sustain them during the day. Students can also take home hygiene products and food for evening meals.
"We're trying to remove any barrier a student might have to getting their education," said Heather Rogers, SKYCTC's associate vice president of institutional advancement. Rogers directs the SKYCTC Foundation, which helped raise money for the project.
"If we can remove those barriers, then students will stay in school," she said in an interview.
While the food pantry aims to help remove barriers to classroom success, the clothing closet focuses on helping students launch their careers. It offers business attire for men and women to wear to job interviews or on the job. It also stands ready to offer students basic clothing, such as shoes and winter coats.
Kelly Meredith, SKYCTC's Ready to Work coordinator, described the college's Ready to Work program as her inspiration for the project.
The program places students in jobs to help them build skills for a future career. It typically serves lower-income students and students who are single parents, although it isn't limited to those students.
Meredith said several students in the program needed professional clothing to wear to their jobs. Four people had already stopped by to pick up clothing before the closet and food pantry officially opened Monday, she said.
"There is the need out there. It's just spreading the word to the students about what's available," she told the Daily News.
A student working through the Ready to Work program helped start the food pantry and clothing closet, which provides a work-study job, as well.
Speaking during the ribbon-cutting, Rogers said the project is in the vein of several other kinds of student support services SKYCTC offers.
They range from scholarships that enable students to graduate debt-free and a micro-loan program that allows students to purchase textbooks or get gas money for commuting to class.
The Community Foundation of Southcentral Kentucky contributed a start-up grant for the project. The United Way of Southern Kentucky, Stuff the Bus and the Kentucky Community and Technical College System are also partners.
"Things like this don't happen without great community support, so we definitely thank all of those folks for being involved," Rogers said of the G.R.O.W. Clothing Closet and Food Pantry.
The food pantry and clothing closet are open from 7:30 a.m. to 4 p.m. Monday through Friday. Students in need of food only need to stop by the pantry and show their student ID or class schedule.
"If they say they need it, it's here for them," Meredith said, adding the pantry will connect students to more resources in the community, if needed.
Those interested in donating to the G.R.O.W Clothing Closet and Food Pantry can contact Meredith's office at 270-901-1011.
Clothing donations are accepted on a seasonal basis, and donors can get documentation of their donations through the SKYCTC Foundation for tax purposes, Meredith said.
– Follow education reporter Aaron Mudd on Twitter @BGDN_edbeat or visit bgdailynews.com