SKYCTC instructor researched near-Earth asteroids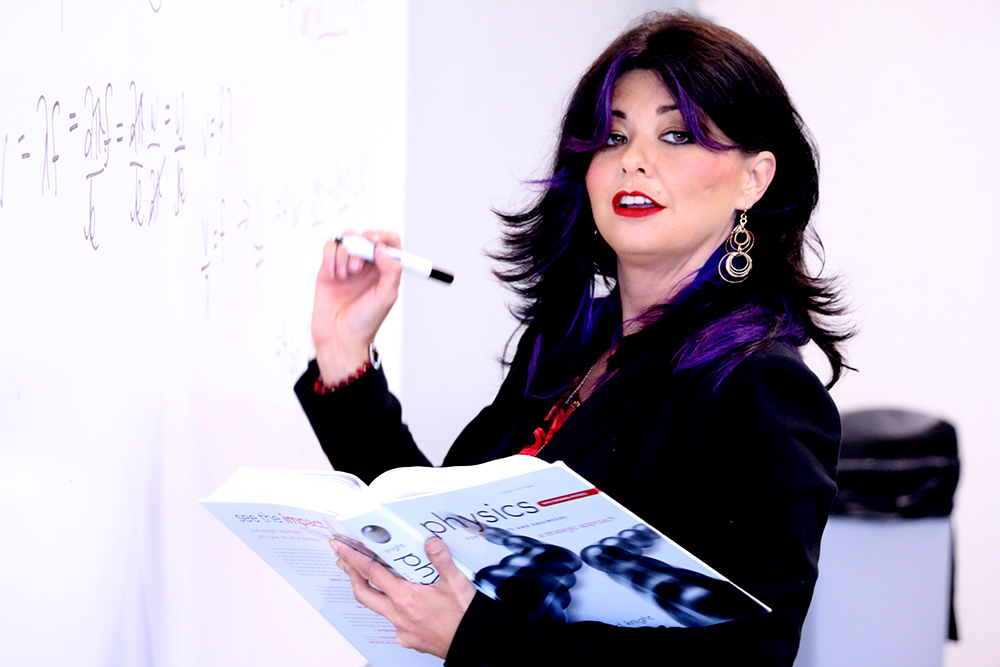 By Aaron Mudd - BG Daily News
With more than 18,000 known near-Earth asteroids, the fate of the world may rest in the hands of a few scientists.
Stacy Hicks, a new physics and engineering instructor at Southcentral Kentucky Community and Technical College, has studied such asteroids and knows that preventing or mitigating disaster may come down to knowing a few key facts about their shape, composition and structure.
"I think people kind of think about asteroids being just a big hunk of rock and they're all the same. They vary greatly," Hicks said
While completing her master's degree in Homeland Security Sciences at Western Kentucky University, Hicks confirmed the physical parameters of eight near-Earth asteroids with orbits close enough to the planet to potentially pose a threat.
Her work, funded in part by a fellowship from the NASA Kentucky Space Grant Consortium, used asteroid data from the NASA Target Asteroids database. That database is part of the larger NASA OSIRIS-REx mission to return an asteroid sample to Earth by 2023.
In addition, her work also involved using the Robotically Controlled Telescope at Kitt Peak National Observatory, which is a telescope operated by a consortium of universities led by WKU.
Using that data, Hicks was able to model the shape of asteroids too small and distant to be imaged directly. That information may be key in preventing a future disaster by giving scientists a better idea of risk.
"If something's coming for you, if you're planning an intercept mission or something, you want to know how big it is, what it looks (like)," Hicks said.
While the technology for an asteroid intercept mission isn't there yet, it may not be far off. Hicks said scientists have several ideas about how to make it work, from high-powered lasers to using the gravity of a large enough spacecraft to slowly pull an asteroid out of Earth's path over time.
Using nuclear weapons has also been thrown around as an idea, but the problem lies in how massive asteroids are and how quickly they move, Hicks said.
"It's kind of like shooting an elephant with a BB gun," she joked.
For now, perhaps the best defense lies in prevention and early detection. The OSIRIS-REx mission could help with that, Hicks said.
"Information that we get from this mission could help us save a future generation down the road 100 years from now," she said.
That also means brightening the minds of students. Michael Carini, a professor and chair of WKU's Physics and Astronomy Department, served as her thesis mentor.
"I'm really excited for her," he said. "I think she's going to do a fabulous job over there at SKYCTC."
Hicks is coordinating a new engineering pathway between SKYCTC and WKU. As a student who started at a community college herself, Hicks remembers how it helped.
"I just remember how much more comfortable it made me," she said. "Going to college is scary."
Starting off at SKYCTC can give students smaller class sizes and ultimately less college debt, Hicks said.
"The community college system gives an access to higher education to students who would not otherwise have had that," she said.
– Follow education reporter Aaron Mudd on Twitter @BGDN_edbeat or visit bgdailynews.com.