SKYCTC camp teaches kids culinary skills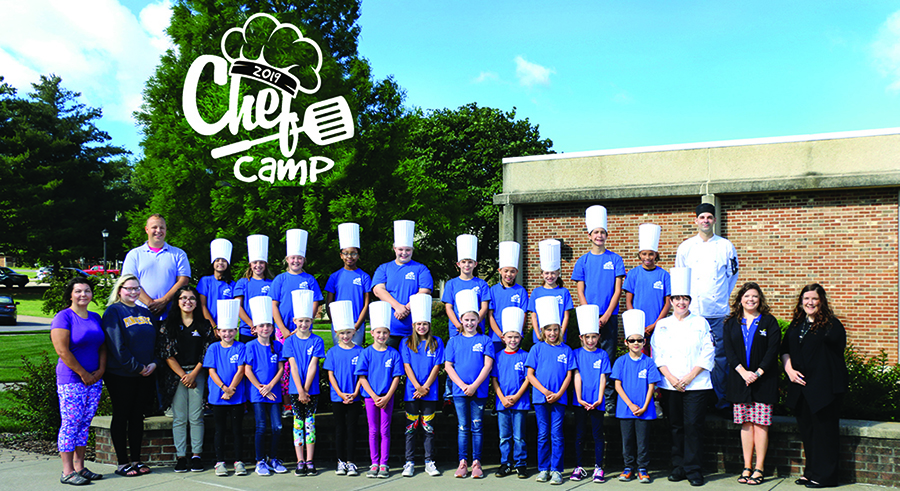 By Drake Kizer – BG Daily News
Children filled the kitchen Wednesday at Southcentral Kentucky Community and Technical College, listening quietly as chef Tammy Inscoe, SKyCTC's culinary arts program coordinator, gave them instructions.
The campers, aged 8-12, were participating in the second week of the annual Youth Chef Camp at SKyCTC's Bowling Green campus at 1845 Loop Drive. The event is held during the first two weeks of June each summer, and about 40 kids participated this year, Inscoe said.
"They have such a good time – most of them like to cook at home, so they get to come here and make it themselves," Inscoe said. "I think it's important they get to do it with fellow students that enjoy cooking as much as they do. That bonds them, so a lot of 'em have made really good bonds this week over food."
Both four-day cooking camps were presented by SKyCTC culinary arts faculty and students. Kids learned about nutrition, foundational cooking skills, safety and sanitation Monday through Thursday. They also got to take home their chef hats, SKyCTC water bottles, T-shirts and whatever leftovers remained from their daily cooking lessons.
Chloe King, 11, has attended the camp for about three years.
"It's really a great experience," Chloe said. "I love all of the cooking that we learn and the chef is really nice and she has a lot of helpers that help us and I really love cooking."
Kaylee Moore, 10, attended for the first time this year. She said her favorite thing she learned was making banana pudding.
"That we, like, get to bake and, like, play with friends and stuff," Kaylee said about what she's enjoyed the most so far.
Campers made homemade biscuits, quesadillas, pizzas, cookies, omelets and more. Inscoe said many parents asked her for recipes after their kids brought home leftovers during the camp
"A lot of (kids) know before they come in here just basic facts about being in the kitchen, but yes, they pick it up very quickly," Inscoe said. "They take direction very well, and we haven't had anything happen that they didn't really understand, so it's good. We enjoy it."
Inscoe said everything campers do involves food, nutrition or exercise. The kids get to play engaging games and have fun bonding with fellow culinary enthusiasts, but the knowledge the kids gain is also practical.
"They learn a lot of things they did not previously know," Inscoe said. "I think it gives a base for when they go to college and have to cook for themselves, but some of them go home in the afternoon and there's nobody there. They have to provide for themselves, so they can use the microwave, but learning these skills, they can do more things and healthier things."
The camp makes it a point to allow kids as much freedom as possible. Sometimes assistants like Eric Long, the Kentucky Restaurant Association's 2018 Culinary Student of Year, and Olivia Farris, a dual-credit instructor for SKyCTC and Allen County-Scottsville High School, have to step in and lend a helping hand to an overzealous child. But they keep intrusion to a minimum.
"Like making the cookies today, they get to decorate it their own style," Inscoe said. "So, we don't have a set, 'You have to do this, this and this,' they get to show their creativity in the program as well, and I think that makes it a little more special to them."
The techniques students learned helped them build confidence in their cooking abilities, and if the campers could agree on something other than their shared love of Lil Nas X's chart-topping hit "Old Town Road," it would be the sense of empowerment they all felt by cooking and baking without much assistance.
"I just love to learn about it and to do it myself," Chloe said about cooking. "It's kind of like when you get older, you get to experience more and start doing it by yourself."
First-time camper Garrett Basil, 10, said he hopes to come back next year because the camp was "one of the best" he'd ever seen.
"I think this camp is one of the best ones I've ever been to because it teaches you how to cook, and for, like, whenever you have to cook something for your family and your parents aren't there, you will know how to cook," Garrett said.
Madison Metzger, 10, was another first-timer at the camp, but she is no stranger to the kitchen. She said she's been helping her mom with cooking "sometimes" for as far back as she can remember.
Madison giggled as she said her favorite part about cooking was eating whatever she'd made, but she was thoughtful while crafting her response to how she feels when she doesn't need anyone's help cooking.
"Independent," she said.