THIRTEETH ANNUAL "EVENING WITH INDUSTRY" EVENT AT BARREN COUNTY HIGH SCHOOL, SEPTEMBER 17TH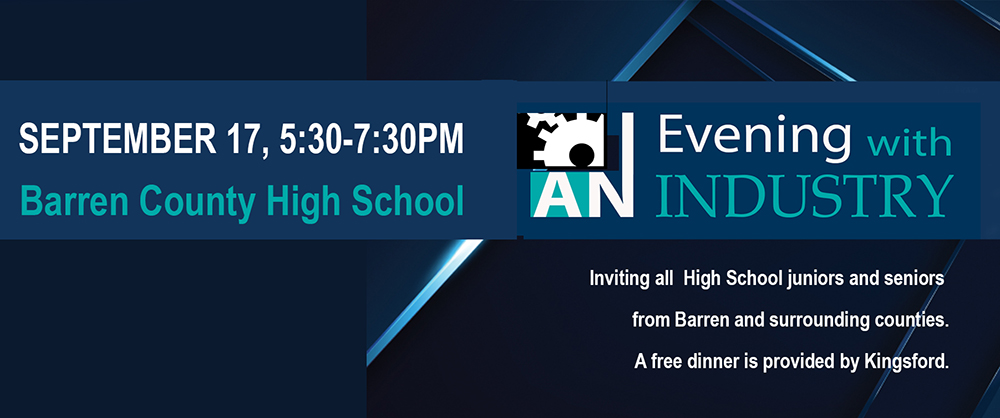 Southcentral Kentucky Community and Technical College (SKYCTC), along with the Glasgow-Barren County Chamber of Commerce, Barren County High School, and the Barren County Area Technology Center, will host the annual "Evening with Industry" (EWI) in celebration of Industry Appreciation Week. The event will be held Tuesday, September 17, 2019, at 5:30 p.m. at Barren County High School. Residents of Barren and surrounding counties, high school students, and their parents are encouraged to attend to learn more about career pathways and the educational opportunities available in our area to achieve career goals.
Representatives from the Kentucky Legislature, Senator David P. Givens and Representative Steve Riley, as well as representatives from SKYCTC and the Barren County School System, will discuss initiatives that help students get good-paying careers in our region. High school juniors and seniors are especially urged to use this opportunity to speak with area industry representatives regarding employment opportunities and learn the education and training required to secure employment with these companies.
SKYCTC admission, faculty, and financial aid personnel will be on hand to answer questions about programs offered and enrollment procedures for the college. Representatives from the SKYCTC Glasgow Technology Campus as well as the Glasgow Health Campus will be available to answer questions about the Industrial Maintenance, Computer and Information Technologies, and Allied Health and Nursing programs.
The theme of this year's EWI event is "I'm Ready" to help students learn how to earn an industry recognized certificate or diploma that will lead to a great career. The Work Ready Kentucky Scholarship program is available to college students and some high school students who are enrolled in college coursework.
The event is free and open to the public and will conclude with a free dinner, grilled by Kingsford, for all who attend. Students and their parents are encouraged to attend this important free event.