FS Industrial Authority hosts 14th annual golf scramble - donates to SKYCTC Foundation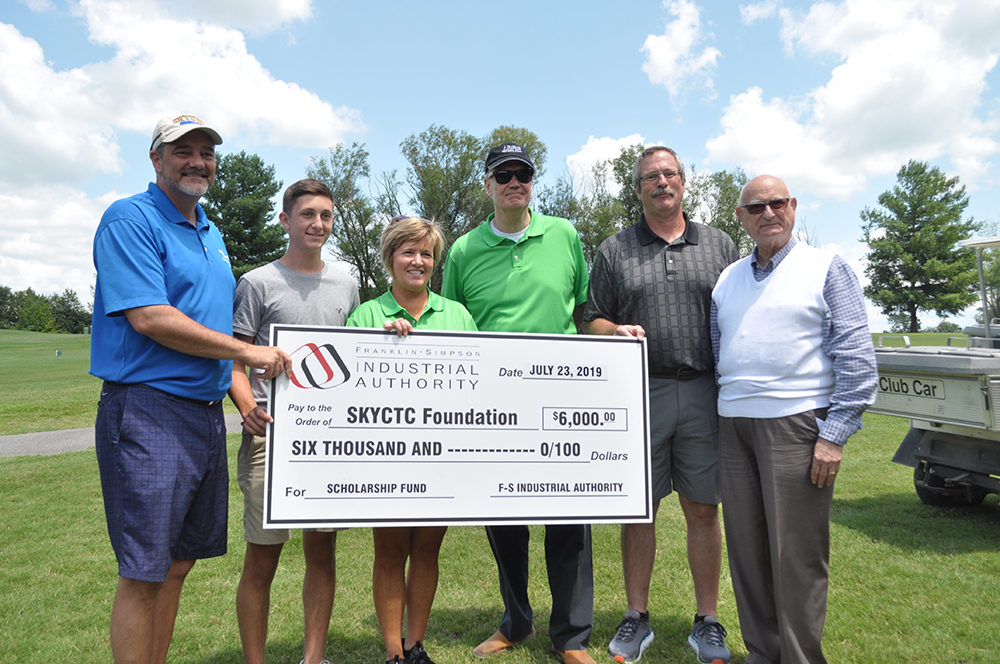 The Franklin Simpson Industrial Authority Annual Industry Appreciation Golf Tournament was held July 23 at Kenny Perry's Country Creek Golf Course in Franklin, KY. In lieu of team prizes, a donation was made to the SKYCTC Foundation for the FS Industrial Authority Scholarship Fund. Pictured: President Phil Neal; 2019 Scholarship Recipient Dax Wren; Foundation Executive Director, Heather Rogers; FS Industrial Board Chairman, Gary Broady; Simpson County Judge Executive Mason Barnes; and Franklin Mayor Larry Dixon. Not pictured: 2019 Scholarship Recipient Amber Davidson.
BY JODI CAMP JCAMP@FRANKLINFAVORITE.COM Aug 1, 2019
The Franklin-Simpson Industrial Authority held their 14th annual Golf Scramble at Kenny Perry Golf Course on July 23.
"The purpose of it is to invite our industry and some of our local supporters out for a day of golf," said Denny Griffin, executive director of the Franklin-Simpson Industrial Authority.
The Industrial Authority matches any money the sponsors of the golf scramble donate to give as scholarships to two recent graduates of Franklin-Simpson High School.
"With that money they are typically able to pay for their associates," Griffin said.
The event is free for all of the participants and gives them a chance to meet people from other industries in the community as well as community leaders, he said.
This year he said they had 18 teams with four per team participating and they average around 18-20 teams each year.
"We don't like it much larger than that because then it takes a long time to finish," Griffin said.
Joey Traughber, with Traughber Mechanical Services, said this was his fifth year participating in the scramble because it is one of the few events that gets everyone together.
"(The golf scramble) is a good event to get out and meet people and network with other community industrial participants," Traughber said.
John Eaton, with Multi Tech Industries, said the event is great to learn about other industries in Simpson County and the surrounding area.
His golf team was made up of two guys from Bowling Green and someone who had travelled in for the scramble. Eaton said each one of them was from a different segment of business.