SKYCTC auto mechanic students give new life to vintage Kentucky State Police cruiser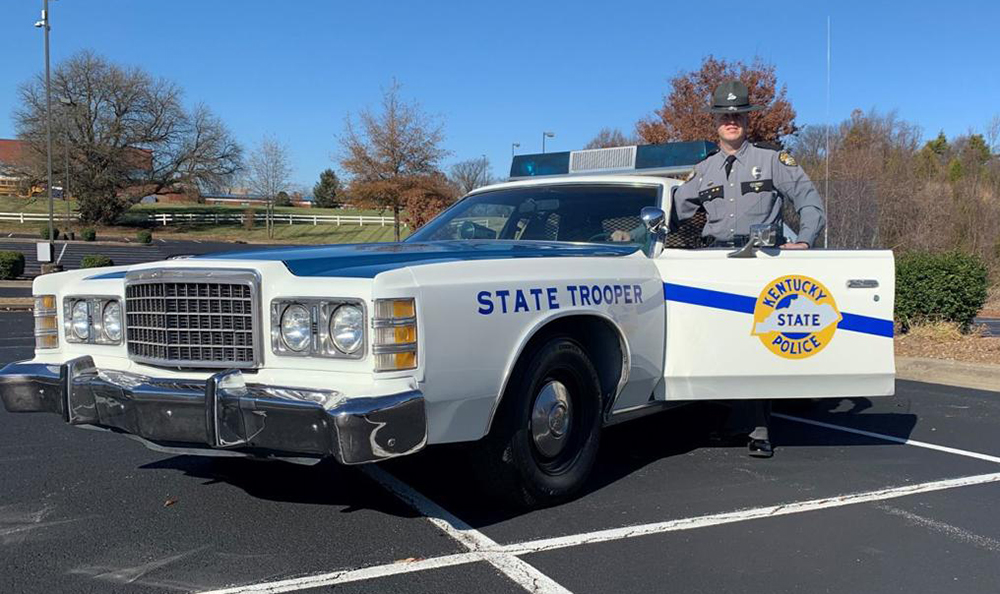 Kentucky State Police Post 3 Trooper Daniel Priddy poses with cruser that students of the Collision Repair program at SKYCTC restord. The vntage 1878 crusier will be used during the KSP's outreach efforts.
By AARON MUDD amudd@bgdailynews.com
A group of Southcentral Kentucky Community and Technical College students turned back the clock on a 1978 Kentucky State Police cruiser while gearing up for successful careers in the auto mechanic industry.
"It looks brand new," KSP Post 3 spokesman Trooper Daniel Priddy told the Daily News. "When everybody sees it, they automatically want to ask questions about it."
Complete with a fresh coat of white paint and blue stripes down its sides, the cruiser has come a long way since it was pulled out of storage and sent to SKYCTC's collision repair program for an overhaul.
"The overall size of the project would probably be the biggest challenge because you had to tear it all down to bare metal and then bring it all back," said Jonathan Styles, one of about 20 collision repair program students who helped rebuild the vehicle over two years.
For their instructor, associate professor John Hunt, the project is much more than just a fun diversion.
"What we do in this program is to try to recreate the real-world experience they're going to get in a body shop or a collision repair facility," Hunt said, adding the two-year program prepares students for entry-level positions in body shops.
The program has taken in projects benefiting other causes in the community, such as for the American Red Cross, Hunt said.
"We really like to do those kinds of projects because the students can get the training using that vehicle … but then on the other end of it somebody benefits from it," he said.
Several students told the Daily News the project helped them hone skills they can use on the job.
"I really learned basically how to do bodywork," collision repair student Dalton Collins said. "There was a lot of little dents and a lot of little spots that you had to touch up."
Once the finishing touches were done, J.T. Casada was surprised with the result.
"It popped," Casada said. "It ended up looking really nice considering all the time and effort that ended up going into it."
For Juan Campos, a key takeaway was learning to "take the time and be patient" with the work.
Going forward, Priddy said the cruiser could be used in parades, at state fairs and to connect with the public.
"We're really thankful that they were willing to do that, to help us out and do the work," Priddy said.
– Follow education reporter Aaron Mudd on Twitter @BGDN_edbeat or visit bgdailynews.com.