SKYCTC Alumni Spotlight: Angela Shehan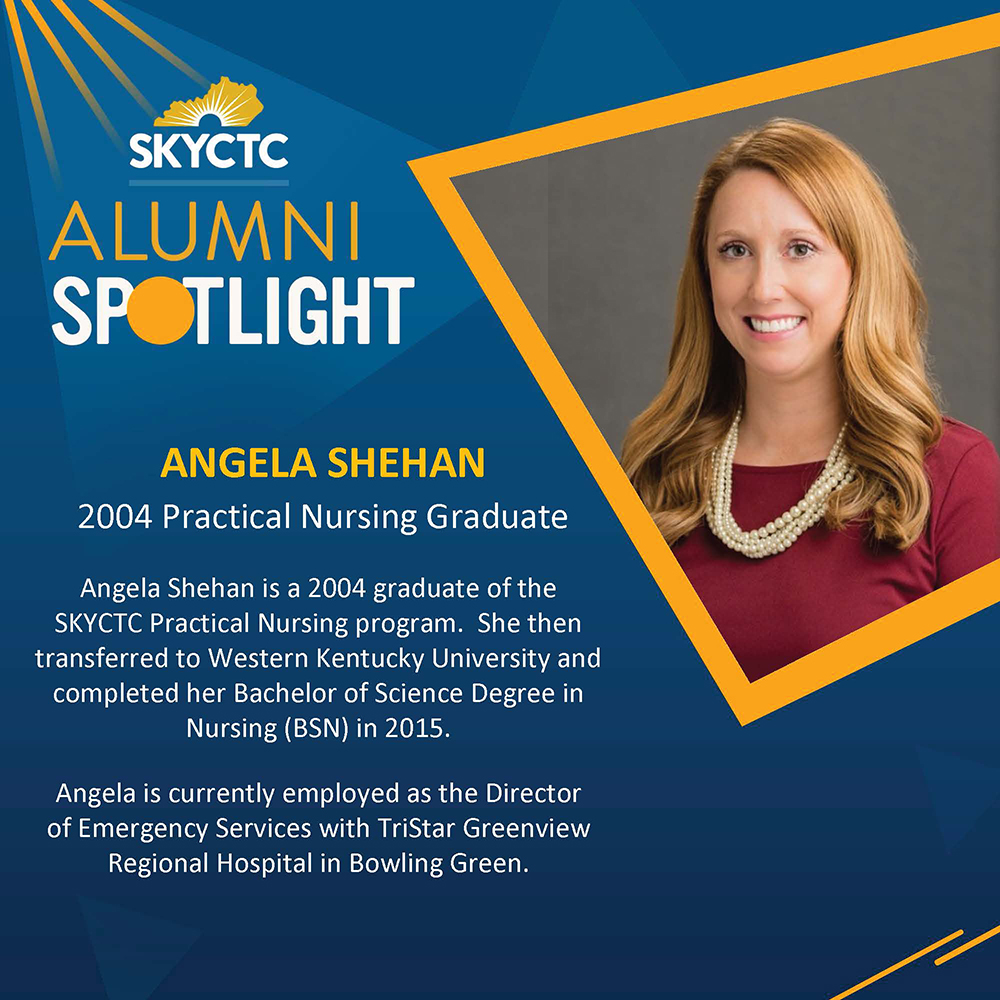 Angela Shehan is a 2004 graduate of the SKYCTC Practical Nursing program. She then transferred to Western Kentucky University and completed her Bachelor of Science Degree in Nursing (BSN) in 2015. Angela is currently employed as the Director of Emergency Services with TriStar Greenview Regional Hospital in Bowling Green.
WHY DID YOU CHOOSE TO ATTEND SKYCTC (FORMERLY BGTC)?
I had heard great things about the Nursing Program in Glasgow. I was eager to graduate and start a career in Nursing.
WHO INFLUENCED YOU MOST DURING YOUR TIME AT SKYCTC (FACULTY/STAFF)?
Dr. Angie Harlan, Dr. Jennifer Shoemake, Dr. Tony Hogan, Spencer Cole, and Barbara Minix were among the faculty of instructors that influenced me during my time at SKYCTC, as well as many others. Dr. Isenberg was the Dean, and I remember how well-spoken he was and how much he put into the program and students!
WHAT ADVICE DO YOU HAVE FOR CURRENT STUDENTS WANTING TO MAKE THE MOST OF THEIR EXPERIENCE AT SKYCTC?
Nursing is a wonderful career and profession. SKYCTC has a great program that focuses on patient care and continued learning. Their instructors are top-notch and are devoted to preparing and graduating nurses to the workforce. They value professionalism and are patient focused.
DESCRIBE YOUR CAREER PATH AND EXPLAIN HOW YOUR EDUCATION AT SKYCTC HELPED PREPARE YOU FOR WHAT YOU ARE DOING TODAY.
I graduated in 2004 from the Practical Nursing (PN) Program at BGTC, Glasgow Campus. While in the PN program, I began working at Greenview Hospital in 2003 as a CNA. This year, I will celebrate my 20th year working at Greenview Hospital. During that time, I worked 9 years in Med/Surg and Orthopedics as an LPN, eventually earning my ADN in 2013 and BSN in 2015. I have worked in PACU, as the Manager of Endoscopy, PACU, & SDS, Director of CCU & Telemetry, Inpatient Nursing Director, and currently Director of Emergency Services. SKYCTC instilled values of the nursing profession. They best prepared me to care for patients and be my very best!
WHAT ADVICE WOULD YOU GIVE CURRENT STUDENTS INTERESTED IN PURSUING A CAREER IN YOUR PROFESSIONAL FIELD?
Nursing is a wonderful profession. It is difficult, both physically and mentally, as well as rewarding. Working as a nurse will bind you with a unique group of individuals that will support you along your career pathway. If you are interested in serving your community and helping others, there is nothing more fulfilling than the nursing profession!