SKYCTC sociology professor Bertena Varney loves Halloween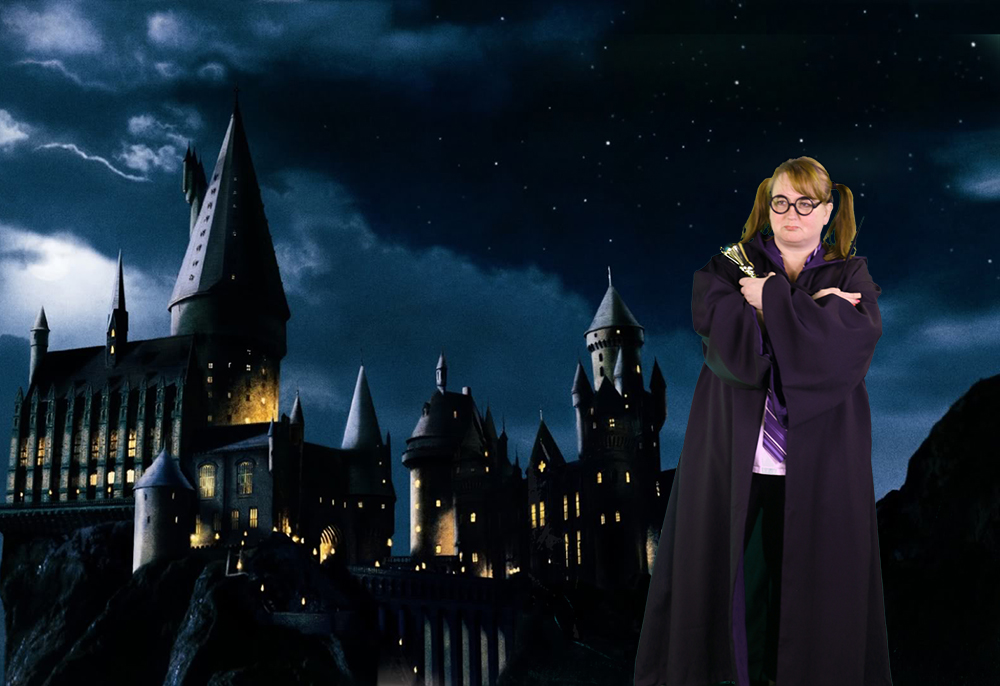 By Jim Turner - The Logan Journal
It will come as no surprise to those who know Bertena Varney that Halloween is her favorite holiday.
"Witches, ghosts, vampires, haunted houses, costumes… why wouldn't I love it?" the assistant professor of sociology at Southcentral Kentucky Community & Technical College asks rhetorically.
Students at SKYCTC sign up for Ms. Varney's classes in a hurry when they become available. Three weeks after registration for spring semester classes opened, her Deviant Behavior course was full. She also is teaching a Sociology of Superheroes class next semester. Her Harry Potter-based course is one of the most popular at SKYCTC. Her Sociology of Pop Culture is scheduled for the spring of 2020, and undoubtedly her Inequality & Society course will include lessons learned from Harry Potter.
She teaches the basic Introduction to Sociology course extensively. Students must complete this study before being eligible to take her intriguing advanced courses.
It would be logical to assume that her parents instilled a love of horror in her as a child, since the name Bertena means witch in Africa. "My parents didn't like horror movies or anything like that, and I was named for my Godmother, not for the word's meaning," she says. "I had to sneak to read horror books and to watch my favorite movie as a kid, the original Dracula starring Bela Lugosi."
As a student at Morehead State University, she did extensive research in Victorian Era people's interest in supernatural subjects. She concluded that understanding of science was far from scientific at the time, and people created supernatural characters and beliefs to explain the unexplainable.
She doesn't consider Harry Potter to be in the horror genre. Instead, she says, "The magic is just for fun, but it also teaches life lessons—social lessons. Our class looks at bad stuff that people do, and ways others deal with it."
At Morehead, Varney took deviance classes in sociology. Her graduate school emphasis was on deviant subcultures. After majoring in sociology, criminology and British history, she taught at Eastern Kentucky University and National College in Lexington before moving to Bowling Green. After two years as an adjunct instructor, she joined the SKYCTC faculty full-time in 2013.
Life is never dull for Bertena Varney. She is involved in countless educational pursuits as well as being in demand for speaking engagement. In addition, she is a prolific writer. She has contributed chapters to six books and is completing the fourth edition of her own book, The Lure of the Vampire.
She has twice conducted anime workshops at Logan County Public Library. For two years she owned Serendipity Meditation Center, and she at one time worked as a private investigator. For two years, she was Kentucky vice president of D20 Girls, who are cos-players, a professional group who dress up as characters from Harry Potter or as gypsies, princesses, etc. and are invited and at times paid to attend national conventions.
She has two websites, Vampireprofessor.com and MidnightmusingswithBertena.com. Additionally, she offers vampire correspondence courses for the students' learning and enjoyment, not for credit.
Varney's schedule is filled with speaking engagements. She will talk about mythology and creating lesson plans to incorporate into culture courses at a pop culture conference in New Orleans this fall. She has been interviewed about "Vampires in Deviant Subcultures" in many states.
In April she will she will appear at the National Pop Culture Conference in Washington, D.C. "The main question: Were vampires born this way or did they choose this lifestyle? I am interviewing different types of lifestyles and have published some of my research in my book," she says,
At the Fright Fest in October 2020, she is scheduled to be on a panel with James Marsters, who played Spike in Buffy the Vampire Slayer, and she will be with Dacre Stoker, the great-grand-nephew of Bram Stoker, who wrote the novel Dracula. She has met Norm Reedus of The Walking Dead, Robert England of Freddie Kruger fame, and some of the cast of True Blood.
Despite all these opportunities, teaching students at SKYCTC is still her primary focus. Bertena Varney says, "I am happy to be a part of a college that allows me the academic freedom to teach what students want to learn more about and what interests them."