SKYCTC student named culinary arts student of the year for fourth straight year
By Aaron Mudd Bowling Green Daily News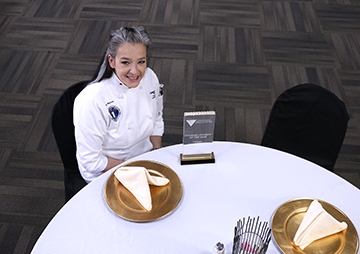 After she beat thyroid cancer, Tina Barron realized how short life can be and that she had one dream she hadn't brought to life.
"It kind of was always a dream of mine to become a chef," said Barron, a 49-year-old culinary arts student at Southcentral Kentucky Community and Technical College.
Now, Barron has been named culinary arts student of the year by the Kentucky Restaurant Association. For Barron, her recent success is part of realizing her lifelong passion for food.
"Family and food have always been a part of my life," said Barron, who cherishes childhood memories of baking homemade biscuits with her mother. Today, her favorite foods to make and eat are spicy dishes, like Thai cuisine.
Barron is the latest winner representing SKYCTC in a winning spree that spans four consecutive years. She was recently recognized at the association's awards gala at the historic Brown Hotel in Louisville.
"I'm very honored," she said, adding that the gala taught her there are people who will recognize her hard work. "It was just really a lot of fun."
Barron has been in remission from thyroid cancer since 2004. Despite what some might see as a tough transition, Barron said she never felt intimidated to be a nontraditional student at SKYCTC. She's bonded with her classmates and instructors during her journey there, she said.
"Now they feel like they are a part of my family," she said.
When asked what makes the program stand out, she credited instructors like Executive Chef Jason Lindsey who act as role models for aspiring industry professionals.
In a previous Daily News article, Lindsey said SKYCTC's Culinary Arts program strives to give students as much real-world experience as possible.
"We try to incorporate as much industry expectations that they're (going to) find," he said.
That hands-on experience was seen Wednesday as students prepared soup for an upcoming luncheon. The program has a dining room and kitchen for students to practice their skills.
With her own career, Barron said she wants to return the favor to students who come after her by becoming a culinary arts instructor.