SKYCTC names Alyssa Brasel as the Distinguished Alumni of the Year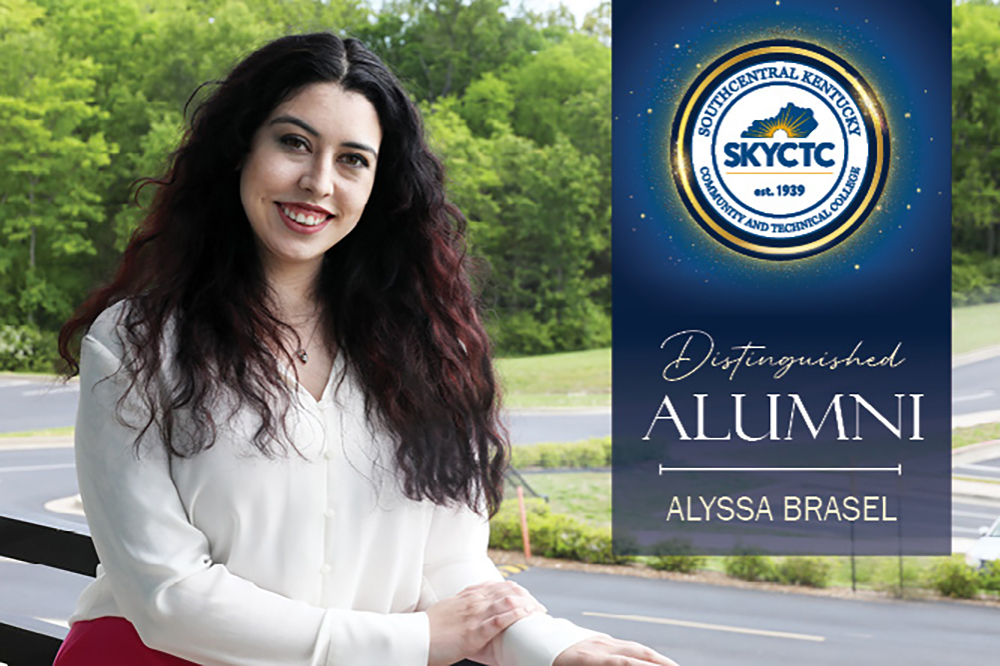 Each year, Southcentral Kentucky Community and Technical College (SKYCTC) selects a Distinguished Alumni Award recipient. This award recognizes graduates and former students for their successes and exemplary service to their professions and communities. Thousands of working professionals in South Central Kentucky and beyond received their education and training from SKYCTC, and you will find our graduates working for businesses in numerous industries, including health care, construction, advanced manufacturing, and transportation. This year's winner is a testament to how a community college education can be an entry point to higher education dreams and career achievement.
Our Distinguished Alumni Award winner for 2023 is Alyssa Brasel. Alyssa attended SKYCTC from 2012 to 2014 and was also employed as a student worker in the Admissions department. After graduating in 2014 with her Associate in Arts degree, Alyssa attended the University of Louisville and earned a Bachelor of Arts in Communication.
She continued her work in higher education and became an Admissions Officer for multiple Texas universities. During this time, she was accepted to Northeastern University School of Professional Studies where she earned a Master of Science in Global Studies and International Relations with a concentration in Conflict Resolution. This led her to a career in international affairs.
Alyssa began work for a private company where her role involved global crisis management and security. She then transitioned to her current role as a Consular and Passport Officer of the Embassy of Australia in Washington, D.C., where she effectively prepares for and manages overseas crises while assisting Australians overseas as an officer for the Department of Foreign Affairs and Trade.
"Being the advocate for your own life and aspirations is never something to stop and think about," says Alyssa. "I strongly stand by my own advice given to the 2023 SKYCTC graduates when I said putting yourself first is not a bad thing. In fact, it is absolutely necessary when it comes to education."
SKYCTC is pleased to recognize Alyssa Brasel as the 2023 Distinguished Alumni for her outstanding academic and career achievements. Alyssa serves as an inspiration for all those who aim for careers on the international stage.
Alyssa Brasel video interview: https://youtu.be/gmZqhIZqqEM