Industry, legislative, education leaders discuss workforce issues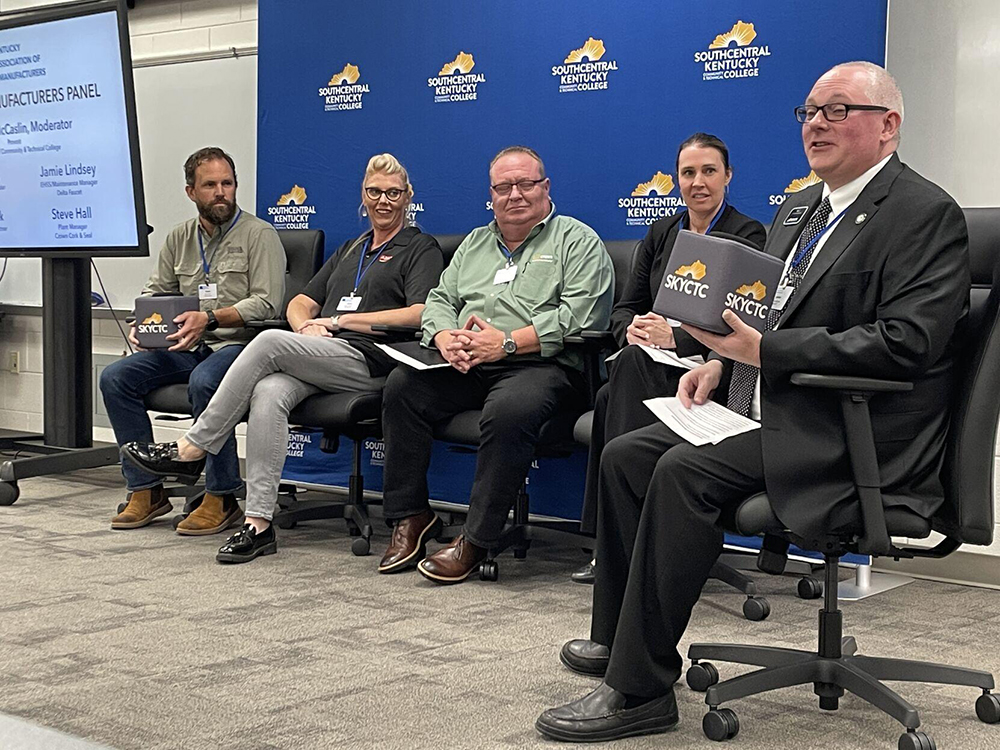 Panelists at meeting included (from left) Steven Cross, plant utilities reliability leader at Logan Aluminum; Jamie Lindsey, maintenance manager at Delta Faucet; Steve Hall, plant manager at Crown Cork & Seal; and Alisha Cook, senior HR business partner at Envision AESC. The panel was moderated by SKYCTC Provost James McCaslin (right).
Written by - MICHAEL J. COLLINS michael.collins@bgdailynews.com
Manufacturers across Kentucky are enjoying the benefits of a growing economy, but they all agree that one thing remains in short supply – a quality workforce.
The labor shortage was a repeated topic of discussion Wednesday at a panel hosted by Southcentral Kentucky Community and Technical College and the Kentucky Association of Manufacturers.
"I want to be able to work with the city and the county, upfront and honestly, about conditions that arise in the future and want to have the ability to remain world-class while retaining my employees," Crown Cork & Seal Plant Manager Steve Hall said. "That's easier said than done."
Companies and service providers such as Logan Aluminum, Delta Faucet, Goodwill Inc. and more sat on panels moderated by SKYCTC Provost James McCaslin.
Solutions to workforce issues came from two primary angles: education and networking. Leaders said technical education and apprenticeships have proven effective in finding and keeping workers, but they're still struggling to reach those seeking jobs.
McCaslin said increased cooperation and partnership between SKYCTC and regional industry, often led by the industry itself, has made things "really take off."
"(Employers) know what you need on a daily basis, and we realize that we can change our way of thinking to ensure that we're providing the skills that you need on the timeline that you need," McCaslin said.
Part of this initiative is the SKYCTC Trainees Program, which allows companies to fund employee development at a "very nice discount." McCaslin said the college plans to advocate for more state funding for that venture in the next legislative session.
Leaders also discussed the need for a strong "pipeline" network that helps produce a reliable stream of educated, willing employees. Many said this process should start as early as eighth grade with extracurricular activities and technical learning.
Jon Sowards, president of the South Central Workforce Development Board, said veterans have also been a focus in job recruitment in recent years. He said over 5,000 service members leave Fort Campbell each year, giving the region a chance to keep them here.
The board was recently able to hire an industry recruiter to present job opportunities to service members at Fort Campbell during their final reentry programs at the end of their tour.
They're also working on a service member internship program wherein they can spend time during their last six months mentoring with a company or agency. Sowards said he hopes to place someone with the Bowling Green Police Department later this year.
"(Once they) leave that internship, one, you may want to hire them, and two, they're going to be much better prepared for that transition back into civilian life because they'll have some professional experience and will have built a network," Sowards said.
Leaders also discussed the need to tap into immigrant and post-prison workforces, encouraging companies to give people in difficult situations a chance to work.
Panelists were also joined by Kentucky Senate Majority Whip Mike Wilson, R-Bowling Green, Sen. Max Wise, R-Campbellsville, Rep. Shawn McPherson, R-Scottsville, and Rep. Jim Gooch, R-Providence.
They said the best thing they can do as legislators is to "stay out of the way" of the market while providing the infrastructure and education companies need to be successful.
They pointed to investments in higher and technical education made by the legislature in the last year as evidence of their commitment. Wilson said it goes far in "ramping up the training for our children" seeking careers in manufacturing or STEM.
Frank Jemley, president of the KAM, said the association represents "about 3,200 manufacturing companies in Kentucky" who "employ about a quarter million people."
"We as a state-wide business organization are working very hard to go around Kentucky and listen to not only manufacturers but local communities and look for the partnerships that are working," Jemley said.
The event was the second of eight stops planned as part of a statewide "listening tour" of panels organized by the KAM.
Jemley said direct manufacturing jobs make up around 13% of Kentucky's workforce, but around 40% when you add jobs indirectly produced by a manufacturer.
Jemley said he was impressed by the work done regionally to address workforce shortages and added cooperation between industry, community leaders and employees will grow increasingly important to the southcentral Kentucky region.
He said Kentucky manufacturers will look increasingly "high-tech" as Bowling Green's AESC electric vehicle battery facility and Glendale's Ford BlueOval SK Battery Park continue construction in the region.
Plants like these have the potential to bring about "tremendous opportunities," Jemley said.
"Just like Toyota did when it located its first assembly plant here in Kentucky in the late 1980s – It brought with it what is now a couple hundred suppliers and its supply chain, Toyota Georgetown," Jemley said. "We expect that that's going to be replicated here in the Bowling Green region because of AESC and in the Hardin County region because of BlueOval SK."