Laura Goad Turner Foundation establishes the "Bright Future Scholarship" for SKYCTC students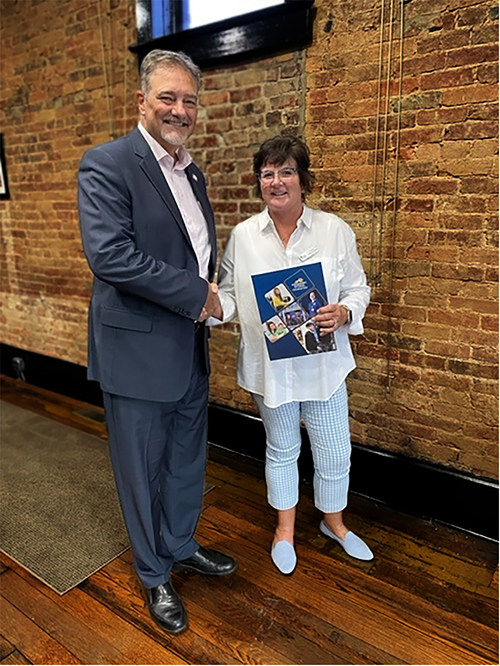 Pictured: SKYCTC President Dr. Phil Neal and Laura Goad Turner Charitable Foundation Executive Director, Katherine Sikora.
The Laura Goad Turner Charitable Foundation, in partnership with the Southcentral Kentucky Community and Technical College Foundation, has established a new $50,000 scholarship endowment, The Laura Goad Turner Bright Future Scholarship. This scholarship was established to ensure bright futures for Allen County students by encouraging a degree from SKYCTC in a high demand technical program.
It is projected that 63 percent of Kentucky jobs require at least some post-secondary education or training. In addition, Kentucky currently faces a shortage of skilled workers and falls below the national average in workplace participation. This problem is exacerbated by the fact that our region continues to be one of the fastest growing manufacturing areas in the state. This has prompted the state to focus on employment in five high-demand career sectors— manufacturing, construction, business & IT, logistics & transporta­tion, and healthcare—in which there are currently thousands of job vacancies.
Along with a nursing shortage, our state is also facing a critical teacher deficit that has been exacerbated by the pandemic, school safety concerns, the impending retirement of career educators, high rates of attrition among newer hires and other factors. According to the Kentucky Department of Education, 72% of the state's 42,000 full-time teachers are at risk of leaving the profession.
The Laura Goad Turner Bright Future Scholarship will help to educate students to fill those necessary careers and provide a brighter future for our businesses and industries. The scholarship criteria will focus on graduates of Allen County-Scottsville who have a minimum cumulative GPA of 2.5 and are enrolled in a program that falls in one of the six high-demand industry sectors: manufacturing, construction, business & IT, logistics & transporta­tion, healthcare and teacher education. If selected for the scholarship, the student will receive up to $2,500 per year for two consecutive years if they meet the criteria and are in good academic standing with SKYCTC. Should there not be enough qualified applicants from Allen County-Scottsville, second priority will be given to students from the BRADD region.
Heather Rogers, Executive Director of the SKYCTC Foundation said, "This endowed scholarship will create a lasting legacy that will pay dividends well into the future, not only for the SKYCTC students themselves, but for our entire region. We know that the level of educational attainment is the best indicator of economic well-being and a bright future for a family. If we can help more students obtain an education, we know we can help our communities prosper. We appreciate the continued support and commitment that the Laura Goad Turner Charitable Foundation provides to Allen County and SKYCTC."
The endowment gift is being submitted for a match from the Kentucky Community and Technical College System which will grow the endowment to $100,000.
For information on how to apply for scholarships go to: https://southcentral.kctcs.edu/affording-college/paying-for-college/scholarships/index.aspx