Welding Technology
Go to work in many industries as a specialist in one of the most highly paid skilled trades.
Program Contact
Steve Hatcher
Professor
(270) 901-1048
GET STARTED TODAY (270) 901-1000
What is Welding Technology?
Welding is the most common way to permanently join metal parts. Welders work in a wide variety of industries, from car racing to manufacturing. The work that welders do and the equipment they use vary with the industry. Because of its strength, welding is used in shipbuilding, automobile manufacturing and repair, aerospace applications, and thousands of other manufacturing activities.
Our Welding faculty hold the Certified Welding Educator credential from the American Welding Society, and all Welding instructors have extensive hands-on experience in the field, which they bring into the classroom to enhance students' knowledge and better prepare them for careers in this high-demand occupation.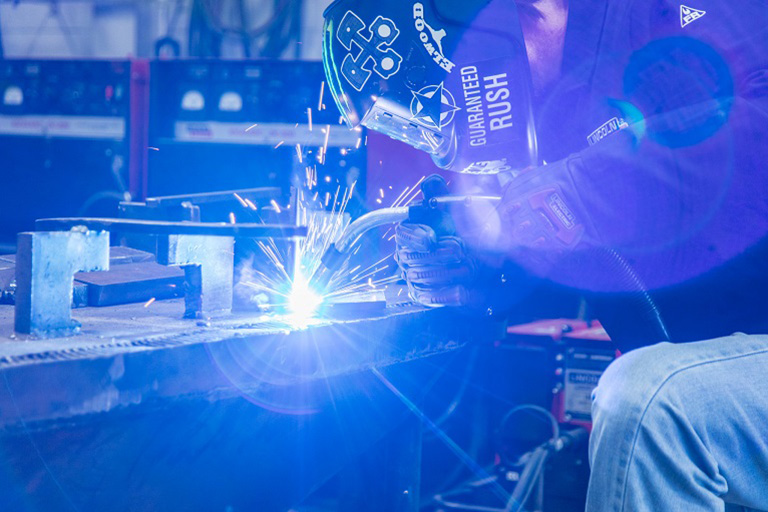 Getting Started
What are my degree, diploma, and certificate options?
How Do I Pay For This?
Worry no more. With the lowest tuition in Kentucky, financial aid options, and a helping hand to guide you through the application process, SKYCTC has you covered. SKYCTC will help you reach your goals at a price that won't break the bank.
What Else Do I Need to Know?
Length of Program
You can earn an associate in applied science degree in two years if you maintain full-time status.
This information should not be considered a substitute for the KCTCS Catalog. You should always choose classes in collaboration with your faculty advisor to ensure that you meet all degree requirements.