Student Self-Service
Access Student Self-service
All the tools you need, including Student Self-Service, are located in your MyPath account. Get to MyPath by opening a web browser (Internet Explorer, Firefox, etc.) and type MyPath.KCTCS.edu. Add the page to your favorites so you can easily get back to your MyPath dashboard.
Once you have logged into MyPath click the Student Self Service button.

After clicking on the Student Self-Service button you will be taken to your Self-Service home screen, also called the Student Homepage, where you can access Student Center, Financial Aid information, Account (tuition) Balance, Tasks, and Academic Records.

Student Center
Access your Academics (class schedule and grades), Finances (account/tuition and financial aid information), and Personal Information (contact information and preferences).
You can also view your advisor's name and much more.
Please ensure that your Contact Information (home address and phone number) are correct. While most information is sent to your KCTCS student email, there are some important letters or documents that are sent to the home address listed in this area. To change your address information you will select "Profile" from the Student Homepage.
On the right-hand side of the Student Center screen you can view your Holds, your To-Do List, and your Messages.
Holds – this section displays any holds you have on your account. Holds may be related to admissions, financial aid, tuition payment, etc… Holds may keep you from registering for classes or have other penalties. Holds should be dealt with in a timely manner.
To-Do List – this section displays any tasks that you need to complete in order to avoid a hold being placed on your account. These tasks typically require turning in completed paperwork/documentation in a timely manner. So, if you have items on your To-Do List, DO IT!
Messages – this section displays notifications sent from KCTCS, such as E-bills (tuition), financial aid, the bookstore, and more. Click the "details" link to view the messages. Each message will have contact info so you know who to contact if you have questions.
The Academics section is located at the top of the Student Center homepage. This section provides links to view your class schedule, to update your Major, and to view your grades.
Once you've registered for classes, you will see a quick view of your current class schedule on the Student Center homepage.
You can click on the "schedule with classroom location" or the "kctcs schedule" links to get a more detailed view of your class schedule.

The "schedule with classroom location" link displays your weekly schedule in an easy to read format.
The "kctcs schedule" link displays your class schedule in a list view with classroom locations, instructor names, and other related info.
The "kctcs schedule" view is also the view that displays your student ID number, which is an 8-digit number, beginning with two zeroes. This number was assigned to you when you were admitted to the college.
You will need a print out of the "kctcs schedule" view. This is the version you will need at the bookstore to get your textbooks.
To view your grades, click on the drop down box "other academic..." on the Student Center page and select "Grades", and then click on the double arrows pointing to the right.
At the end of each semester your instructors will post your final grade. You can view your final grades here in Student Self-Service.
After you've been here at SKYCTC for a couple of semesters, you will have the option to look back at your grades for previous semesters.
Here you will see your letter grade for each class and you can see your overall GPA (Grade Point Average).
You can purchase your textbooks at the Main Campus Bookstore in Building A or you can order your textbook through the Online Bookstore.
The link to the KCTCS online bookstore is provided on the Student Center page in the "KCTCS Student Records" section. You need to scroll down to the bottom right-hand side of the page.
If you have questions or problems ordering your textbooks online, contact the SKYCTC Bookstore (270) 901-1083.
Profile
On the Profile page, click on "Addresses" in the menu on the left. Next, click on the arrow to the right of the current address listing.
A new window will open where you can edit your address. Be sure to click on the save button to save any changes.
Financial aid
The Financial Aid tile on the landing page will take you to your financial aid section.
The Award Summary section, located in the left menu of the Financial Aid screen, provides detailed account information regarding your financial aid data. If you wish to view a different year, click the "Change" button at the top left of the screen.
On this screen you will see your Financial Aid Summary for the school year. This will include any money you have been awarded for the Fall and/or Spring semester, including KEES money, Grants, Loans, and Scholarships.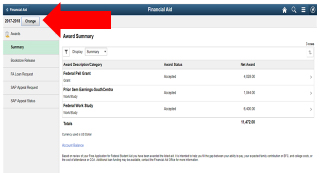 Details about each award can be viewed by clicking on the right arrow next to each item. A new window, will appear.
If you have specific questions about your Financial Aid, you will need to visit the Financial Aid Office for assistance.
In order for your financial aid to pay for books, you must go to the Bookstore Release section and complete the online form. You will only have to complete this form one time.
Please read all sections of the form. Once you have read and understood all the items on the form, check EACH radio button under EACH statement.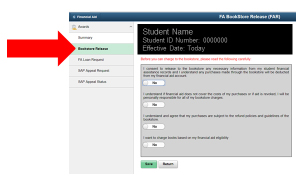 Please ensure that you select the preferred radio button to indicate:
YES (I want to charge books based on my financial eligibility)
OR
NO, (I DO NOT want to charge books from the bookstore)
Click the "Save" button
Once you have completed the online form, you will take your student ID card OR a state-issued photo ID AND your KCTCS class schedule (version with your student ID number) to the bookstore to charge books.
The amount charged is placed on your student account as a bookstore charge and collected from financial aid funds when available.
Students who charge books are responsible for paying the college in the event financial aid does not cover the bookstore charge.
Account Balance
You can pay your tuition in person, by mail, or online. Payment plans are also available.
There are three ways to make an online payment:
An Electronic Check, which is a payment from a checking or savings account
A Credit Card payment, which will be billed to your credit card.
A "NO SHOW" for in-person (face to face) classes is defined as a student who does not attend the first class and has not contacted the instructor by phone, email, or in person before the class meets.
A "NO SHOW" for online classes is defined as a student who does not access Blackboard AND participate in a class activity as directed in the class syllabus or contact the instructor by phone, email, or in person before the class meets. Logging in to the class periodically does not constitute attendance.
Students who fail to attend their first class or fail to contact their instructor are completely dropped from the class as if they had never enrolled in it.
If you are reported as a "NO SHOW" by one of your instructors, this will affect your financial aid.
Financial Aid funds are NOT disbursed to students until attendance in class has been confirmed by faculty.
Grants and KEES are reduced for students reported as a "NO SHOW" and you loans may be affected.
Students who are reported as a "NO SHOW" after receiving a disbursement may be required to repay financial aid funds.